All-gender restrooms are getting popular nowadays. More and more bars, clubs, and restaurants have them as well as town halls, public libraries, and universities. The concept itself isn't new at all; public transports adopted the concept 'one-unit-for-all' as standard for ages. Only recently were old WC signs called into question, triggering a need for an alternative WC symbol that represents the cultural value of its gender neutrality. If you're searching for places that stand for openness, diversity, and respect in the glamorous city of Berlin, take a look at my top 5 trendy locations with all-gender restroom. In these places, you'll find a sparkling WC sign designed by Berlin Culture Project CO-WC, which invites you into a play with your gender identity.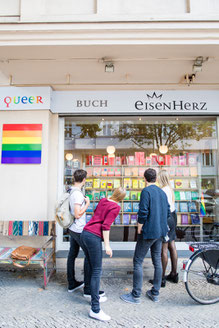 Eisenherz (Bookshop)
Eisenherz is a historical, visionary bookstore for queers located in Berlin ́ s famous gay district Schöneberg. Since its opening in 1978, it's been a meeting point for book lovers and creative people. Indulge yourself with their large assortment of gay literature from high and popular culture and brilliant events. they also sell my QueerBerlin map and are part of my tour "Sex, love & adversity". Slightly hidden in the corner, you'll find a small bathroom open to everyone, with an interactive CO-WC sign on it.
Motzstraße 23, 10777 Berlin (Schöneberg), 0800 1873003, prinz-eisenherz@t-online.de, www.prinz- eisenherz.buchkatalog.de, Station: U1, U2, U3, U4 Nollendorfplatz, Mon-Sat 10:00– 20:00, pic by Nadja Wohlleben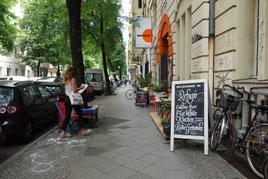 Sharehaus Refugio
Refugio is a share house organized by Berlin City Mission. About 40 people from all over the world are living harmoniously together and supporting each other. Refugio is a place designed for openness and respect, giving and sharing. In the entrance area, there is a lovely cafe where residents and visitors chill out. Hot and cold drinks are served as well as Syrian cuisine. The cafe has a very nice unisex toilet with a CO-WC sign on its door. PS: There are meeting rooms for rent: A big hall for 200 people and a small room for 25 people.
Lenaustraße 3–4, 12047 Berlin (Neukölln), +49 30 69 59 66 521, www.refugio.berlin, Station: U7, U8 Hermannplatz, Mon–Fr 10:00–18:00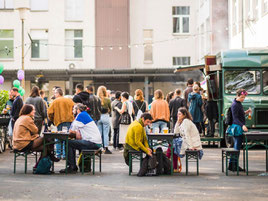 betahaus
If you're tired of working alone, try out this awesome co-working place. Founded in Berlin in 2009, betahaus has become the best known coworking place in Berlin and other major cities like Sofia, Hamburg, and Barcelona. Plenty of workshops and fun events are going on all year round, such as "betapitch" and "coworking camps." It's an ideal place to work, to build a network, and to create something new! Pioneering in many remarkable ways, betahaus Neukölln initiated gender neutral bathrooms with CO-WC signs. They will also be recommended in my new CoWorkingBerlin map!
Harzer Straße 39, 12059 Berlin (Neukölln), contact@betahaus.de, www.betahaus.com, Station: 104, 166, 171 Bus Harzer Str./Wildenbruchstraße, Mon–Thu 9:00-20:00, Fr 9:00–18:00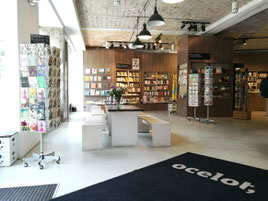 ocelot, not just another bookstore
"ocelot, not just another bookstore" - the name says it all. It's famous not only for a great assortment of books, but also for a relaxing lounge area where you can enjoy coffees and drinks while reading. Ask the knowledgeable staff if you need any recommendation. Don't miss out their fabulous events, you might be able to see one of literary stars of our time! In the back of the bookstore you can find a unisex toilet. There is a CO-WC signs on the toilet door that invites you to play with your image. You need a key from the staff to use this toilet. They also sell my QueerBerlin map ;).
Brunnenstraße 181, 10119 Berlin (Mitte), +49 30 97 89 45 92, info@ocelot.de, www.genialokal.de, Station: U8 Rosenthalerplatz, Mon–Sat 10:00–20:00
Kaffee 9
Kaffee 9 is, needless to say, one of the most beloved cafes in Berlin. Try their freshly roasted coffee beans, and you'll see what they're famous for. The interior setting is minimalistic, flooded with light. From Thursday to Saturday, it's also open in the evenings. Their wine and beer selection is never boring! Must try for both tourists and locals! Kaffee 9 has a unisex toilet with an interactive CO-WC signs. Stop by, and check it out!
Eisenbahnstraße 42–43, 10997 Berlin (Kreuzberg), info@markthalleneun.de, www.markthalleneun.de, Station: U1 Görlitzer Bahnhof, Mon–Tue 7:30–18:00, Wed–Sat 7:30–22:00, Sun 10:00–18:00
If you want to find more hidden gems in Berlin, check out my folding maps BertaBerlin and QueerBerlin. They are available in well-chosen locations all over Charlottenburg, Neukölln, Kreuzberg, Mitte and Prenzlauer Berg in Berlin and online. But for those of you, who want to stay up to date, feel free to follow me on INSTAGRAM, FACEBOOK or register for my NEWSLETTER BertaNews.

Behind this project are Paul & Shinhee. Paul studied philosophy and arts in Karlsruhe, Shinhee studied literature and gender studies in Seoul and Berlin. Inspired by crisp lifestyles and buoyant culture, they started a project CO-WC. Currently, they and his team are working on blending CO-WC into Berlin cultural scene. PS : Not over and done, but in the flow.