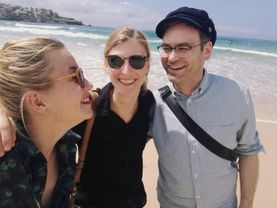 Three weeks Australia- Normally this blog is about Berlin, but I just have been in Australia and would like to share some insights about Australia with you.
SYDNEY
As my friend Ralf lives in Bondi Beach, we decided to stay here and were lucky enough to visit the
Sculpture by the Sea
event on the Beach coastal walk. I can also recommend several coffee shops in this area:
Harry's
(best coffee),
Gertrude and Alice
(in a book shop), 
Speedo's Café
(with ocean view) and
Shuk Bondi
(also awesome for dining).They often give away pastries for free before closing ;).
If you are not interested in surfing and want to swim a little bit, you can walk to Bronte Beach. Here you will find a beautiful rock pool, built into the ocean. Bronte is not renowned for it's parking. Rock pools, so-named because they have been hammered out of rocks at the ocean's edge, are one of Sydney's defining characteristics. If you drive, go early and hit the back streets. Most streets have 2-hour parking.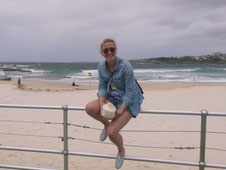 Another highlight of my Australia was the Sydney Opera. We booked a show in the theatre. But you can also visit a tour or just the Opera bar. If you like shopping, you can go to the Strand Arcade.The arcade was one of the first Victorian buildings in Sydney with traditional-styled protruding galleries, cedar staircases and tiled floors. You here will find a barber shops, hatter shops and a good coffee at Romulo. We also visited the Museum of Contemporary Art, which is for free and has a beautiful rooftop MCA café with fish and chips and a fantastic view above the harbor and opera.
We also spend a day at Balmoral Beach (aspecially the breakfast at The Boathouse Balmoral Beach) which was ver relaxed. Afterwards you could also visit the Zoo – Wild Life Sydney, apparently the Giraffes have the best view above Sydney!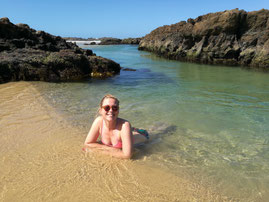 Road trip
We than hit it of to Melbourne and visited Mollymook on the way. It is located on the South Coast of New South Wales, Australia approximately three hours' drive south of Sydney. It is the beachside paradise of the Coastal Resort. A large natural rock pool is at the southern end near the Mollymook headland. The tidal pool is called Bogey Hole and great for swimming and snorkelling. At the northern end of the beach is Bannisters Point, where Rick Stein at Bannisters by the Sea serves local oysters and freshly caught seafood. The award-winning restaurant is in The Sydney Morning Herald's Good Food Guide. He also runs a more affordable restaurant Bannister Pavillon on the rooftop, where we went to.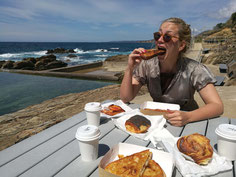 Grab a homemade muffin or "Eierstulle" at the Woodburn deli and walk down to the surf club café along the beach, where you can order a nice flat white and have breakfast at the beach.
Bermagui
On our way to Melbourne we also visit Mystery Bay with artificial rock pools, in which we swam with fish, but without agonies and waves. We had dinner at Octopii and stayed with Blue Pacific in Bermagui. Our sightseeing in Bermagui included a bath in the Blue Pool, another rock pool in the ocean, with an additional breakfast (get the best pastries at Honorbread) and the Horse Head Rock, a little bit like the 12 Apostels. You can always see the Camel Rock, but to get to the Horse Head you have to check the tide and wear good shoes, as you have to climp over some rocks.
Paynesville
We went to the Koala paradise called Raymond island and walked along the lovely Koala walk. Here you also find the 90miles beach on Poole Boole Peninsula. We also visited the Silt Jetties. The world longest jetties stretch nearly 10 km towards the northeastern shores of Jones bay in Lake King. The Silt Jetties is home to many kangurus, so it is definitely worth a visit, if you have not seen one yet.
Melbourne
We just had a day in this beautiful Australian city and visited the Heide Museum of Modern Art from Sunday and John Reed. This unique museum combines art, architecture (the art collector couple lived here), social history and landscape just twenty minutes from Melbourne's city center. At the gift shop Spoilt you can find very cute Australian gifts for your loved ones. We also went to the Berlin Bar were I enjoyed a delicious Interstellar Cocktail (here you can choose if you want to sit in East or West Berlin) and after I would recommend to have dinner at Chin Chin. Very cool but long wait (go at 18:00 to put your name on a list, and you will be eating by 20:00).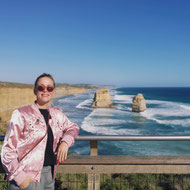 12 Apostles
From Melbourne you can drive along the Great Ocean Road to one of Australias most famous sights: the 12 Apostles.The road is an Australian National Heritage listed 243 kilometres stretch of road along the south-eastern coast of Australia between the Victorian cities. Built by returned soldiers between 1919 and 1932 and dedicated to soldiers killed during World War I, the road is the world's largest war memorial. Visit the Grotto, London Bridge (or London Arch, as in 1999 part of this limestone formation had falled down) and the Twelve Apostles is a collection of limestone stacks off the shore of the Port Campbell National Park. Early charts refer to the 12 Apostles as the Sow and Piglets. When Superintendent C.J. La Trobe passed through this area in 1846, his chart reflected this name (as it would attracted more people). The rocks are collectively known as the 12 Apostles.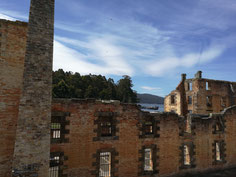 Tasmania
We also flew to Tasmania and indulged its history at Port Arthur, Australia's most spectacular mountains (e.g. Wellington), dazzling beaches (close by Eaglehack Neck) and the freshest food (Salamanca Market every Saturday in Hobart) and wine imaginable (Bangor Vineyard Shed). We also visited the phenomenal art gallery, MONA (on the weekend they also offer jazz concerts) and feed a Tasmanian devil at Unzoo. If you have time for dinner in Hobart, I would very much recommend St. Albi.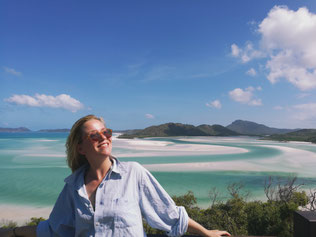 Sailing at Whitsunday Island
We did a three day "sailing" trip, in which we visited WhitHaven Beach and walked to its Solway lookout on Whitesunday Island, which one of the world's most beautiful beaches (claimed by lonely planet). I would not go that fare. The sand of the beach is out of Quarz, brought from the underwater vulcan close by. That is why you never get hot feet there. The islands are name Whitsunday because captain Hook discovered them on White Sunday, a day when priests were wearing only white cloth. We also did some snorkeling at Saba and Luncheon Bay. As you can meet with poisoning jelly fish everywhere you have to wear a body swim suit all times. But as you you swim in the water for hours this is keeping you warm also. We also did a bushwalk at Nara Inlet, where I deeded a kookura with a little cookie. In this bay all the sailing boats sailed until the 1970s, to carve the name of the boat and the date in the stone and look for the names of other boats. When they sailed to the harbor of the mainland and did not find the boats carved in the stones, which should have been arrived already, they started to look for the missing sailing boats. As the Marine satellite radio was introduced in the 1979, you can find boat names dated until 1976 in this bay.
Fun fact about Australia
Australia is famous for its wildlife - kangaroos, koalas and numerous species of snakes and spiders - but it is also home to the world's largest herd of camels. There are about 750,000 roaming wild in the outback. Camels were imported to Australia in the 19th century from Arabia, India and Afghanistan for transport and heavy work in the outback.