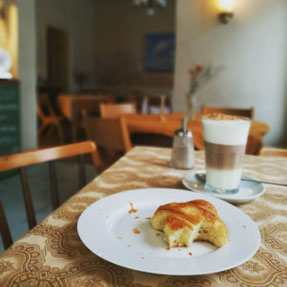 Still a hidden gem of Neukölln
I have walked along May am Ufer many times, but since entering this restaurant I have become a regular.
The restaurant, which Conny tenderly calls MAY, always has a relaxed atmosphere. Most of the guests live around the corner in Neukölln and stop by May am Ufer because they love the food and, of course, the wine and beer on tap. My favorite red wine is Nero d'Avola. Besides the food the restaurant is really nice to sit down and get a sense of Neukölln, as the audience is a cultural mix of international guests and established Berliners. Thomas and Conny cook everything fresh, offering vegetables mostly from local farmers and, as mentioned before, grandiose wine.
The world as a visitor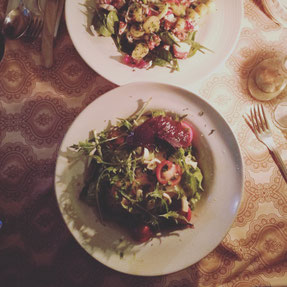 The renovation of the former Maybachstübchen into the restaurant May am Ufer was more complex than planned. But today you can enjoy a well-preserved stucco and an original Terrazzo floor. I also love to have a break at their coffee bar. Since 2014 more and more international guests sit on the former church pews and have a delicious lunch or dinner at May am Ufer. At the moment Berlin and Neukölln seems to be the place to be, and every day Conny and Thomas receive at least one application. But who would not like to work in an friendly environment, surrounded by a charming interior and have a mouth-watering lunch every day. Personally, I highly recommend the octopus salad, but as the menu is frequently changing you might have to enjoy something else.
Events at May am Ufer: Story-Teller
Every now and then May am Ufer hosts events too, for example Story-Teller on 9th of June 2017. Story-Teller brings together seekers of meaning, new people in town and people who want to connect over table conversations. At the event you will be enjoying a three course menu combined with good conversation. English-speaking guests are welcome! Here you can find more information: www.story-teller.club.
If you want to find more hidden gems of Berlin, check out my folding maps BertaBerlin. They are available in well-chosen locations all over Neukölln, Kreuzberg and Prenzlauer Berg and online. But for those of you, who want to stay up to date, feel free to follow me on Instagram, Facebook or register for my newsletter.