Where can I do some coworking in Hamburg? A question that people asked me quite a bit in the last few month. This is why I met with the Die Techniker. To find your perfect coworking space in Hamburg we created this map with coworking spaces, partly accessible with day tickets as well as partly open during the weekend. In this article you will find our "Top 5 coworking spaces in Hamburg". More recommendations can be found on our free Hamburg Coworking Map, just order it.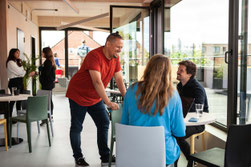 Impact Hub Hamburg
This coworking space drives inclusive and sustainable innovation at scale. Locally rooted and globally connected, Impact Hub inspires, enables and connects people, who create positive change, through an impact community, coworking, offices, workshops and events. Through flexible Coworking desks, team offices, meeting rooms, spaces that will spark your creativity and lots of community and networking space, Impact Hub Hamburg contributes to the transition towards an impact-driven economy. You can come by for a day pass of coworking, get a membership, move your office there or book it for any type of event.
Schomburgstraße 50, 22767 Hamburg, +49 179 48 45 157, www.hamburg.impacthub.net, host.hamburg@impacthub.net
At Impact Hub Hamburg you get a free trial day ticket, a day ticket for 15 Euro and a memberships from 59 Euro per month!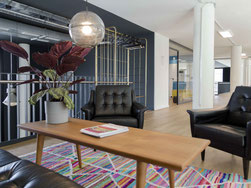 betahaus hamburg
Since 2010, betahaus Hamburg has been a place where founders, freelancers, start-ups, creative and digital nomads form a community based on exchange and mutual support - true to their motto: 'You'll never work alone!' Here, founders find a place in the heart of the city, where like-minded people help each other and where there's enough space to grow.
betahaus hamburg, Eifflerstraße 43, 22769 Hamburg, hamburg@betahaus.de, www.hamburg.betahaus.de, Station: Sternschanze, Mon–Fr 9:00–19:00, 89 Euro per month, free trial day
Finhaven Hafencity, Versmannstraße 4, 20457 Hamburg, +49 40 46 86 63 97, enter@finhaven.de www.finhaven.de, Mon–Fr 9:00–19:00 89 Euro per month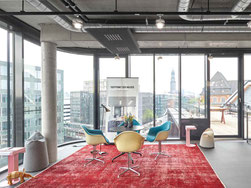 Design Offices Hamburg Domplatz
Here, flexible office and coworking space provide modern workplaces in a professional business environment. The conference world offers inspiring rooms for any format, be it a training session, seminar, or creative workshop. The site is also an ideal event location, with its eatery and lovely roof terrace.
Domstraße 10, 20095 Hamburg, +49 40 82 21 78 20, hamburg.domplatz@designoffices.de, www.designoffices.de, Station: Rathaus, Mon–Fr 8:30–18:00, 99 Euro per month, free trial day 
CoCreating Hamburg
Whether it's a seminar, a yoga class or a corporate event, finding the perfect location has never been easy. Now it is: In the heart of Hamburg, on in the city center of Hamburg you will find the CoCreating Space. Founded by Elena Ringe, the offer appeals mainly to women. Lovingly and inspiringly decorated, various rooms with state-of-the-art technical equipment are available to accommodate groups of 5 to 50 people.
Reimerstwiete 1, 20457 Hamburg, +49 40 32 51 34 00, www.cocreatingspace.de, welcome@cocreatingspace.de, Station: Rödingsmarkt, free trial day ticket, day ticket 18 Euro, 160 Euro per month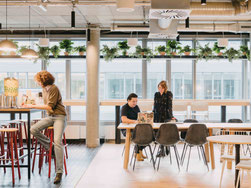 WeWork Europa Passage
Europa Passage: With its inviting lounges, private offices and conference rooms on three floors, the location in the port area is a popular hub for technology and media companies. The offices are only a stone's throw away from the Google campus in Hamburg-Altstadt. You can also reach the Alster in just a few minutes and enjoy a delicious lunch at Café Paris. They are not only dog-friendly, but also offer on-site bicycle storage facilities. You can receive a first impression on a virtual tour.
Hermannstraße 13, 20095 Hamburg, +49 40 80 19 47 47, www.wework.com, Station: Rathaus 24/7 access, 200 Euro per month, another coworking space is at Gänsemarkt 43, 20354 Hamburg, 150 Euro per month or Hanse Forum, Axel-Springer-Platz 3, 20355 Hamburg, 150 Euro per month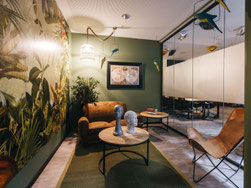 rent24
Located in Hamburg-Neustadt with a direct view onto Bleichenfleet, this modern space is the home to the rent24 coworking community. On more than 2.000 m² they have created an inspiring work environment for Hamburg's digital and startup scene. Besides several private offices, they provide meeting and event spaces as well as regular community events for people to connect.
Bleichenbrücke 10, 20354 Hamburg, +49 30 34 74 21 300, www.rent24.com,Station: Jungfernstieg, 24/7 access, 200 Euro per month, 25 Euro per day