We all yearn for utter escapism from time to time, right, and there's something powerful about breaking up our monotonous weekly routines with micro-adventure. Just think about the last time you woke up somewhere different: the sense of anticipation for the day ahead, the feeling of contentment as you allowed yourself to unwind, and the satisfying exhaustion from a commitment-free day in the fresh air.
The Staycation Collection was created as a place of inspiration for travel within Germany; somewhere it was guaranteed you'd find stylish stays, from stunning-scenic retreats to cool city breaks, and where you could get insider tips on how to spend your time. Why? Because when Emily moved to Germany, she was excited about weekend trips to explore the country she'd decided to call home. Excitedly she began searching but struggled to find beautiful and affordable places to stay and instead booked flights to Spain. She felt so guilty knowing both that she wasn't exploring the world on my doorstep and that her travel habits weren't sustainable.
So Emily started researching and researching, and curated a "bucket list" of cabins, B&Bs and holiday homes she wanted to visit. Friends kept asking to see it, and thus The Staycation Collection was born.
There's something really magical about taking a holiday in, or close to, your own city. By getting out of your routine and into holiday mode, you naturally become more present and you tend to open yourself up for new experiences. It's a state of mind as much as it a location. She knows when she has Berlin mini-breaks, she falls in love with the city all over again.
As an expert of cabins, hotels, B&Bs I asked for her Top 5 places in and around Berlin for a mini-break.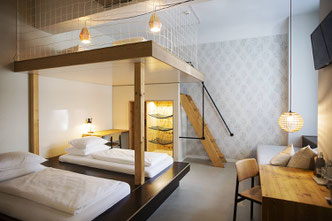 The Michelberger
Simply put, the Michelberger is effortlessly cool: it's experimental, youthful and artistic. Owners Nadine and Tom opened the hotel in 2009 in a former 19th-century industrial building in Friedrichshain. Throughout the hotel, high-end design is blended with local style, think blocky East-Berlin architecture, sleek Italian tiles and handmade glass chandeliers.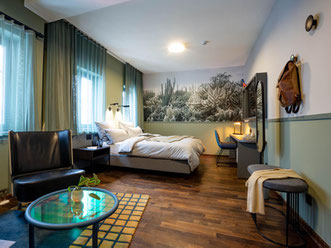 The Circus Hotel
The Circus Hotel - occupying a 19th-century building - stands proudly at the heart of the city and is wonderfully Berlin, oozing authenticity and openness. Its eclectic style, enticing energy, diverse mix of staff, and focus on discovering the city beyond the sites captured our hearts.
Miniloft Kreuzberg
For something sleek, check into Miniloft Kreuzberg. The style feels very New York: exposed concrete walls, floor-to-ceiling windows and modern furniture. Located in Kreuzberg inside the Frizz23 cultural project (near the Jewish Museum), it couldn't be better placed for exploring Berlin as a tourist.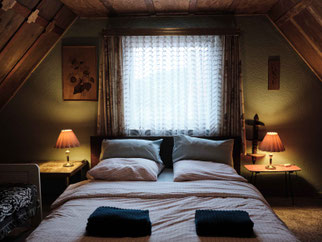 Gasthof Falkenhorst
A short S-Bahn ride away from Berlin is Gasthof Falkenhorst, an oh-so cosy guesthouse surrounded by the Müggel-Spree regional park. Each of its three rooms is individually designed, and two have indoor fireplaces. Its restaurant serves up delicious vegan food, and it's the perfect base from which to go cycling and swimming to enjoy the countryside.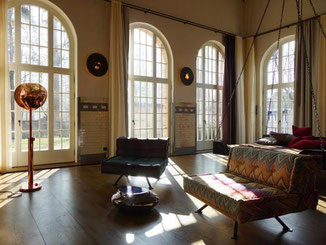 Wasserwerk Bad Saarow
At the edge of Scharmützelsee you find somewhere a little different. This former waterworks - which once supplied the village with electricity and survived Russian occupation - has been transformed into stunning modern apartments. Some have huge fireplaces, others have mezzanine beds, all are the perfect place to curl up and switch off.
Emily McDonnell is the founder of The Staycation Collection. She launched her platform in order to promote travel in the country you call home, to provide a feeling of connection and intimacy through the holiday booking process, and support local economies. All bookings happen directly with property owners, meaning 100% of the money goes to them instead of booking platforms. It's based on the principles of slow and sustainable travel.
The Staycation Collection lists over 150 beautiful (and hard to find) places to stay, from cabins and B&Bs to hotels and treehouses. Emily provides personalised recommendations to members, helping them find a few perfect escapes that fit their requirements, as well as providing them with community perks. You can follow her tips also on Instagram @staycationcollection.
---
If you want to travel effortlessly through Berlin to the most exceptional sights of different countries, such as the Berlin Eiffel Tower, without having to plan anything at all - check out my new book "TRAVEL THE WORLD IN BERLIN / EINE WELTREISE IN BERLIN"! For each country I tailored an enthralling journey starting with unique breakfast places, historical sights to fancy cocktails at night. Additionally, each chapter features more exclusive highlights like stores, cafes, galleries and sights for each cultural trip as well as a chapter with my favorite restaurants for each international cuisine.