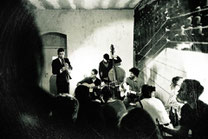 Jazzbar
Passed this place a few times, as I live close by. It was love at first sight! I decided to stop by one day as a the Jazz band Good Bait was giving a concert. The show at DONAU115 was intense. They host jazz concert on regular basis. There you encounter with some of Berlin's most exciting improvisational and jazz musicians, performance artists and DJs.
As it is a small bar you feel like sitting in a living room and listen to live music at the same time. After the show you can easily talk to the musicians and have some more drinks, which are very fair priced. 
Donau115
Donaustrasse 115
Berlin 12043 (Neukölln)
Station: U7 Rathaus Neukölln
+49 179 1809168
info@donau115.de
www.donau115.de
Open: Wed - Sa [19:30-3h]
This recommendation is an addition to the Mini Pocket Guide BertaBerlin (for Berlin and Neukölln).