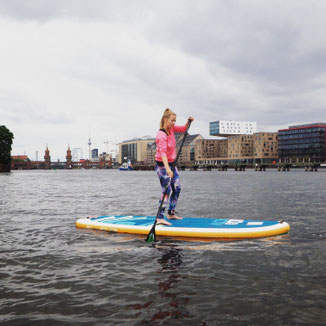 Despite being landlocked, Berlin is a pretty watery city, with the river Spree and the Landwehrkanal winding their way through the capital. As I am searching for the Top 5 outdoor activities in Berlin, I decided to take advantage of this fact and went stand up paddling (SUP) with the StandUpClub Berlin. Stand up paddling is a mix between canoeing and surfing. In stand up paddle, you stand on a long board, like a surfer. But you propel it with a paddle, like a canoeist.
SUP originated in the 16th century in Polynesia. Polynesian fishermen would surf on canoes by Tahiti. In Hawaii it was used then in the 20th century by surf teachers to get quicker to the reefs.
Not Hawaii but Berlin
But we don't want to go fishing and you won't find waves in Berlin. We just want to actively discover Berlin from the water. The StandupClub offers courses for beginners, but also guided tours on the river Spree. You can see the Oberbaumbrücke (bridge), Molecule Man, Treptower Park and the Landwehrkanal. As I am not the most talented surfer, I can already reveal, stand up paddling is not as difficult as it looks. Within ten minutes my friends and I felt like professionals, except that we could not paddle as quick, and were quite tired after two hours of paddling. So my one piece of advice is, if you do it for the first time and just rent a board, don't plan to paddle too far. If you go for a day, maybe the distance between Badeschiff to Insel der Jugend is recommendable.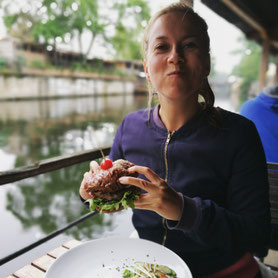 Besides SUP
After stand up paddling on the Spree my friends and I returned the boards, took a dip in the pool of Badeschiff and enjoyed a sundowner in the beach bar Escobar. Just next door you can additionally dine at Freischwimmer, which is a lovely restaurant at the canal.
If you want to find more hidden gems of Berlin, check out my folding maps BertaBerlin and QueerBerlin. They are available in well-chosen locations all over Charlottenburg, Neukölln, Kreuzberg, Mitte and Prenzlauer Berg in Berlin and online. But for those of you, who want to stay up to date, feel free to follow me on INSTAGRAM, FACEBOOK or register for my NEWSLETTER BertaNews.