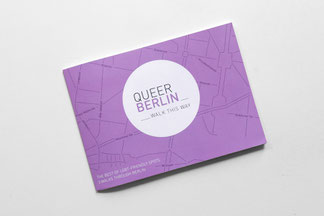 BERLIN, GERMANY — In advance of Berlin's annual gay pride march (Christopher Street Day), award-winning gay travel writer Adam Groffman from TravelsofAdam.com and travel guide publisher Berta Luise Heide from walk-this-way.net published a QueerBerlin map. The travel guide (retail price: 5€) features recommended LGBT-friendly museums, shops, sights, restaurants, cafés, bars, clubs and more.
Berlin has a long history as an LGBT hotspot and LGBT-friendly destination. In the 1920s, Berlin was at the center of the flamboyant decade of cabaret and attracted a diverse and international group of LGBT individuals. Berlin's gay neighborhood of Schöneberg was one of the world's first, home in the 1920s to legendary gay icons like Marlene Dietrich and Christopher Isherwood. Today, the city is once again one of the world's most queer-friendly places with a diverse number of options available to every type of traveler—further evidenced by last week's vote to make same-sex marriage fully legal.
For many years, the German capital has attracted LGBT-tourists; hundreds of thousands visit each summer for the annual CSD pride parade. "Berlin is one of the best cities in the world for LGBT tourists. With the QueerBerlin map, we highlight some of our favorite places—the very same which we would recommend to family and friends that tourists might not be able to find on their own," Groffman said.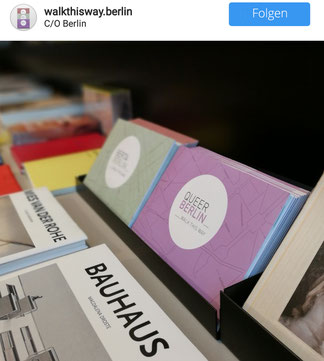 The map also includes three specific walking tours through Berlin to help guide tourists through Berlin's many tourist sites, including LGBT specific places. "The QueerBerlin city walks are designed to guide LGBT tourists effortlessly through Berlin," Heide said. "Berlin is such a diverse and sprawling city with so many things to see and do, it's not always easy for tourists to find the best of the best."
Recommendations on the map, for example, include some of the most exceptional sights such as the Reichstag, beer gardens off the beaten path in Tiergarten, hidden shops, an art gallery inside a bunker and of course many queer-specific hotspots and underground events.
On his gay travel blog, Groffman wrote, "there's a lot more to the city's gay scene than the traditional gay hotspots. The beauty of Berlin as a travel destination lays in the fact that this is a growing city, evolving out of a turbulent 20th century to become one of today's leading cities—politically, economically and culturally. It's no wonder that Berlin makes it to the top of most "best gay travel" lists! But, most gay guides to Berlin don't fully showcase the diversity of LGBT travel options—that uniqueness that's made Berlin so special and so gay-friendly."
QueerBerlin is available immediately to buy online for 5€ at online or in well-selected shops in Berlin.
About BertaBerlin
Berta Luise Heide is the publisher of the travel guide BertaBerlin, a travel blogger and marketer, and most notably a born resident of the German capital city. In her travel guides, inconspicuously entitled BertaBerlin, she discovers city walks all over Berlin and writes about the hidden gems of the city on her blog. There are several BertaBerlin maps for beloved districts and themes available in her Online Shop.
info@walk-this-way.net
About Travels of Adam
Adam Groffman is an award-winning travel writer, blogger and marketer based in Berlin, Germany where he covers city trips around the world, expat life, LGBT travel, festivals, and nightlife. His gay travel tips have been featured in The Guardian, AFAR, Fodor's Travel Guides, Conde Nast Traveler and Vanity Fair. His gay travel blog, Travels of Adam, was recently awarded a Gold Award for best online travel series by the North American Travel Journalists Association for his series of Hipster City Guides. The Hipster Guide to Berlin is used by over 15,000 visitors each month and is also available as an app.
adam@travelsofadam.com