Until March 25th 2018 you can still see the retrospective of Fahrelnissa Zeid in KunstHalle by Deutsche Bank.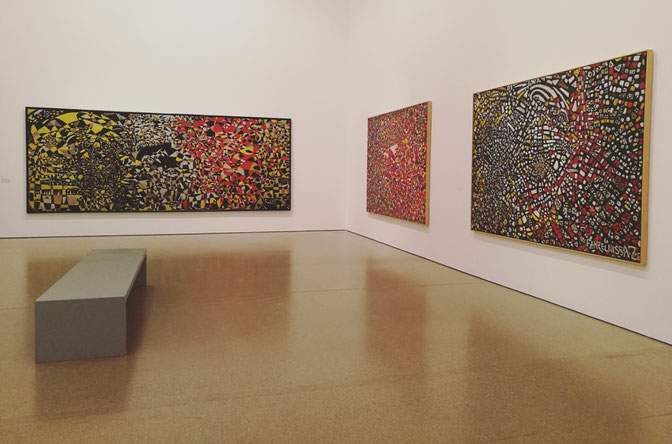 The life of Fahrelnissa Seid
The artist who was born in 1901 in Istanbul into an upper-class family. She lost her father, when she was 13. Shortly before the First World War he was shot by her brother in unexplained circumstances. Her family was devastated, but remained close. After the war she was one of the first woman in Turkey to study fine art. She also studied in Paris, where she came into contact with European Avantgarde movements including Expressionism, Fauvidm, Cubism and Surrealism. She married the writer Izzet Melih Devrim in 1920. In 1934 they divorced and she married Prince Zeit Al-Hussein, with whom she went to Berlin when he was appointed Ambassador of Iraq to Germany. After the annexation of Austria they moved to Bagdad. She felt isolated there and fell into depression. In the hope of recovering from her illnes, she began traveling. In Istanbul she became a member othe the avantgarde "d Group".
When her husband was appointed Ambassador of Iraq in London she transformed a room in the embassy into her studio. Works like "Fight against Abstraction" (1947) show the redical transformation in her work. From 1946 untl the late 1960s she was traveling between London and Paris. Following the horror of the Second World War artists sought freer more spontaneous expressive possibilities in abstraction.
Her work
Zeid found a geometric language. In paintings such as the famous "My Hell" from 1951, she fragmented space and color kaleidoscopically. She was mourning the lost of a good friend and inspired by a fly and its flight path. She created abstract explosions of color whose psychological tension and visual force could hold their own against Jackson Pollock's works. Her language with completely new in the Western modern art, drawing on influence from nature, Byzantine mosaic art, Islamic architecture and oriental arts.
Big change
A catastrophe changed everything. In July 1958 the Hashemite monarchy was toppled and Prince Zeid Al-Huseein's entire family was killed. He and his was only escaped by chance as they were vacationing in Italy at the time. Zeid's world fell apart and she stopped painting. When she began again in the 1960s, she started portraiting her family and friends.
Exhibition
With the exhibition at the KunstHalle, she is finally being honored as on of the most important protagonists of postwar international modernism – as a woman who challenged conventions and the status quo in a male-dominated Eurocentric art world.
It is an fantastic exhibition, I absolutely recommend.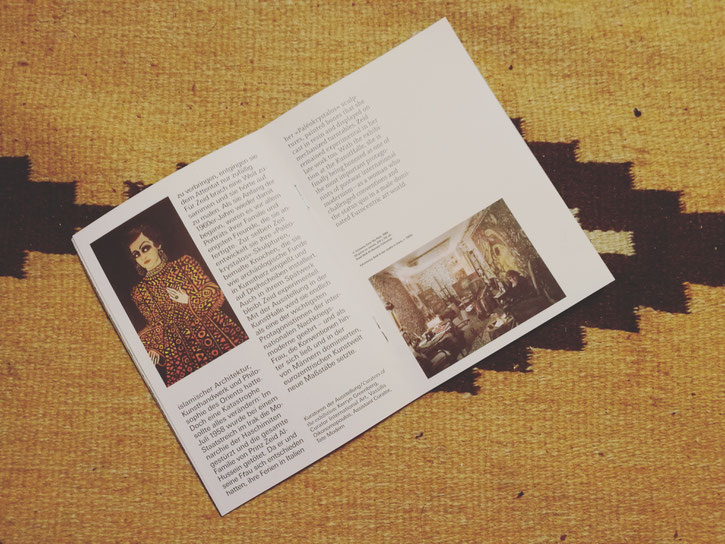 Where?
KunstHalle Berlin by Deutsche Bank
Unter den Linden 13/15
10117 Berlin
When?
Daily 10–20h
Lectures Thur–Sat 18h
Sunday Lecture 15h in English
I like Mondays Lectures (short) from 11–19h
Entrance 4 Euro
Monday free entrance
If you want to find more hidden gems of Berlin, check out my folding maps BertaBerlin and QueerBerlin. They are available in well-chosen locations all over Charlottenburg, Neukölln, Kreuzberg, Mitte, Schöneberg and Prenzlauer Berg in Berlin and online. But for those of you, who want to stay up to date, feel free to follow me on