Where are the best clubs? Where do the locals prefer to go on a typical Berlin night? To help you get acquainted with the city's night scene, I made a Top 5 list of the best spots where you can spend your nights in Berlin. Because not only Berlin's clubs turn the night into day. There is always something on in Germany's capital all around the clock. If you looking for a good party, go to this website: www.residentadvisor.net.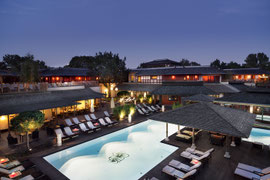 A beauty night at Vabali
In the midst of the hustle and bustle of metropolitan Berlin, Vabali Spa offers you a place of peace and relaxation. This unique spa boasts a Balinese charm with its authentic interior design, saunas and its outdoor pool. You can also have dinner here, book beauty treatments and – the best part – they are open until Midnight!
Vabali Spa Berlin
Seydlitzstraße 6
10557 Berlin (Mitte)
www.vabali.de
Station: U55, S3, S5, S7, S9 Hauptbahnhof
Daily 9–24h
More Mitte recommendations await you in the BertaBerlin map of Berlin Mitte.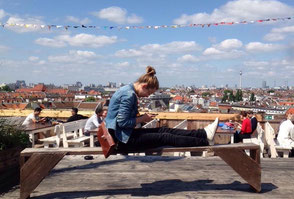 Up in the air in Neukölln
The bar Klunkerkranich is a perfect spot for a sundowner with live music and a dance floor. In the Neukölln Arcaden, take the elevator to the 5th floor and find your way through the parking lot to the rooftop bar/club and market (Floh-Kunst & Trödelmarkt).
For a fancy dinner, reserve a table at LAVANDERIA VECCHIA in Flughafenstraße 46, 12053 Berlin (Neukölln). Here you will dine a pre-defined menu with many delicious Italian dishes and delectable wines.
Klunkerkranich
Karl-Marx-Straße 66
12043 Berlin (Neukölln)
Station: U7 Rathaus Neukölln
Daily 18–23h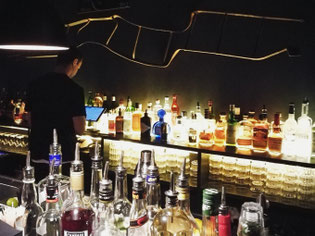 Bar night in Mitte
Spend a night at an awesome gay bar, SAINT JEAN BAR in Mitte. Small in size yet elegant, and with all its delightful details blended together into one picture. Close by are many dinner options, including one I personally love the MÄDCHENITALIENER, on Alte Schönhauser Str. 12, 10119 Berlin. After dinner you could go dancing at the CK Ballhaus, Chausseestraße 102, 10115 Berlin.
Attention: On Saturday you can only smoke outside.
Saint Jean Bar
Steinstraße 21
10119 Berlin (Mitte)
Facebook: Bar Saint Jean
Station: U8 Rosenthaler Platz
Tue–Thu 19–2h, Fr–Sat 21–3h, Sun 19–2h
For more about LGBT-friendly places in Berlin, head to my QueerBerlin map.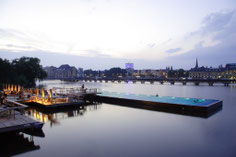 Having a drink in Kreuzberg
From May to September you can take a dip in this swimming pool of the BADESCHIFF that floats in the river. But all year long you can grab a drink at their beach bar and enjoy the view. However, another particular experience is to be found in FREISCHWIMMER. Here you can dine waterside on the wooden deck with a variety of options to choose from an eclectic menu.
Badeschiff
Eichenstraße 4
12435 Berlin (Kreuzberg)
www.arena.berlin
Station: U1 Schlesisches Tor
Swim Season: May–Sep 8–24h
Escobar: Thu–Sun 16–24h
More hidden gems can be found on the BertaBerlin map of Kreuzberg.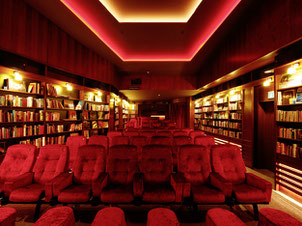 Zoo Palast Berlin
The loving restored Zoo Palast reminds me of the Golden Age Cinema, with its imposing architecture, warm ambiance and impeccable service. Seven film halls, a cloakroom in the lobby, a film lounge and a cocktail espresso bar make a movie night to remember. 
You can have dinner in the MONKEY BAR or in NENI, the restaurant next door. To avoid the typically long queue, reserve a table and have dinner at Neni, and then hop over to the bar without the wait. 
Zoo Palast Berlin
Hardenbergstraße 29a 
10623 Berlin (Charlottenburg)
www.zoopalast-berlin.de
Station: U2, U9, S3, S5, S7, S9 Zoologischer  Garten
More hidden gems can be found on the BertaBerlin map of Charlottenburg.