From vintage clothing shops to a fine bakery to a calming tea salon – Neukölln has a lot to offer! Today I would like to suggest a walk through Neukölln for you. If you want to spend all day, you could start with a scrumptuous breakfast at May am Ufer, where you can also grocery shop for some Italian delicatessen. If you need some new vintage clothes, I recommend a visit to Repeater. This shop puts on a huge variety of handpicked vintage clothes on display, for men and women. After all that shoping you deserve a rest at the tea salon Macha Macha. Hopefully you will have renewed your energy, because there is more to come. Not only vintage clothing but also beautiful arranged flowers and a delicious coffee you will discover at Rag and Bone Man. For an old-fashion dinner or a Sunday breakfast I always go to the Königliche Backstube in my neighborhood. You can find more information and discover more walks on my BertaBerlin map.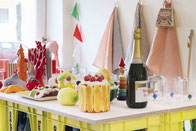 Amore Store
Italian delicatessen and design shop
If you want to tour Italy within the comfort of a shop in Neukölln, well, Amore is the right place to go to. You will find different kind of products, from grocery to design and utensils for your kitchen. Christmas is getting closer and you are starving for a typical Italian panettone? Are you curious to try the famous Sicilian fennel salami? You want to find nice coffee moka and not only? Well if you are answered yes to at least one of these questions then go to Amore Store and you won't be disappointed.
Sanderstraße 12
12047 Berlin (Neukölln)
www.amorestore.de
Station: U8 Schönleinstraße
Tue–Sat 12:00–19:00
pic by Caroline Heinecke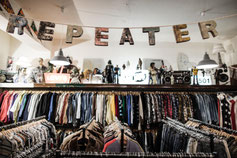 Repeater
Vintage clothes shop
Repeater is one of my favourite vintage shops in Neukölln. It is stylish and offers exquisite second-hand clothes. If you go there, you won't leave empty-handed. Even though the manager Julia buys all her carefully selected clothes in Germany, Julia spends a lot of time in LA where she gets inspiration for her vintage shop. In the shop you can buy nice Levis denim shorts, plaid shirts, flower dresses and leather shoes.
Pannierstraße 45
12047 Berlin (Neukölln)
Station: U7, U8 Hermannplatz
Mon–Sat 12–20h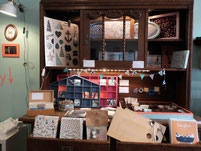 Süßstoff
Time to shop: Stop by at Süßstoff, a cute little shop selling artful gifts, clothes and accessories that are 100% vegan, fairly produced, upcycled or "made in Neukölln". The lovely atmosphere is always enchanting and owner Jenny even designs & sells her own label bördshört here.
Kienitzer Straße 91
12049 Berlin (Neukölln)
+49 30 49 08 66 99
Station: U8 Boddinstraße or Leinestraße
Tue–Sat 11:00–19:00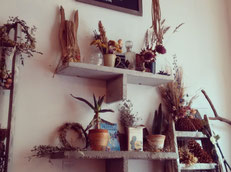 Rag and Bone Man
Vintage, flower shop
This vintage shop in the side streets of Neukölln offers handpicked selection of pieces from the 1970s-1990s surrounded by beautiful bouquets of flowers from Poems and Posies by Wildflowers Berlin, woven macrame decoration and long rows of tables: In the shop you also find The Future Breakfast with lovely weekend brunch. With creamy Eggs Benedict, classic avocado toast and flavored coffee, even featuring edible flowers; and they occasionally host small concerts.
Briesestraße 9
12053 Berlin (Neukölln)
Station: U7 Karl-Marx Straße
Tue-Fri 9-18h; Sat-Sun 10-17h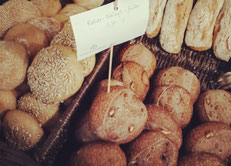 Königliche Backstube
Bakery
If you want to have a nice breakfast or dinner with an old-fashion "Stulle" on your own balcony, you can find the best handmade bread, rolls and pasteries at this bakery in Neukölln. You can smell the new chocolate walnuts from the distance. Upon closer inspection, you will see golden pretzels, handmade bread, rolls and pasteries.
Zwiestädter Str. 10
12055 Berlin (Neukölln)
www.koenigliche-backstube.berlin
Station: S41, S42 Sonnenallee
Mon–Fr 9-19h, Sat 8–14h