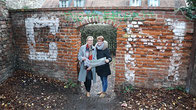 Life can be so beautiful. And it is especially awesome when you are entrusted with a task that is fun, that moves you to tears and that gives you the chance to visit impressive personalities in their professional environment. In the series "Kirsten trifft..." Kirsten Lehmann, my former teacher, meets former high school graduates from Schloss Torgelow and visit them in their current lives.
BertaBerlin in Berlin
Berta graduated from high school at Schloss Torgelow in 2002 and studied communication sciences in Berlin. After completing her studies, she also worked successfully in this field and started to write travel guides about Berlin. Her maps guide visitors through the different districts of Berlin and you can discover the hidden gems of the capital. In the meantime, Berta has become so successful with her pocket guides and her travel blog that she has become self-employed. I was allowed to visit Berta one day in Neukölln. Over Christmas cookies and tea, she told me how the idea for BertaBerlin came about. In her office I was able to experience how she designs the beautiful cards. Check out the video to know about her past and her future.
Merry Christmas!