So, you've decided to buck the elaborate wedding and head straight to the courthouse. Seems simple enough, right? Ally thought so, too. But when she decided to call off her big wedding and opt for City Hall nuptials, she was surprised by how little information was out there about how to plan a wedding in Berlin. That's why we put together a "Wedding Berlin map" of things you should know before and while ;) getting married. As we will publish the "Wedding Berlin map" a little later, we want to give you my personal "Top 5 wedding spots in Berlin" (here) and Ally's Wedding favorites in Berlin (here). Because whether or not you're throwing a big party, it's still your wedding day — and you shouldn't have to worry about anything.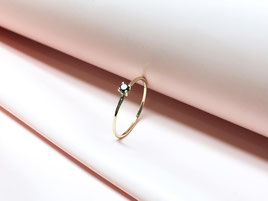 Wedding rings
Join Johanna Gauder for a romantic and rewarding experience as she creates your wedding rings or engagement ring, by hand, in her fine jewelry studio in Berlin Neukölln. Her jewelry label stands for high quality fine jewelry with a contemporary approach. The label offers collection pieces as well as bespoke jewelry, wedding bands and engagement rings, all handmade and ethically produced in Germany.
Johanna Gauder, Schillerpromenade 14, 12049 Berlin (Neukölln), +49 30 55 59 62 22, mail@johannagauder.com, www.johannagauder.com, station: U8 Leinestraße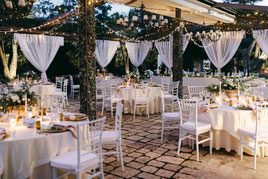 Wedding decoration
Rent unique decoration items and stylish rental furniture for your wedding in Berlin! One Fancy Fox offers high-quality equipment, no matter what kind of wedding you want to equip. They also make sure that the vases borrowed from them are filled with your desired floristry according to your specifications and brought to the wedding! Their repertoire ranges from small arrangements for individual vases, stylish arrangements in amphorae and goblets, modern wedding bouquets in all sizes and shapes, to flower walls with real or artificial flowers, backdrop designs and ceiling installations.Their table settings, room concepts and installations contain a stylistically wide spectrum and range from minimalist to opulent, from playful to artistic. 
One Fancy Fox Verleih & Eventdesign, Hochstraße 13, Aufgang 3, 13357 Berlin, (from autmn: Buchholzerstraße, 13156 Berlin) +49 176 29 84 51 23, hello@one-fancy-fox.de, www.one-fancy-fox.de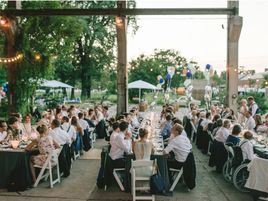 Wedding location
The Oberhafenkantine is definitely one of Berlin's dream locations. Since 2009, the idyllic wooden house on the Flutgraben has been used for weddings, birthdays and company celebrations. In the midst of the hustle and bustle between the Badeschiff and the Club der Visionäre, you can celebrate in the middle of Berlin. In different huts there are different dishes and of course a mulled wine stand. If you want to celebrate here, you should book quickly! They support each couple since five years and invite couples to an open house every Tuesday between 12:00–20:00.
Oberhafenkantine Berlin, Am Flutgraben 2, 12435 Berlin (Kreuzberg), +49 170 90 59 096, info@Oberhafenkantine-Berlin.de, www.oberhafenkantine-berlin.de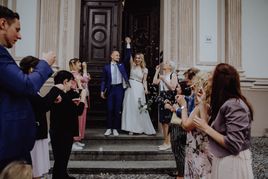 Wedding photos
Adela loves beautiful things in life like travelling, tasty food, the sea, art, music and real emotions. She has been working as a freelance photographer for six years and has specialized in reportages. She grew up near Aschaffenburg (Bavaria) and works mainly in Southern Germany and Berlin. Telling stories is her most important part of her work. Her photography is stylish, simple and real.
o'dear, Hildegardstraße 1, 10715 Berlin (Schöneberg), mail@odear.de, www.odear.de, Station: U9, S41, S42, S46 Bundesplatz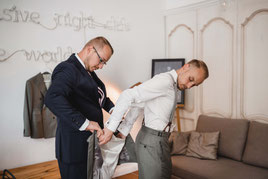 Wedding suit
At Rooks & Rocks you will find an extensive selection of Italian and British fabrics, honest advice and a perfect fit. They make sure that your wedding suit helps you to have an unforgettable day! Everything on this day should correspond exactly to your desires! Whether opulent gala reception or vintage "Boho-Wedding" they will assist you and help creating a suit, in which you can hardly wait to finally say "yes".
Uhlandstraße 20–25, 10623 Berlin (Charlottenburg), +49 30 52 68 51 60, info@rooks-rocks.com, www.rooks-rocks.com, station: U1 Uhlandstraße, Tue–Fr 11:00–19:00, Sat 11:00–18:00
If you want to find more hidden gems in Berlin, check out my folding maps BertaBerlin and QueerBerlin. They are available in well-chosen locations all over Charlottenburg, Neukölln, Kreuzberg, Mitte and Prenzlauer Berg in Berlin and online. But for those of you, who want to stay up to date, feel free to follow me on INSTAGRAM, FACEBOOK or register for my NEWSLETTER BertaNews.
Behind this project are Ally and me. Ally is a Berlin blogger, who recently got married and planed her wedding nearly two years. Needless to say, this woman became an expert in wedding planning especially in Berlin. This is why we want to help others, to create the perfect wedding – effortless.