Happy New Year! Have you thought about your goals and aims for the fresh, new decade yet? January is a great time for reflection about the past year, and to decide what you'd most like to achieve going forward. Whilst many people name sport or the gym as one of the things that's top on their list to do more of, sometimes it can get forgotten or left behind quite quickly! That's why I've searched Berlin for the top boutique gyms and workouts! These recommendations are bound to get you jumping on the bike or yoga mat, to meet great people and to kickstart your passion for sports this new year!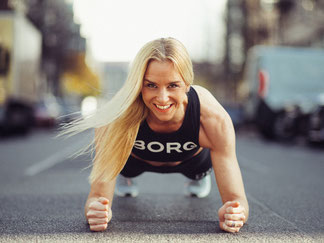 Ride Berlin
With a studio in the heart of Mitte, one just around the corner from Ku'damm and another gym opening in Prenzlauer Berg in the next months, boutique studio Ride Berlin will kickstart your new year goals. This cycling-based-workout is bound to raise your heart rate whilst also working out to your favourite type of music. Many different trainers all give sessions based on different music genres. Try sessions with the queens of techno Malin or Lauren for a Friday night without the hangover or Jeffrey for all the Beyoncé you could ever desire! Check Ride's website for the latest schedule and find your new favourite class. Whatever class riders do decide one thing will stay the same and that's the Ride experience! Here, riders' bikes are set up and ready upon arrival, you'll leave your workout to be given a cold eucalyptus wet towel and the stunning boutique shower facilities are catered with everything you could possibly need including toiletries, towels and hair products. Before you leave, I recommend that you get that next class booked in and swing by their amazing Lululemon and Björn Borg merchandise stand!
Schützenstrasse 70, 10227 Berlin (Mitte), +49 30 23 94 67 44, www.ride-berlin.com, team@ride-berlin.com, Station: U2, U6, Stadtmitte, for opening times see class schedule on website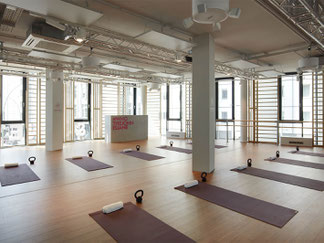 Soul Base 
At boutique gym, John&Janes Soul Base, Berlin, you'll find a range of different classes such as pilates, yoga cardio, dance workshops and barre. Soul base has a unique atmosphere, it's modern and spatial boutique design combines music with high-quality trainers and specialised equipment  Any parents out there don't need to worry about who will look after their little ones in order to find time for a class- just look on their course plan to see when the John&James Children's Club is open that week and rest assured your child is well looked after while you get some well deserved 'me' time! After your workout, treat yourself to some of the complimentary boutique beauty products on offer and get yourself a hot or cold drink to refresh. My personal recommendation would be to attend Bea's TRX Pilates class! Check their 'events' page on their website to see what special sessions are coming up and take part in something completely new- many of Soul Base's classes are also catered for beginners.  
Rosenthaler Straße 63, 10119 Berlin (Mitte), +49 30 54 00 00 300, www.johnandjanes.com/soulbase, Station: U8, M1, M8 Rosenthaler Platz, open Mon–Fr 6:30–22:00, Sat–Sun 8:30–20:30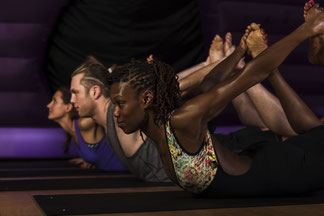 Hot Pod Yoga
Warm-up this January with a Hot Pod Yoga experience! Visit this boutique studio to discover Vinyasa flow yoga in 37-degree heat for a yoga session like no other. The increased heat means that your body will work harder, give you the feeling of a cardio workout with the mindfulness of a yoga session. With a maximum of 20 people per class, you'll head into the group pod and breath more mindfully, stretch deeper and increase your mobility through a controlled session leaving you feeling rejuvenated. Yoga mats, changing facilities and showers are provided- all you need to bring is enthusiasm and an open mind. Anyone from complete beginner to yogi-expert is welcome to come and join in a class at Hot Pod Yoga, so download their app and check the sessions on at their studio in Neukölln, Berlin today.
Karl-Marx-Straße 75, 12043 Berlin (Neukölln), +49 177 64 45 123, www.hotpodyoga.com/studios/berlin/, berlin@hotpodyoga.com, Station: U7 Rathaus Neukölln, see website for class schedule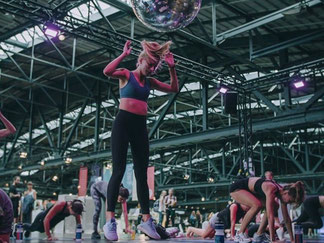 HIIT Berlin 
If motivation is really what you need to get you going this January then this HIIT Berlin the place for you! Here you have the choice of either taking part in a HIIT class or a CBD Yoga session. All of HIIT Berlin classes are found in cool quirky locations and you'll definitely never want to miss a session! Community is king at this spot and if you start your journey at HIIT Berlin this year then you'll immediately be welcomed into an accepting, fun and vibrant group of people. My personal recommendation at  HIIT Berlin would be to take part in the outdoor HIIT and Yoga classes at Haubentaucher in Summer- it's definitely one to look out for! Until then, don't worry! They have a whole host of indoor classes all over Berlin to get you up, active and staying motivated!
All information, schedules and locations of classes can be found here: www.hiit.berlin/yogayoga-berlin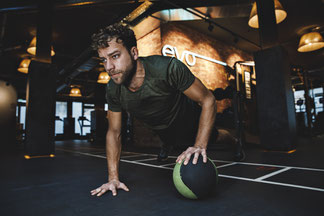 Evo Fitness
Another boutique gym recommendation has to be Evo Fitness, their beautifully designed gym in the centre of Berlin near Alexanderplatz offers everything you need to start working towards your goals. Escape your overcrowded gym and head to Evo Fitness for a top-quality environment curated to bring gym members the best service possible in a central location. Here boutique members will find premium equipment arranged into zones depending on what kind of workout they want to do that day. Evo Fitness also offers personal training to help you improve your mental wellbeing and physical performance. Your fitness goals are set here first, flexibility is always a priority at Evo Fitness gym and so you have the opportunity to train by yourself, in small group training sessions or with a coach. Visit their website to take part in a free induction session and find out more information from the team of experienced trainers. 
Rosa-Luxemburg Straße 14, 10178 Berlin (Mitte), +49 15 25 68 68 905, www.evofitness.de/en/clubs/berlin-mitte, yuri@evofitness.de, Station: U2, M8 Rosa-Luxemburg Platz, open everyday 6:00–23:00
Co-author
Aimée is a writer, founder of TheTemporaryResident, copy editor and social media consultant. She is super passionate about all things travel, sport and food as well as write for a range of different European companies on all sorts of topics! Find her on  thetemporaryresident.com