Valentines Day is the perfect opportunity for grand romantic gestures or even simply a loving reminder of how special someone is to you. That can mean celebrating Valentines Day by going on a date with a partner, practising some self-love or having an evening celebrating friendships. This year, I've been asked by many friends for ideas of romantic surprises and activities to do on Valentines Day in Berlin. So, I've made a list of 5 places to help you find the perfect date spot and to ensure an unforgettable Valentines day this year in Berlin. From candlelight dinners, fun activities or the best place to take a romantic stroll, keep reading!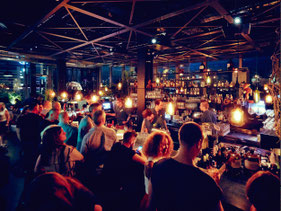 Monkey Bar
With its spectacular location, the Monkey Bar is a true gem amongst Berlin's rooftop bars and perfect for a Valentines date. It sits right on top of the 25hours Hotel; part of the extraordinary "BIKINI" building ensemble, home of boutique shopping. It would be easier to find a seat at this often busy date night hotspot if the drinks weren't as spectacular and the view so magical, however, I think that's a price worth paying! This spot speaks for itself. Once you have made your way to the bar take advantage of the panorama views of Berlin for an extra special Valentines date night and explore the terrace. Here, you can either watch the monkeys in the Berlin Zoo next door or watch busy passersby down below at the urban jungle of Breitscheidplatz. The Monkey Bar is closed in February and will reopen in April, until then scroll down to the bottom of this article for another great bar in Berlin to take your Valentines date!
Budapester Straße 40, 10787 Berlin (Charlottenburg), +49 30 12 02 21 210, bikini@25hours-hotels.com, www.25hours-hotels.com, www.neniberlin.de, Station: U2, U9, S3, S5, S7, S9 Zoologischer Garten, daily 12:00–2:00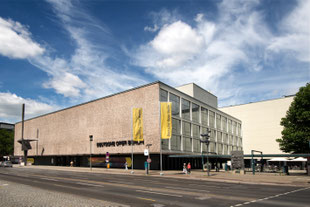 Deutsche Oper
Founded during the early 1900s, the Deutsche Oper showcases stunning productions for a broad audience of music and theatre lovers alike. As a gift this Valentines Day, why not surprise your date with tickets to the Staatsballett Berlin on Sunday the 15th for a truly unforgettable experience. On their upcoming schedule, you're sure to find something for everyone. For any history or architecture fanatics then a tour of the venue could be a really unique and interesting afternoon Valentines date activity!
Bismarckstraße 35, 10627 Berlin (Charlottenburg), +49 30 34 38 43 43, info@deutscheoperberlin.de, www.deutscheoperberlin.de, Station: U7 Bismarckstraße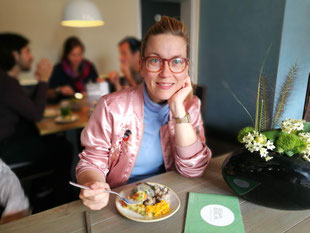 Kopps
This is one of my personal favourite hidden gems in Berlin and an absolute must-visit for every vegan high-end restaurant lover. Here the friendly staff will make your dinner an evening to remember. My personal recommendation would be to try the vegan-egg salad to start. You won't believe how tasty it is and unlike anything I've ever had before as a vegan! This is, without a doubt a perfect date location, especially for Valentines. Be wowed by their innovative creations made from seasonal, organically farmed veggies with spectacular attention to detail. Tip: stop by early evening for their "come together's" & get a great deal on 3-courses, or come for their excellent weekend-brunch, remember to book in advance though to avoid missing out!
Linienstraße 94, 10115 Berlin (Mitte), +49 30 43 20 97 75, kontakt@kopps-berlin.de, www.kopps-berlin.de, Station: U8 Rosenthaler Platz, Mon, Wed, Thu 12:00–24:00, Fr–Sun 12:00–2:00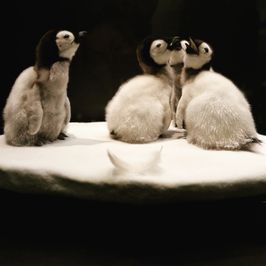 Museum für Naturkunde
The Naturkunde museum is one of Berlin's best museums. Here there are exhibits to capture the imagination and excitement of anyone! There are always an array of exciting exhibits on show, and the palace of the museum, built in 1889, has a long history of its own. One of my personal favourite attractions is the journey through the solar system using a sky projection disk which floats above visitors in a 12meter high stairwell just off the main hall of the museum. For a laid-back but fun date, this has to be one of the top places to visit this Valentines Day.
Invalidenstraße 43, 10115 Berlin (Mitte), +49 30 20 93 85 91, info@mfn-berlin.de,  www.naturkundemuseum.berlin, Station: S1, S2, S25, S26 Nordbahnhof, Tue–Fr 9:30:00–18:00, Sat–Sun 10:00–18:00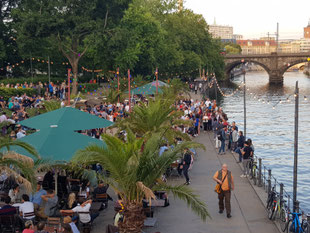 Dancing in the Monbijou Park
Where the park is now, used to stand the Rococo Monbijou Palace. It was demolished in 1959 and replaced with a recreational park. At this bar, you can enjoy a dinner under the stars and a well-deserved drink! Every Friday this beach bar offers outdoor swing-dance lessons and also host tango, salsa and cha-cha nights. Beginners of all ages are always welcome! Whether you want to dance the night away this Valentines Day or fancy a more relaxed date enjoying a drink and watching the world go by with a beautiful view of Museum Island, this park is not a spot to be missed!
Monbijoustraße 1, 10117 Berlin (Mitte), www.monbijou-theater.de, Station: S1, S2, S25 Oranienburger Straße, daily from 9:00 (in summer)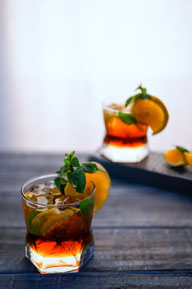 Sharlie Cheen 
In the bar and nightlife hotspot, Rosenthaler Platz you'll find Sharlie Cheen. This bar and hang out spot serves up top quality cocktails in a cool and quirky environment. This busy spot speaks for itself with it being extremely popular especially at weekends. If you're celebrating Valentines Day with friends this year then why not ring up in advance and book a table. Sharlie Cheen is definitely a great date night location, and a brilliant place to celebrate a special occasion. Out of the drinks of the month for February, my recommendation would be to try the King of the South cocktail with tequila anejo and campari. 
Brunnenstraße 196, 10119 Berlin (Mitte), +44 55 52 74 25, sharlie@sharliecheenbar.berlin,  https://sharliecheenbar.berlin/en.htm Station: U8, M1, M8, M10 Rosenthaler Platz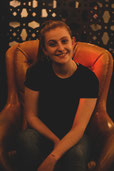 Co-author
Aimée is a writer, founder of TheTemporaryResident, copy editor and social media consultant. She is super passionate about all things travel, sport and food as well as write for a range of different European companies on all sorts of topics! Find her on  thetemporaryresident.com