Eating healthy in Berlin does definitely not solely mean green salads for lunch! This week I've been thinking about my top healthy, yet exiting and vibrant, food locations in Berlin are to share them all. From warm, comforting bowls, to freshly pressed juices and gourmet vegan restaurants, I think I've found some of Berlin's finest cafés and restaurants. If you're looking for delicious healthy cafés or just to discover your new favourite spot to meet up with friends then keep reading! And, if you'd like even more tips and recommendations then you're sure to find plenty in my VeganBerlin maps.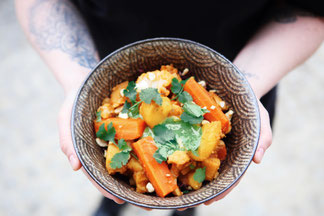 Daluma
This healthy spot is a superfood paradise! The food here is loaded with plant-based energy and is where the conscious Mitte-crowd fuels up on cold-pressed juices, smoothies and nutritious bowls. This healthy cafe offers, what I think is, the best breakfast ever: their luscious Acaí Bowl! Also don't miss Daluma's fantastic coffee and a delightful selection of skincare products like moisturizer, face mask and body scrub when you stop by.
Weinbergsweg 3, 10119 Berlin (Mitte), +49 30 20 95 02 55, contact@daluma.de, www.daluma.de, Station: U8 Rosenthaler Platz, Mon–Fr 8:00–20:00, Sat 9:00–19:00, Sun 10:00–19:00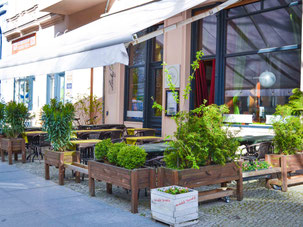 Lucky Leek
Healthy restaurant Lucky Leek is continuously crowned one of the best vegan restaurants in Berlin. Once you've been here you're sure to understand why!  This healthy, and delicious location offers plant-based gourmet dinners using the freshest seasonal produce. Every course served is delightful and original and overseen by female head-chef Josita Hartanto. Make sure to book in advance to avoid missing out and visit Lucky Leek for an unforgettable healthy meal.
Kollwitzstraße 54, 10405 Berlin (Prenzlauer Berg), +49 30 66 40 87 10, kontakt@lucky-leek.com, lucky-leek.com, Station: U2 Senefelder Platz, Wed–Sun 18:00–22:00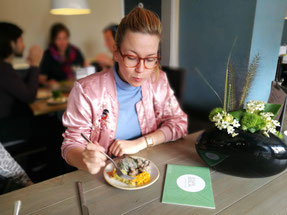 Kopps
Visiting Kopps is a must for every vegan gourmet-food lover. Be wowed by their innovative creations made from seasonal, organically farmed veggies and their spectacular attention to detail. My tip is to visit this healthy and exciting Berlin restaurant during the early evening for their "come together's" and get a great deal on a 3-course meal. If you're looking for a new healthy, weekend brunch restaurant then this could also be a great place to discover, visitors will be amazed at the array of vegan delights on offer.
Linienstraße 94, 10115 Berlin (Mitte), +49 30 43209775, kontakt@kopps-berlin.de, www.kopps-berlin.de, Station: U8 Rosenthaler Platz Mon, Wed, Thu 12:00–24:00, Fr–Sun 12:00–2:00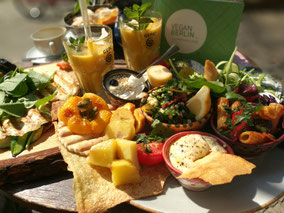 Healthy AtayaCaffe
Ahead of visiting healthy café Ataya Caffe, get ready for lots of happy vibes, colourful cosiness and flavour explosions. The unique combo of Senegalese & Italian vegan food here is grounded in the origin of the owners - homecooked meals. You won't find healthy food like this anywhere else in Berlin and I'm sure that you'll be craving it when you've left until you visit again!
Zelterstraße 6, 10439 Berlin (Prenzlauer Berg), +49 30 33 02 10 41, info@atayacaffe.de, atayacaffe.de, Station: S8, S41, S42, S46 Prenzlauer Allee, Tue–Thu 10:00–18:00, Fr–Sun 10:00–20:00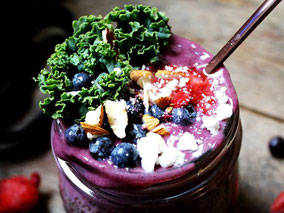 The Juicery Berlin
These healthy juices are even better than the naughtiest milkshake! Whether you like your healthy juice tropical and fruity, super green or even with peanut butter or tahini – the heavenly superfood smoothies here won't leave you disappointed! Juicery Berlin is a stone's throw from the famous Mauerpark Sunday flea market and a quick pit stop at this healthy Juicery is sure to fuel you up for the day.
Eberswalder Straße 2, 10437 Berlin (Prenzlauer Berg), +49 176 64 96 61 49, www.thejuiceryberlin.com, Station: U2 Eberswalder Straße, Mon–Fr 8:00–18:00, Sat 9:00–18:00, Sun 9:00–18:30
---
The VeganBerlin guide is a locally-curated collection of colourful vegan and healthy gems, crafted so you can explore Berlin with fun, ease and lots of good karma. I teamed up with eco enthusiast Claudi to create the perfect conscious getaway in Berlin.
If you want to find more organic markets in Berlin, check out my folding maps BertaBerlin and QueerBerlin. They are available in well-chosen locations all over Charlottenburg, Neukölln, Kreuzberg, Mitte and Prenzlauer Berg in Berlin and online. But for those of you, who want to stay up to date, feel free to follow me on INSTAGRAM, FACEBOOK or register for my NEWSLETTER BertaNews.