Alicia and I are still loving our original "Top 5 restaurant recommendations for Friedrichshain", but thought it is high time to recommend five more restaurants, as Friedrichshain is such a vibrant place for eating out. You can basically eat your way through the entire world in this part of the city (and then have a good drink or hit the clubs afterwards) and we encourage you to do so whenever you're around.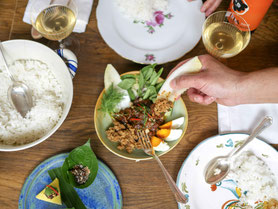 Khao Taan
Imagine you had a cute Thai Oma who just wants the best for you and therefore loves to feed you amazing home cooked food. Friedrichshain restaurant Khao Taan (literally: "Food from my Grandmother") delights you with exactly this experience. Their wonderful 6-course set menu is served family style. The space in front of you will fill up with bowl after bowl of delicious, incredibly comforting Thai food to be shared by the entire table - a great dining experience and a thrill for your tastebuds. The different flavors are fun to explore and the spicy, acidic and umami notes in each dish are brilliantly balanced. So much fun. At 35 Euros per person the menu is really fairly priced. Make sure to reserve a table.
Lockdown note: Khao Taan is currently closed but slated to open again once the current Corona regulations allow it.
Gryphiusstraße 10, 10245 Berlin (Friedrichshain), +49 30 58 61 74 00, www.khaotaan.com, Station: M13 Boxhagener Str./Holteistr. Tue–Sat 18:00–23:00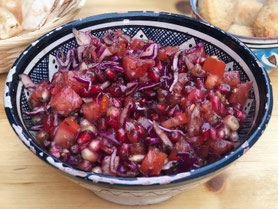 Aleppo Supper Club
There are hundreds of places in Berlin offering Levantine cuisine, but Aleppo Supper clearly stands out. Samer Hafez' small restaurant on Rigaer Straße has conquered our hearts and our palates by offering authentic and incredibly flavorful Syrian cuisine. We highly recommend ordering a variety of starters and mains and then share them with your entire table to get the full Syrian Mezze experience. Our favorites are the metabel (a garlicy aubergine mash), the hummus with nuts, the pomegranate salad, the filled aubergines, the shakshuka and the different rice dishes. Try them all - you'll not be disappointed! Also: A great place for vegans and vegetarians. Very good value for money.
Lockdown note: Aleppo Super Club is open and offers takeaway and delivery service via Lieferando and Wolt.
Rigaer Straße 58, 10257 Berlin (Friedrichshain), +49 177 74 35 533, www.alepposupper.club, Station: U5, S8, S41, S42, S85 Frankfurter Allee, daily 10:00–22:00, pic by Alicia Kowol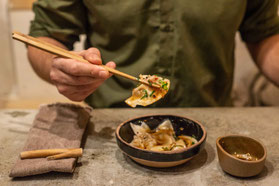 Kong
With its modern and minimalist interior this restaurant definitely does NOT look how you'd imagine a Chinese restaurant in Germany to look like: No tacky golden dragons anywhere in sight! The food is a modern take on traditional Sichuan cuisine - for us the most exciting regional Chinese cuisine due to it's high variety of incredible dishes and bold use of spices. Owners Tong Liu and Ling Ma (the people behind beloved restaurant "The Tree" in Mitte) decided to open Kong to showcase how intriguing and innovative Sichuan cuisine can be. They definitely manage to do so by serving an astonishing set menu that changes every month, so just sit down and enjoy a wild ride through "Sichuan's Nightlife" or the "Sichuan Herb Menu". Presentation and plating are impeccable - prepare to be wowed by incredibly stylish dishes that are fun to eat and offer new surprising taste explosions with every bite. At 35 bucks per person, the menu is super fairly priced. Make sure to reserve a table. Lockdown note:
Lockdown note: Kong is currently closed but we can't wait for it to re-open again once the lockdown lifts!
Niederbarnimstraße 4, 10247 Berlin (Friedrichshain), +49 30 98 40 288, www.facebook.com/kong.berlin, Station: U5 Frankfurter Tor Wed–Sun 19:00–22:00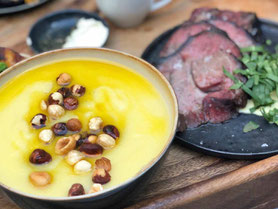 Michelberger Restaurant
Looking for a great place to bring a date, your hipster foodie friends or peeps visiting from out of town? Look no further than the beautiful Michelberger Restaurant on Warschauer Straße. Part of stylish Michelberger Hotel, this restaurant offers Nordic inspired cuisine, using just the best regional and seasonal ingredients. At first sight their dishes might seem simple, but they all come with a surprising twist and are utterly delicious. Imagine a peach at its peak flavor (sweet and juicy) that has been grilled to add a smoky taste and elevate it further and you get an idea of the incredible food Michelberger is serving. Their dining room is quite pretty, but we truly are in love with their open air patio. Michelberger Restaurant is not cheap, but the high quality of the ingredients used as well as the impeccable technique behind the dishes are worth it. Walk-ins are welcome, but if you want to be safe, reserve a table.
Lockdown note: Currently Michelberger offers brunch menus for takeaway and delivery. They also opened a small deli selling homemade bread, pastries and other yummy things.
Warschauer Straße 39, 10243 Berlin (Friedrichshain), +49 30 29 77 85 90, www.michelbergerhotel.com/en/restaurant, Station: U1, U3, S3, S5, S7, S9, S75 Warschauer Straße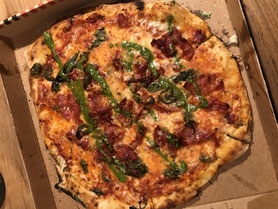 Salami Social Club
Sometimes you just need a greasy, cheese dripping, utterly satisfying pizza. When this craving hits you, head over to Salami Social Club and get your fix. Their sourdough pizzas are as far away from any "traditional" Italian pizzas as can be with toppings like spicy salami, blood sausage & bacon or pumpkin, goat cheese & chili-honey but still utterly delicious. Their signature green pesto gives you an extra spice kick and the craft beers on offer help you to wash everything down. Yum! A pizza costs between 9 and 13 Euro.
Lockdown note: Salami Social Club is open and offers takeaway through a small window at the front of their restaurant. Delivery via wolt is also available.
Frankfurter Allee 43, 10247 Berlin (Friedrichshain), +49 30 54 82 37 81, www.salamisocialclub.de, Station: U5 Samariterstraße, daily 12:00–23:00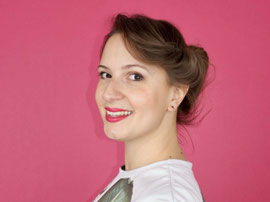 If co-author Alicia Kowol is not traveling the world her favorite pastime is eating out.
She loves to try everything: From the grittiest smash burger to high end Michelin starred cuisine. Alicia is always on the hunt for finding the very best food in each category. The craziest thing she ever tried was iguana in Mexico - an experience she would not like to repeat. She would eat bugs again though, they were really yummi.
Ask Alicia where in Berlin to find the crispiest sourdough bread, the freshest ceviche or the most authentic omakase menu - she'll know and is happy to share her secrets with you. Currently she also cooks a lot.
Follow her food adventures on Instagram: @alicialicious_berlin
More Japanese restaurants: