These parks will wow you with their picnic options. Today everyone is interested in some kind of unique food experience in everyday life. We help you to experience relaxing parks in Berlin accompanied by delicious cuisine.
Recently I designed a Picnic Map with Deliveroo, crafted so you can explore 11 picnic spots and over 40 restaurant in Berlin with ease. Here you have a sneak peek of the map, I selected my favorite 5 picnic spots.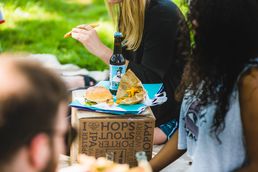 1) Zoologischer Garten
It is the oldest and best known zoo in Germany. With all its events, the zoo is still one of the most popular attractions in Berlin for all the family. If you want to have a picnic in this park, you can order authentic Chinese dishes from Good Friends to this delivery address: Hardenbergplatz 8, 10787 Berlin.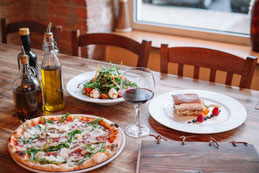 2) Volkspark Friedrichshain
This volkspark is the oldest public park in Berlin that was not created for royalty but for the regular public. If you want to have a picnic in this park, you can order at the following restaurants. If you want to have an Italian picnic, you can order at Pepe Nero to the delivery address: Am Friedrichshain 1, 10407 Berlin. Hidden in the middle of Friedrichshain you can find the Italian restaurant Pepe Nero. Pick from all kinds of pizza and enjoy the Italian feeling.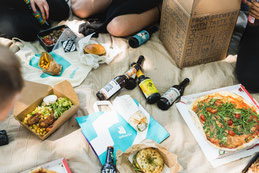 3) Victoriapark
Victoriapark, located in the heart of Kreuzberg, houses a mountain, a waterfall, a vineyard and a national memorial. If you want to have a picnic in this park, you can order at the following delivery address: Kreuzbergstraße 62, 10965 Berlin. A piece of Latin America in the middle of Berlin Kreuzberg offers Victoria Latina. Enjoy typical tapitas latinas such as patatas bravas, ceviche de pescado or yummy arepas.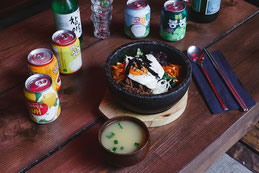 4) Görlitzer Park
The park will give you a look into how life in multicultural, alternative Kreuzberg is like. Formerly a freight train station, the park is now a popular place to take in the summer sun. Also right in lively Kreuzberg you will find the Kimchi Princess. Get ready for one of the best Bibimbaps in Berlin as well as other yummy Korean specialties. If you prefer to enjoy the sun in a park, you can order your picnic to this delivery address: Görlitzer Straße 1, 10997 Berlin.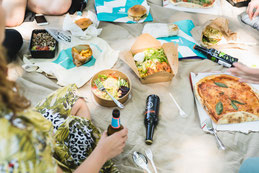 5) Tiergarten
For Berliners, it is the city's green lung. The park not only offers winding tree-lined paths and open green spaces, but is also home to many cultural and political sights. If you want to have a picnic in this park, you can order at the delivery address: Straße des 17. Juni 69, 10557 Berlin. After walking through Tiergarten, find the best spot for your picnic. The colorful and spicy Mexican cuisine of the Kantini in the Bikini mall is by far one of Germany's favorites. Thanks to Chaparro, these amazing dishes are also available on Deliveroo and will be delivered to Tiergarten!
If you want to find more hidden gems of Berlin, check out my folding maps BertaBerlin and QueerBerlin. They are available in well-chosen locations all over Charlottenburg, Neukölln, Kreuzberg, Mitte, Schöneberg and Prenzlauer Berg in Berlin and online. But for those of you, who want to stay up to date, feel free to follow me on