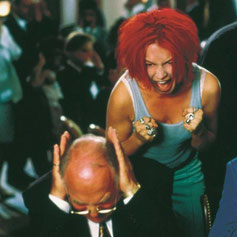 Aaaand Action!
The next five blog post will be revealing, how you can upgrade your movie night. First of all, Törtchen - Made in Berlin will give you recipes for 5 snacks and I additionally will give you my Top 5 films for the perfect movie night.
As I am blogging about Berlin and publishing travel guides named BertaBerlin, I will only select movies which were filmed in Berlin. To create a arc of suspense, I will start from the very end of my Top 5.
Last but not least: 
RUN LOLA RUN (1/5)
This movie is a German cult classic from 1998 directed by Tom Tykwer. The story follows a woman who needs to obtain 100,000 Deutsche Mark (yes , this were the times when we did not have Euro) in twenty minutes to save her boyfriend's life. As she is in a hurry, she is running through Berlin. We witness three 'runs', each in real time and unfolding from the same starting point, each offering a different outcome. This movie won well-deserved 26 awards and has to be a part of every movie night.
And here is the best snack to eat while watching this movie.
Marshmallow Snacks
Chop bittersweet chocolate and let it melt above a bain-marie.
Put the marshmallow upright on a board or something similar.
Then pour chocolate above it and press one salted pretzel in the chocolate.
Enjoy.
What do you need?
25 Marshmallows
75 g bittersweet chocolate
25 little salted pretzels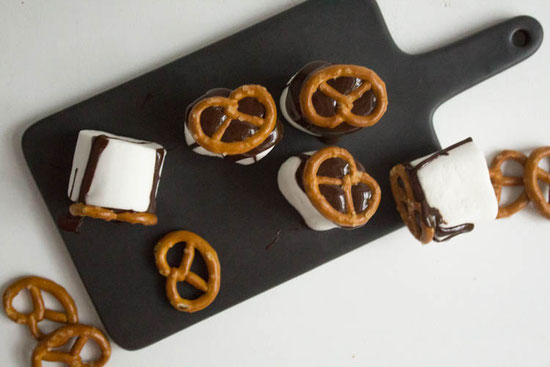 If you want to not only watch hidden gems of Berlin (in a movie), but see it in reality, check out my folding maps BertaBerlin and QueerBerlin. They are available in well-chosen locations all over Charlottenburg, Neukölln, Kreuzberg, Mitte and Prenzlauer Berg in Berlin and online. But for those of you, who want to stay up to date, feel free to follow me on INSTAGRAM, FACEBOOK or register for my NEWSLETTER BertaNews.