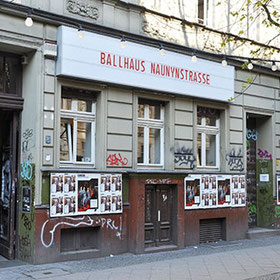 Alan Watts once described a wonderful analogy for life. People often think of life by analogy of a journey, which has a serious purpose at the end. As when you travel you want to get somewhere. But maybe life is more a musical thing and we are supposed to sing and dance, while the music is being played. The aim of music is not to make the end of a composition. The point is the composition. Because if so, the winner would be who played fastest. Same way with dancing. You don't aim at a particular spot in the room, because that`s where you will arrive. The whole point of the dancing is the dance.
Personally I think it is important in life, to enjoy the moment and not always to aim for the next step in life. Happiness will not just come to you, when you finish your degree, start working or get a promotion. It is important to not just live your life, go to school, do your job, but to enjoy it the whole way down the line. This is why I love to go to the theatre, cinema, opera and museums as I can "break" out of my everyday life and draw new inspirations.
Of course you can imagine a city without theaters. Of course you can think of Berlin without art, shows and exhibitions. It is not necessary, but because we are human we need the unnecessary. Sometimes we need the unnecessary even more than the necessary. So I am very happy that Berlin offers hundreds of city theaters, operas and concert halls, cabarets and comedy shows and musical palaces.
Top 5 theaters of Kreuzberg
While I was scouting for locations to recommend in my travel guide BertaBerlin for Kreuzberg, I made a list of my personal Top 5 theaters of Kreuzberg.
Ballhaus Naunynstraße
The Ballhaus Naunynstraße in Kreuzberg was founded in 1983 and re-opened in 2008 following renovation under the patronage of the film maker Fatih Akin. With Shermin Langhoff and, today, Wagner Carvalho the stage in the beautiful ballroom has become a hub of (post)migrant theater in Berlin.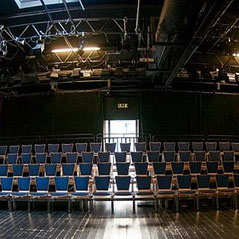 BKA Theater
Located in Kreuzberg since 1988, BKA is a gem among Berlin's cabaret theatres. Today the theater offers cabaret, comedy, improvisation theater, concerts and musicals. In the morning you can visit English-speaking children's theater and every Tuesday the "Unerhörte Musik" (incredible music), which is the only weekly concert series for contemporary music in Germany.
English Theater Berlin
The name says it all: The English Theater Berlin exclusively presents English-speaking plays, performances and Made-in-Berlin productions. It hosts concerts, comedy shows and dance performances from the lively English-speaking theater and music scene in Berlin.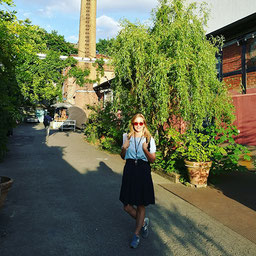 Theater Thikwa
The theater Thikwa focuses on the expression of differences and similarities of disabled and non-disabled actors. In the romantic Mühlenhaupthöfen of Kreuzberg they present dance performances, text-based theater, music theater and comedies.
HAU Hebbel am Ufer
The theater HAU stands with its three venues for theatre, dance and performance art in Kreuzberg. In addition, the programme regularly features music, visual art and theoretical debate.
If you want to find more hidden gems of Berlin, check out my folding maps BertaBerlin and QueerBerlin. They are available in well-chosen locations all over Charlottenburg, Neukölln, Kreuzberg, Mitte and Prenzlauer Berg in Berlin and online. But for those of you, who want to stay up to date, feel free to follow me on INSTAGRAM, FACEBOOK or register for my NEWSLETTER BertaNews.