Every year, when February 14 – Valentine's Day – comes around, Berliners ask themselves the same question: What are the best things I can do on Valentine's Day in Berlin, to make this day special? If you are spending Valentine's Day in Berlin, you'll have plenty of options! See my favorite romantic recommendations below.
PS: Berlin is the Germany's singles capital, so no needs to feel left out on Valentine's Day. If you aren't in the mood for roses and hearts, you could spend this day with your friends or treat yourself too ;).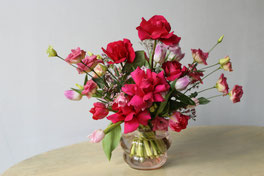 Send stunning Valentine's Day flowers across Berlin
Shower your Berlin love with a Valentine's Day flower arrangement from Marsano Berlin. Their curated collection, featuring the freshest roses, ranunculus and anemones, has all the best Valentine's Day gift ideas to make your sweetheart swoon. Hand-delivered flowers will be sure to put a smile on his or her face! Another thing you could add is a voucher for their workshops and learn how to make exceptional bouquets yourself.
Charlottenstraße 75, 10117 Berlin (Mitte), info@marsano-berlin.de, www.marsano-berlin.de, Station: U2 Stadtmitte, in Berlin – orders until 8:00 can be pick up at the same day; pick up times: Mon–Sat 10:00–13:00, delivery times in Berlin Mon–Sat 8:00–15:00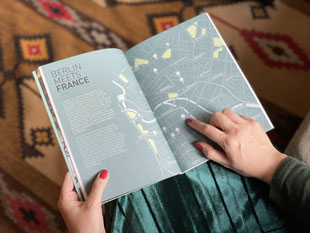 Plan a day trip on Valentine's Day in Berlin
I love traveling, and maybe your loved one too. So if you want to plan a trip to France in Berlin, check out my book 'Travel the world in Berlin'. I wrote a whole chapter about romantic French places in the German capital.
For Valentine's Day you could pick your favorite things and surprise your better half with some time together. For each country I tailored an enthralling journey starting with unique breakfast places (also to go), historical sights to fancy cocktails at night (the Crémant could be enjoyed at home ;). Additionally, each chapter features more exclusive highlights like stores and memorials or parks as well as a chapter with my favorite restaurants for each international cuisine (where you could order or pickup a lovely dinner.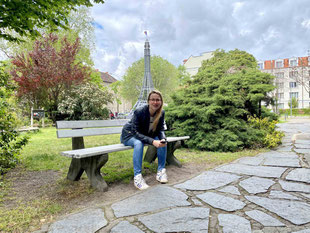 Plan a day trip on Valentine's Day in Berlin
You don't have to go to Paris to see the quintessentially French Eiffel Tower. Stroll through Berlin Wedding and stop in front of the mini Eiffel Tower with the tricolour on top. This square is located in the middle of the former French-occupied zone, which the tower still reminds us of today. If the weather is nice, you can also sip a café au lait (just bring yourself a little picknick), sit down at the bench and take a beautiful walk to the nearby Schillerpark. More ideas can be found in my book.
Centre Français de Berlin, Müllerstraße 75, 13349 Berlin (Wedding), Station: U6 Rehberge; pic by Daniel Kessler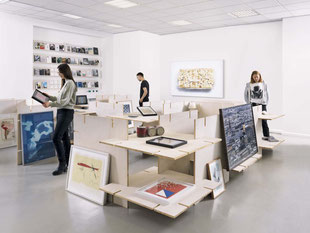 Color your Valentine's Day in Berlin
If you want to beautify your apartment with art, you can borrow genuine originals from the Neuer Berliner Kunstverein! The Artothek collection comprises around 4,000 works from the 20th and 21st centuries, including paintings, sculptures, photographs, etc. by renowned artists such as Marina Abramović, Georg Baselitz, Max Beckmann, Joseph Beuys or Salvador Dali. Any person living in Berlin can rent artwork, which aims to the original goal of the n.b.k. Would this not be an awesome surprise for your Valentine's date? You would definitely get a kiss from me for such a genuious Valentine's Day gift. More arty tips can be found in my ArtBerlin map.
n.b.k. Artothek, Chausseestraße 128–129, 10115 Berlin (Mitte), +49 30 28 07 020, nbk@nbk.org, www.nbk.org, Station: U6 Oranienburger Tor, Tue, Thu 14:00–20:00, Wed, Fr 14:00–18:00, pic by Artothek des Neuen Berliner Kunstvereins (n.b.k.), Display-Architektur "Roland": Silke Wagner, 2008 © n.b.k. / Jens Ziehe, 2018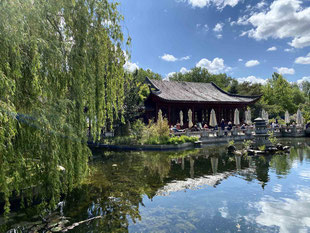 Spend Valentine's Day in Berlin Marzahn
One of the best things to do in Berlin on Valentine's Day is to escape the city. The Chinese Garden, located in the Gardens of the World, is one of those places in Berlin. It is designed in the style of classical Chinese scholarly gardens and strives for a balanced relationship between the 'seven elements', earth, sky, water, stones, buildings, living beings and plants. In addition to several bridges, walls and fantastically shaped Taihu stones, the Chinese Tea House, the 'Berghaus zum Osmanthussaft', is one of the special features of this garden. It can be reached via winding riverside paths and a romantic bridge. Perfect for any date!
Gärten der Welt, Blumberger Damm 44, 12685 Berlin (Marzahn), www.gaertenderwelt.de, Station: M8, M17 Adersleber Weg (Berlin), daily from 9:00, pic by Daniel Kessler