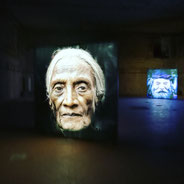 When you read my blog you might assume that I studied gastronomy rather than philosophy. I know. But recently I visited the exhibition of Bernd Kolb, which made me think about philosophy again, especially the question: Who and what am I? This is the central theme of the BRAHMAN exhibition.
Bernd Kolb published special snapshots in his illustrated books ATMAN and BRAHMAN. The exhibition ATMAN 2016 in Berlin has already inspired many visitors and since June 2017 the Malzfabrik hosts another BRAHMAN exhibition.
In Hinduism Brahman, as a metaphysical concept, is the single binding unity behind the diversity in all that exists in the universe. In the Bernd Kolb exhibition you will find no more then sixteen photographs of faces, each placed in one aisle of the factory.
As a visitor of the exhibition you will be guided by Bernd Kolb along the aisles of the Malzfabrik towards one photo installation at a time. In each aisle you walk towards a portrait, which enlightens the room. Take your time to look at the photo and by concentrating on the person you see, maybe you see something of yourself in this person. It is a matter of seeing the soul of the other and, thus, approaching yourself. I looked into these faces and I saw in total strangers something that moved me, touched me.
The aim of the exhibition is to look into the divine Sein, BRAHMAN, which reposes in each of us. The observer and the observed melt together, and what is found is not what the observer has been looking for after all.
Bernd Kolb offers talks and tours through BRAHMAN, which I highly recommend. My favorite tour (they have several) starts at a magical time of day: at midnight. Before the tour Bernd Kolb with tell you a little bit about the philosophy and the concept of the exhibition.
I have been to many exhibition, but this one felt special. BRAHMAN will be shown in the Malzfabrik until 30th of September 2017, so you have plenty of time to go.
Hours:
Wed-Fr 15-21h;
Sat-Sun 11-21h
Address:
MALZFABRIK
Bessemer Str. 2-14
12103 Berlin
Station:
U6 Alt-Tempelhof
Ticket requests:
0151 1168 1127
If you want to find more hidden gems of Berlin, check out my folding maps BertaBerlin. They are available in well-chosen locations all over Charlottenburg, Neukölln, Kreuzberg, Mitte and Prenzlauer Berg and online. But for those of you, who want to stay up to date, feel free to follow me on Instagram, Facebook or register for my newsletter.