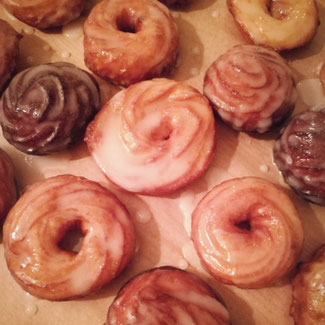 Berliner
Celebrating New Year, or Silvester, as its known in Germany, means to eat a lot of jelly donuts a.k.a. Berliner. If you want to bring some German flair into your house, you have to watch a British comedy sketch called Dinner for One, while eating the jelly donuts.
Feuerzangenbowle
Among the many drinks which I might consume on New Year, Feuerzangenbowle is my favorite. For Feuerzangenbowle you have to heat up wine with cinnamon, cloves, and orange peel. Then put a conical piece of sugar soaked in rum above the wine and lit it. The sugar caramelizes and melts into the hot wine, creating a drink which is not only delicious but exciting to watch in the making. Nevertheless, midnight is celebrated with a glass of sparkling wine in Berlin.
Dinner for one
The most repeated TV show ever - not only in Berlin - is Dinner for One, a.k.a. The 90th Birthday. This show has been the popular New Year's Eve tradition since the 70s. It was shot in Germany in the 60s, even though it is set in England and performed in the English. It describes the birthday of 90-year-old Miss Sophie. Through the whole dinner she seems unaware that her butler, named James, is playing the parts of all her dinner guests. This show achieved cult status in Germany, so the slogan of Miss Sophie 'same procedure as every year' lives on.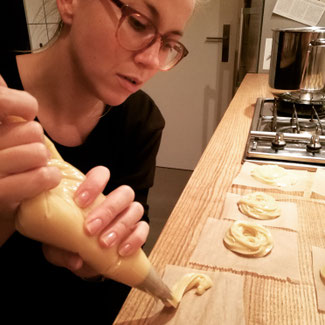 Fireworks
The loud cracks and booms of 1000 fireworks at the stroke of midnight are sometimes frighting in Neukölln. But the tradition of welcoming the New Year and frighten away evil spirits is not unique to Neukölln, Berlin or Germany. Once midnight is here, all the fireworks set off and it's finally time to eat some pancakes a.k.a Pfannkuchen, as it is known in Berlin. Outside Berlin it is called Berliner, because they were created in the capital of Germany. But be warned, because some donuts may contain mustard instead of jam – which can bring you bad luck. Should this happen, you should buy a few marzipan pigs, since these are said to bring good luck.
Fortune telling from Bleigießen
I also enjoy a bit of fortune telling with Bleigießen ever New Year's Eve. For this you melt a small amount of lead over a little flame and pour the molten metal into water. The metal hardens, and the shape that emerges can be interpreted. A book or the internet helps you determine what the year holds for you. If you are not into Bleigießen, you can also buy some fortune cookies.
New Year's resolutions
And finally, the tradition of coming up with a New Year's resolutions is also common in Germany, but luckily one doesn't have to follow these until January 1 or in general.
Happy New Year!
PS: If one of your resoltions is to visit Berlin,
please feel free to have a look at my BertaBerlin and
live with me in Neukölln.