Too overwhelmed to cook during the Christmas holidays? Get in the spirit with the following festive 'Christmas dinner to go' options, as I round up the best of Berlin has to offer. Guten Appetit!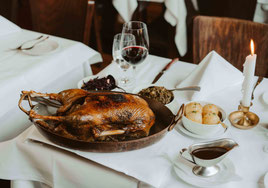 Gans to go by Ganymed Brasserie
Still looking for a Christmas dinner menu? It did not look like this on my table, but it was sooooo delicious. If you want to have a festive dinner, you can order at Ganymed Brasserie. They have a Gans to go waiting for you. Little tip from my side: On the second day we made sandwichs with the left overs. You can order the duck to go at www.ganymed-brasserie.de. @thedudeforfood
pic by Florian Kottlewski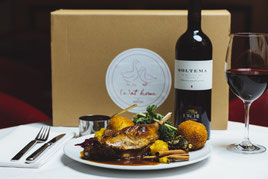 Ente at Home for Berliners and others
Why not gift an easy Christmas dinner to your loved ones. Since 20 years the Brasserie Gendarmenmarkt serves unique dishes in the heart of Berlin. The menu features fresh brasserie cuisine and a wide selection of fine wines. Or if you want to eat fancy without leaving the house!? No problem. Since last year the Brassere offers duck to go! They conveniently deliver the Pomeranian duck to your home. The dishes are shipped freshly cooked in airtight vacuum bags. Just perfect for a festive night at home :D Also... If you still looking for an event location to celebrate your Christmas Party? The Brasserie has one with a breathtaking view in the heart of Berlin. Karlsson Penthouse is the perfect location for any kind of event, from a standing reception to an exuberant celebration for up to 350 people.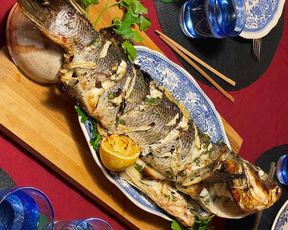 Seabass to go
When I was a child my grandmother always had a carp in her bathtub, which we than ate during the Christmas holidays. This fish normally swims in muddy areas so she 'cleaned' his grills. I did not have to did this, but during my pick up of the 2,2 kilo seabass Ikejime at Fish Klub Berlin, I was somehow remindered on these former times. Anyways, Fish Klub Berlin was established in 2017 and became the oysters specialist in Berlin. We import all of our oysters, fish and seafood from France.
Their fresh seafood comes mainly from the French Atlantic ocean, North Sea and French Mediterranean coasts. I did pick up my 'fish to go for Christmas' at their seafood truck in Markthalle Neun.
They are super friendly and can help you with your choices ;). Our choice was delicious... It was so big, that not even the plate could fit it, but it did not last long anyways.
Orders and list of products for Christmas can be requested via mail sales@fishklubberlin.com.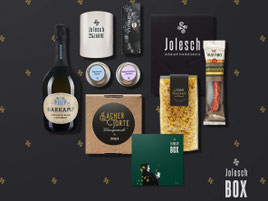 Christmas gift box to go
In addition to the obligatory 'Christmas Goose to Go', this year the Jolesch offers a Jolesch gift box with very special Austrian delicacies. Included are products to enjoy, such as the popular Jolesch Torte, a bottle of Sauvignon Blanc sparkling wine, the can of OktoBussy (octopus from the fish specialist Grüll from Grödig near Salzburg) and the traditional cold-smoked raw sausage from Vulcano. But also two spice mixtures are found in the box, to also stimulate his own Austrian cooking skills: A Kaiserschmarren spice mixture (easy to make - even I could do it with their recipe :D) and spicy Piment d'Esplette of the Salzburg brand Stay Spices. The latter should definitely be used to prepare the Fleckerlnudeln, which are also included, to make Tante Jolesch's Krautfleckerl. A suitable recipe is of course also included. Jolesch fans will also be delighted with the original Jolesch mug and cooking apron.