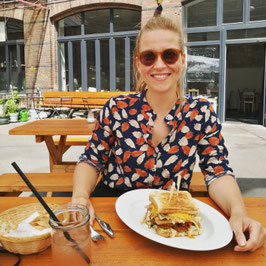 You think city maps are outdated? You must be kidding: completely offline tourists and Berliners are lead to (secret) spots in Neukölln and soon in Kreuzberg with BertaBerlin treasure map in their hand.
When you think you have seen it all you should give BertaBerlin a try. With love for detail, Berta Heide has explored the Neukölln district and created a beautifully designed city map. 
The city walks featured on the folding map include everything from a little bit of culture, culinary recommendations to a lot of excitement. Beside the classical tips, Berta recommends unique activities such as a picnic in Körnerpark to a yoga session at Yellow Yoga.
Berta Heide is, by the way, a real Berliner. But she did spend some time aboard in South Africa, Canada and Peru. Back in Berlin, the 33-year-old blogger did not only find happiness in Neukölln, but also a beautiful apartment. In her house she now welcomes a lot of guests and tops them up with recommendations. When she planned a weekend trip herself to Milan and had to read several travel guides, she had an idea to help tourists finding their way through her Berlin. It was then that the idea for a minimalistic travel guide with maps named BertaBerlin was born.
Few months later in June 2016 the Mini Pocket Guide hit the market. Now the second folding map will be released in which BertaBerlin leads visitors and newcomers through Berlin and Kreuzberg. Planned for June is also a KIEZ TOUR through Kreuzberg. Those who wants to join are recommended to subscribe early to get a spot!
To assure that Berlin visitors are not missing their photo opportunities of Berlin's main attractions, the folding map also provides walks including sights like the Reichstag and the Fernsehturm (TV-Tower). The many who have already followed the walks have been able to enjoy discovering Berlin independently. "I am happy, when I can 'guide' people through my Berlin" says Berta, "and even if a copy gets stolen from a shop, I hope, that at least the thief gets to know the district a little better."
The folding map is available in well-chosen locations all over Neukölln, Kreuzberg and Prenzlauer Berg and online for 5 Euros. This month the map for Kreuzberg will be released. There will also be an update for the map of Neukölln, but for those who want to stay up to date can follow Berta on Instagram, Facebook or simply visit her blog www.walk-this-way.net.
Quelle: www.qiez.de by Mareile Morawietz