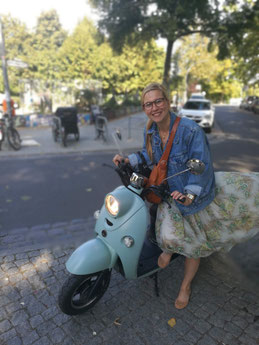 The electric scooter from unu is like a bike, only faster. As I am scouting for a my new BertaBerlin and VeganBerlin map in Berlin, I love to just hop on this little beauty and drive this way! I recently discovered the electric scooter from unu and I have to say, I AM A FAN. I can search for my hidden gems in Berlin without a sweat and guilty conscience, because the electric scooter only needs a battery.
Just parking, not searching
Another advantage: I don't have to waste 41 hours looking for a parking space. Because this is the amount of hours German need to find one every year.
Another great benefit is, that you don't have to spend time and money tanking. You just have to charge the battery every 50 km. The battery of the electric scooter can be charged fully anywhere where there is a plug inbetween of five to six hours. Nevertheless, the start of the charging cycle is faster: after about one hour, my battery was already 50% charged and they told me that these "small" charging cycles do not limit either the general battery life or future potential charging power. The electric scoouter needs therefore only 0,81 €/100 km. On average, the monthly maintenance and purchase costs of it is 75,50 € per year. For example, liability insurance with partial coverage (150 €) costs 80 € including theft protection.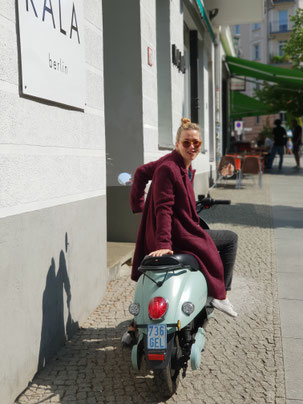 The unu way
Why are cars so expensive and why is the electric scooter from unu more affordable? It is because unu saves upto 40% of the storage and distributer costs. You can order the electric Scooter directly with unu and it will be delivered in front of your doorstep. This is why you can get an unu electric scooter already for 1.799 € (basic 1000 W). But – as in my case – if you want 3.000 W to be able to deal with the Berlin taxi drivers, a mint color and a cognac seat, you end up with 2.899 €, plus 99 € for a helmet. My monthly costs including electricity costs (900 km per month), insurance with partially comprehensive and four inspections will be 38 €.
The test drive
You can book a test drive online. You just fill in some basic information and can choose where you want to drive and what time: Tempelhofes Feld, Savignyplatz, Schönhauser Allee, Nordbahnhof or Value-Kreuzberg. It takes 15 minutes, but without a stopp watch running.
Pick a scooter
Just like that, you can order the electric scooter from unu online, it will take around three weeks until it will be delivered. These are the individual settings you can choose from:
seat,
color of the scooter and
the engine (1.000, 2.000 and 3.000 W).
If you prefer to extend the payment over a longer period of time, you have the option to finance your electric scooter over twelve upto 24 months. The effective interest rate is generally around 0,90%. For commercial customers unu offers leasing contracts. The monthly rates depend on the duration of your contract (12-36 months) and the value of your scooter.
Get a scooter fix
If you need a fix for your unu scooter, you can write unu directly here or call +49 30 22 01 21 299 from Mon–Thu 10:00–17:00 and Fr 10:00–13:00 or you can choose from six repair shops in and around Berlin:
Zweirad Technik Berlin in Berlin Kreuzberg
BCS Berlin G. Holtz & Co. in Berlin Charlottenburg
Autohandel GmbH Blau-Weiss in Berlin Lichtenberg
In order to make warranty claims, you must observe the prescribed inspection intervals (500 km, 4.000 km, 7.000 km, 10.000 km or at least once every 12 months). A service costs depending approx. 50–90 €.
---
unu – The idea came to the school friends Elias Atahi and Pascal Blum during a study visit to Asia. They were fascinated by the many possibilities of cities, but at the same time noticed people's limitations in terms of mobility. Within ten months, they were able to get an affordable and TÜV-certified electric scooter onto the road - with a range of 50 km and a portable battery. There are already 160 million electric scooters in Asia. Within the first three years unu has become the market leader with a growth rate of 725 percent electric scooters in Germany.