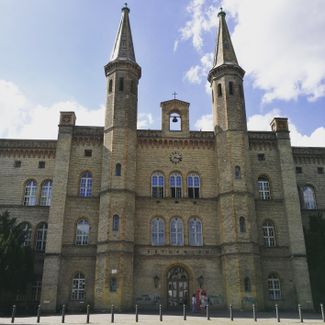 Until the 27th of August I highly recommend to visit the "Born in The Purple" in the Kunstquartier Bethanien in Kreuzberg. The admission is free and they are open daily from 11-20h.
"Born in The Purple" is an interdisciplinary exhibition project by Berlin–Istanbul– based artist Viron Erol Vert that revolves around global urgencies including cultural supremacy, identitarian abuse and basic human rights. Vert shows 12 newly produced artistic positions in the exhibition.
Coming from old Istanbulian family roots which blend Greek–orthodox, Arab, Levantine, Armenian and Sephardic cultures, Vert takes Istanbul's ancient history and its recent past as focal points for Born in The Purple. His family apartment in Istanbul functions as a scenic framing
of the exhibition, that unfolds itself in the 12 rooms of Kunstraum Kreuzberg/ Bethanien. Through everyday life objects and childhood memories, Vert does not merely reflect on the peculiarities of
 the status of minorities and concepts of flexible citizenship, but also refers to major power shifts and hegemonic conflicts the world over.
In this exhibition a video from a man making a knot in a handkerchief was special interesting to me. While emptying the family apartment the artist found with handkerchiefs, each with a knot, underneath the chests of drawers and boxes.
They are remains of an old superstitious habit. To find something lost, you have to make a knot in a handkerchief and throw it over your left shoulder. In doing so you bind the energy of the spirits who are playing their pranks on you and in reverse you can playa trick on them. So of course, you start asking yourself, what did one hope to find by throwing the handkerchiefs? And while we are wondering whether any of the lost objects reappeared, the handkerchiefs do bring back something quite different. Unfolding our forgotten thoughts. Memories of all the people who have lived in this apartment returned to the artist when opening the knots in the handkerchiefs. And that which we have seen off long ago becomes alive once more inside of ourselves.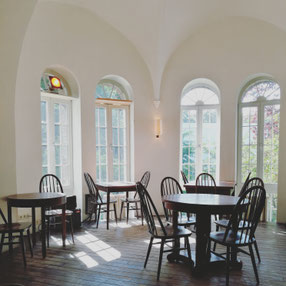 Kunstquartier Bethanien
Mariannenplatz 2
10997 Berlin (Kreuzberg)
www.kunstquartier-bethanien.de
Station: U1, U8 Kottbusser Tor
The admission is free.
Daily from 11-20h
Café 3 Schwestern
At Kunstquartier Bethanien on Mariannenplatz you can also find the café 3 Schwestern. Breakfast is only served on Saturday and Sunday. When the sun is out, you can sit in the garden and eat your way through their international menu.
Mariannenplatz 2
10997 Berlin (Kreuzberg)
Station: U1, U8 Kottbusser Tor
+49 30 60 03 18 600
info@3schwestern.com
www.3schwestern.com
Mon-Fr from 12 am
Sat-Sun from 11 am
(cash only)
If you want to find more hidden gems of Berlin, check out my folding maps BertaBerlin and QueerBerlin. They are available in well-chosen locations all over Charlottenburg, Neukölln, Kreuzberg, Mitte and Prenzlauer Berg in Berlin and online. But for those of you, who want to stay up to date, feel free to follow me on INSTAGRAM, FACEBOOK or register for my NEWSLETTER BertaNews.