As fall quickly approaches, it's time to take a look at the fashion trends that will set the tone for the season. As I am tracking all the hidden gems Berlin, and are normally not thinking about fashion, I did ask brands I know, what they think about the fashion trends which are shown at the Berlin Fashion Week (2nd–6th of July 2019), but also their opinion on the matter of sustainable fashion! In my point of view not only the trends, but also the sustainability of the fashion should be an important aspect.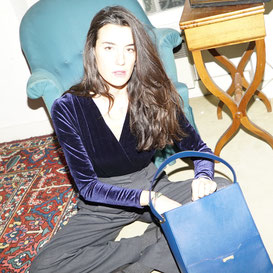 Jenah St.
Jenah St.'s mission is to create beautifully crafted designer handbags that are as soft and (more) resistant as calf leather, without using any animal skin. Instead, a high-performance vegan leather that is Ecolabel certified, 100% made in Italy and has half the impact on the environment as an animal-derived equivalent. The designs voluntarily feature clean and purposeful lines so as to follow you for a long time. For each bag sold, a little keychain is gifted that was handmade by a Women Empowerment organisation in Pakistan. "It is all about bringing more consciousness into our purchasing habits" says Jena Bautmans "focusing on what counts, step by step."
Send an email to hello@jenah-st.com to book an appointment in the little showroom on Sredzkistraße 63, 10405 Berlin (Prenzlauer Berg) or 24/7 on www.jenah-st.com
Besides her lovely bags, she also offers my VeganBerlin map in her showroom!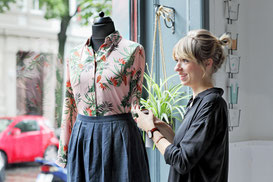 LOVECO
Filled with energy, go check out Berlin's biggest concept-store for eco-fair vegan fashion. The aesthetic interior, an amazing swing hanging in the middle of the shop and smiley staff just make you wanna stay. Clothes, jewelry, accessories - all they sell is really beautiful, trendy and hand-selected. As Claudia Sult and I are recommending their three vegan fashion shops in our VeganBerlin travel guide, I ask them, what their fashion trends are and what role sustainability should play in this years fashion week in Berlin. "More and more companies talk about sustainability. This is why it is even more important to look closely. Even for conventional manufacturers, sustainability becomes an issue. This is a great development, but it is also dangerous, because the retailer could be satisfied more easily." said Christina Wille from Loveco. "For us, sustainability is key in all we do: Not only in our clothes, but also in the way our company operates. We use climate-neutral delivery, handle our finances at the social GLS bank and furnish our stores with second hand or upcycled furniture for example." 
Sonntagstraße 29, 10245 Berlin (Friedrichshain), plus stores in Schöneberg and Kreuzberg, hello@loveco-shop.de, www.loveco-shop.de, Station: S3, S5, S7, S75, S8, S85, S41, S42 Ostkreuz,
Mon–Fr 12:00–20:00, Sat 11:00–19:00
pic by Nora Dal Cero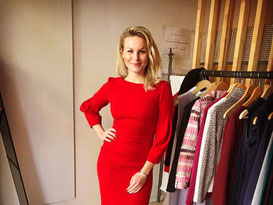 j.jackman
The fashion brand j.jackman believes in the power to make a difference simply by choosing to purchase more consciously or - in some cases - reusing what we already have. They stand for women who know how to make a statement in their work and in their private lives. The mission is to give these driven women the ability to change something also in their wardrobes. Not just with beautiful design and high quality workmanship that lasts but with values that matter.
As I meet Hannah Lueg for an interview for Overview Magazine, I wanted to also know, what their fashion trends are and what role sustainability should play in this years fashion week in Berlin. "The fashion trend has now shifted from cut and colour to awareness. The top trend currently is consciousness. Being conscious of one's own consumerism and making more conscious decisions is the power we all have to make a statement and forces industries and politics to change.", said Hannah Lueg Co-Founder of j.jackmann. "It is important to make a start somewhere and that's why we love the quote from Barack Obama that says "Better is good." At j.jackman we established sustainability foundations to ensure consistency. To cut a long story short this fashion weeks trend is consciousness, being more aware of what brands stand for, making a statement by choosing certain brands, fabrics etc."
Made in Berlin, hello@jjackman.com, www.jjackman.com, This shop is open 24/7 ;).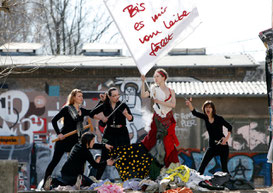 Bis es mir vom Leibe fällt
"Use the perceived blemish of your clothes as an impulse for a transformation, revaluation, appropriation, upcycling and repairing - for us this is nothing less than an environmentally friendly and user-friendly way of designing, a means of change in a world in need of repair!" is Lisa's opinion. The initiator of "Bis es mir vom Leibe fällt" also wrote a book "Klääsch", a kind of ironic portrait of life, work, thought and celebration in Graz and Berlin in the 1980s and 1990s, which is based around seven shows of the fashion designer. An appendix lists the people involved with their roles then and now and provides detailed information on 15 selected shows by Lisa up to 2010, along with an epilogue by Herbert Nichols-Schweiger, editor and co-producer of five of the designer's more than 30 shows and performances.
Veränderungsatelier, Frankenstraße 1, 10781 Berlin, +49 30 23 62 97 14, ichtragees@bisesmirvomleibefaellt.com, www.bisesmirvomleibefaellt.com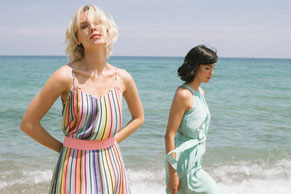 KALA STORE
KALA Fashion is a Berlin-based fashion label, where you'll find a variety of feminine day dresses - from business casual to special occasions. As the founders Kornelia and Esther have been working in fashion since many years, I asked them, what their fashion option is.
Looking like a lemon sorbet? Ice cream colors and pastels will make a splash in 2020. These are the perfect colors to light up your office day. In Kornelia's opinion pastels are going to be make waves 2020. Since 2007 this fashion label believes in Slow Fashion and mainly sells their cloth offline. For Kornelia sustainable fashion is offline and it also means supporting the local dealers and shops in the cities. This is why they also decided to open their showroom also on Friday! Go an check it out.
Veteranenstraße 15, 10119 Berlin (Prenzlauer Berg), +49 30 40 05 66 92, shop@kalafashion.de, www.kalafashion.de, Fr 14:00–20:00, Sat 12:00–20:00
If you want to find more hidden gems in Berlin, check out my folding maps BertaBerlin and QueerBerlin. They are available in well-chosen locations all over Charlottenburg, Neukölln, Kreuzberg, Mitte and Prenzlauer Berg in Berlin and online. But for those of you, who want to stay up to date, feel free to follow me on INSTAGRAM, FACEBOOK or register for my NEWSLETTER BertaNews.