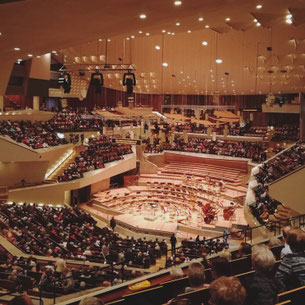 If you are traveling on a budget, but want to enjoy live music, you come to the right city, Berlin gives you many options to visit a free concert or at least to visit a concert for little money. Here you can find my favorite concerts in Berlin.
Berliner Philharmonie
Another established city landmark is the bright Berlin Philharmonic concert hall. You can check for concert online. If you travel on a budget, I have a tip for you, every Tuesday at 1 pm they offer a Lunch concert for free, no registration needed.
Berliner Philharmonie
Herbert-von-Karajan-Straße 1
10785 Berlin (Tiergarten)
www.berliner-philharmoniker.de
Station: U2, S1, S2, S25 Potsdamer Platz
Free concert: Every Tuesday at 1 pm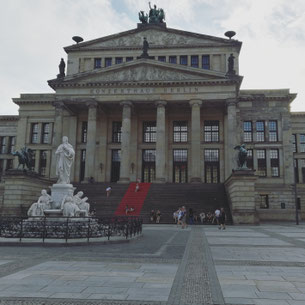 Konzerthaus
Here is a tipp for the perfect lunch break with classical music. The Espresso Concerts take place several times a month, but always at 2 pm. It last about 45 minutes. The actual venue space within the Konzerthaus will only be revealed upon entrance. The Espresso Concerts can be attend from September until June. It is NOT for free, but for 8 Euro you get to listen to wonderful music in an awesome venue while drinking an espresso (which is included in the price).

Konzerthaus
Gendarmenmarkt
10117 Berlin (Mitte)
www.konzerthaus.de
Station: U6 Französische Straße
8-Euro-concert at 2 pm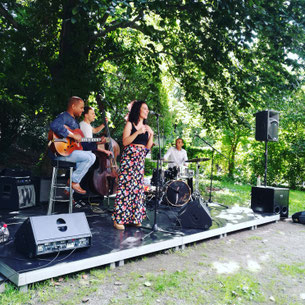 Werkstatt der Kulturen
Werkstatt der Kulturen is a place of presentation and representation; of local and global, traditional and contemporary cultural practices and arts. Here you find concerts, theatre, dance performances, films and more from around the world. Every Sunday between 4 pm and 8 pm Werkstatt der Kulturen hosts a free, open-air jazz concert in their garden; here you find vocal jazz, jam and good food.
Werkstatt der Kulturen
Wissmannstraße 32
12049 Berlin (Neukölln)
+49 30 60 97 700
www.werkstatt-der-kulturen.de
Station: U7, U8 Hermannplatz
Free concert: Every Sunday at 4 pm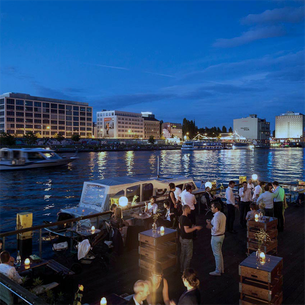 FluxBau Berlin
Every summer every Wednesday between 6 pm and midnight FluxBau is hosting the Bergfest, a free concert. FluxBau is a hang-out from FluxFM, a radio station and an event organizer. Their focus is pop culture, internet culture and urban life.
FluxBau Berlin
Pfuelstraße 5
10997 Berlin (Kreuzberg)
www.fluxfm.de/bergfest
Station: U1 Schlesisches Tor
Free concert: Wednesday at 6-0 pm