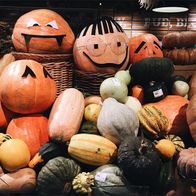 The weekend markets are bustling with pumpkins, the leaves have turned to hues of orange, red and yellow and the air has a cool crispness in it. Autumn is here, and Halloween is just one more reason to fall in love with this beautiful season.
As Halloween is not a German tradition, I ask my American friend Shilpa all about history, superstitions and customs. I also have a recommendation, where you find Halloween in Berlin.
Shilpa's memories of Halloween come from growing up in the United States, where the festival is celebrated every year on the last day of October. Her typical activities were dressing up in costumes, going trick-or-treating around the neighborhood, carving jack-o-lanterns out of pumpkins, telling scary ghost stories, and watching horror movies! One of her favorite was gathering all of her candy from trick-or-treating, spreading it out on the floor at home and making little treat bags to take to school every day!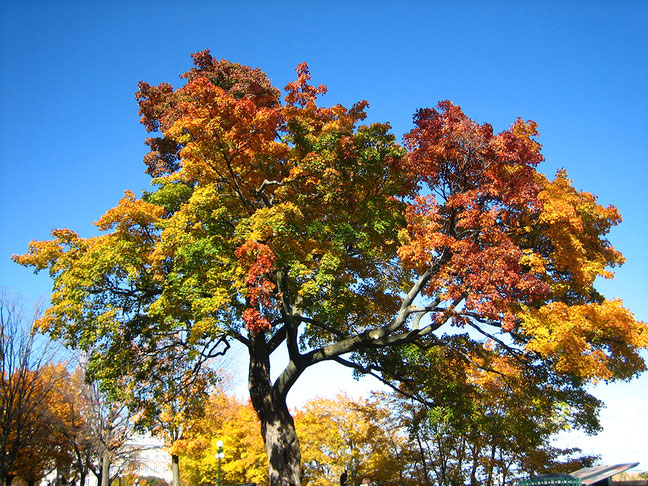 The origins of Halloween
can be traced back to the Celtic festival called Samhain. The ancient Celtics considered this one of their most important festivals in the year. Samhain commenced on the eve of October 31st and rang in the new year on November 1st. The Celtics believed that the souls of the dead came back to earth to visit on the eve of Samhain.
After the Roman conquest of the Celtic lands, Samhain was affected by spread of Christianity. The Catholic church incorporated the festival under the celebration of martyrs and saints, which was established on the ancient Celtic new year — November 1st — and renamed it All Saints Day. This festival was called All-Hallows, while the evening before was called All-hallows-eve — which became known as our present-day "Halloween."
How different countries celebrate Halloween
That was Ireland. Since then, the festival spread and is celebrated in many places around the world. Here is a brief look at how different countries celebrate:
In Czechoslovakia, chairs for each deceased family member are placed by the fire on Halloween night alongside chairs for each living one.
In Austria some people leave bread, water and a lighted lamp on the table before going to bed. It is believed that this will welcome dead souls back to Earth.
The custom in Belgium on Halloween night is to light candles in memory of dead relatives.
In Hongkong, some people burn pictures of fruit or money at this time, believing these images would reach the spirit world and bring comfort to the ghosts.
In Korea, the family pays respect to these ancestors by visiting their tombs and making offerings of rice and fruits.
My top 5 reasons Halloween is amazing
And finally, to round it all out, here are top 5 reasons Halloween is so amazing:
People let go of their inhibitions and go crazy with costume ideas! Villains, superheroes, cartoon characters, political statements, whatever you want to be, you can be on this one special day.
It is a great excuse to forget about your diet and eat all the candy you want. Kids and adults and everyone in between, it doesn't matter.
Unlike Christmas or Easter, there's no need to worry about getting anyone a gift.
Halloween music is better than any other music. Monster Mash, Rocky Horror's Time Warp, Michael Jackson's Thriller and so many other classics!
The parties! Getting dressed up in costume, sipping on Halloween themed alcoholic beverages (pumpkin spiced rum, anyone?), hooking up with the person behind the mask, there's something for everyone.
Want some inspiration for a costume for Halloween this year?
Check out this cute list from Buzzfeed that we liked! Oh, and we heard that the"Kylie Jenner Pregnant" costume is a thing this year. Err, maybe stay away from that one.
Where to go in Berlin
Halloween in the Clayallee - Berlin
Here you can check out the deco of the houses in an all American neighborhood in Berlin and have some drinks before going to the party.
If you want to find more hidden gems of Berlin, check out my folding maps BertaBerlin and QueerBerlin. They are available in well-chosen locations all over Charlottenburg, Neukölln, Kreuzberg, Mitte, Schöneberg and Prenzlauer Berg in Berlin and online. But for those of you, who want to stay up to date, feel free to follow me on
Authors: Shilpa Melissa Rodrigues, Berta Heide