Things to do in Berlin for mothers and their children! Even though the corona crisis is keeping us more at home than we used to be – Sunday, 10th May is Mother's Day in Berlin and I would like to give you some gift ideas for the future ;). I believe that the best gift you can give your mother is your time – not only on Mother's Day. But for now, I have some gift ideas for Mother's Day for you and your loved ones.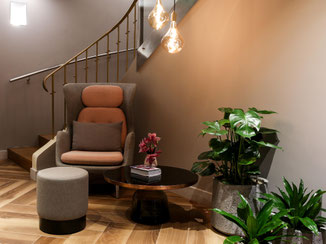 Spa at art'otel berlin mitte
The Ermelerhaus was built in the 17th century and is located in the heart of Berlin as part of the art'otel Berlin Mitte. The equally urban and historic location offers an insight into Berlin's history and also houses a beautiful spa. If you wish to gift your mother and yourself to one of Berlin's top beauty places, I would definitely recommend their massage, deep hydration or antioxidant vitamin treatments. Besides the spa, you can also visit the gym (with personal trainers) which boasts state-of-the-art TechnoGym equipment, a Finnish sauna, two treatment rooms and a relaxation area. This Mother's Day why not gift your mother a day which she is unlikely to forget here!?
art'otel berlin mitte, Wallstraße 70–73, 10179 Berlin (Mitte), +49 30 24 06 20, ermelerhaus@pphe.com, www.artotelberlinmitte.d, Station: U2 Märkisches Museum, beauty treatments 60 min / 95 Euro; body massage 60 min / 90 Euro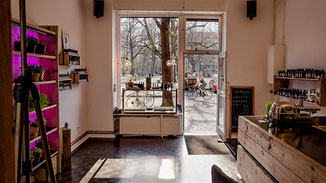 Urban Cosmetics Berlin
If you are looking for a Mother's Day gift, this beauty shop in Berlin, Kreuzberg is the right place to be. Urban Cosmetics Berlin stands for handmade, vegan and cruelty-free natural cosmetics. All products are unisex (suitable for all skin types) and made with selected ingredients of natural, organic origin in a Berlin factory. This Mother's Day gift heaven welcomes guests with their own mixed beauty teas and freshly squeezed wheatgrass juice. I highly recommend the package including gentle UC1 facial cleansing water, UC2 face serum and last but not least the UC3 face oil of Urban Cosmetics Berlin with it's gentle natural power plant from the seeds of the raspberry. If you prefer online shopping, just swing by their website to discover all of their amazing Mother's Day gift possibilities. 
Lausitzer Platz 11, 10997 Berlin (Kreuzberg), +49 30 23 56 69 17, office@ucberlin.com www.ucberlin.com, Station: U1, U3 Görlitzer Bahnhof, Tue–Fr 12:00–19:00, Sat 11:00–17:00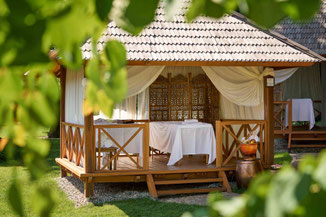 Time out at Vabali Spa Berlin
In the middle of the hustle and bustle of metropolitan Berlin, Vabali Spa offers you a place of relaxation and is the perfect place to take your mother this Mother's Day. This unique wellness resort boasts a Balinese charm with its authentic interior design materials, saunas and its outdoor pool. You can also have dinner here or book a beauty treatment for your mother and yourself  – the best part  – they are open until Midnight (especially when corona limitations are let loose this could be a nice space to relax / so for now why not celebrate Mother's Day by buying a beautiful gift card from their shop and having a wonderful day ahead to look forward together!
Seydlitzstraße 6, 10557 Berlin (Moabit), www.vabali.de, Station: U55, S3, S5, S7, S9 Hauptbahnhof, daily 9:00–24:00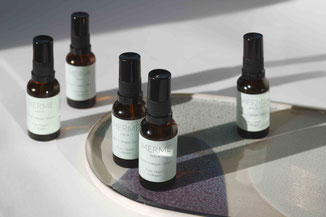 Merme made in Berlin
Since within May is Mother's Day and because you might be looking for a Mother's Day gift, I would like to introduce to Merme Berlin and their vegan facial mask and collagen serum. The beauty brand has a 1-Ingredient philosophy, that means products are stripped down to their 100% potency with no hidden fillers. I am in love with Claire's beauty products since I recommended them in my VeganBerlin guide. Besides their minimal ingredient philosophy, the beauty products also have a beautiful design, perfect for a Mother's Day gift.
Merme is to be found at Moeon, Schönleinstraße 10, 10967 Berlin (Kreuzberg), +49 30 35 10 51 67, mail@moeon.de, www.moeon.de or www.mermeberlin.com, Station: U8 Schönleinstraße, Tue–Fr 11:00–19:00, Sat 11:00–18:00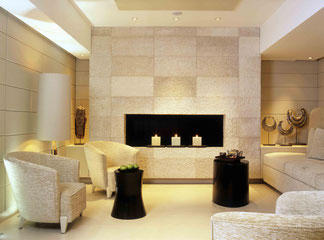 Spend Mother's day at the Adlon Hotel
Leave the world behind by booking a treatment at the Adlon Spa by Resense. Indulge in pure relaxation and exquisite service to balance your inner self and to gain new strength. Say thank you and give away relaxing moments this year for Mother's Day. Mother's Day is celebrated at the Spa by Resense throughout May and is accompanied by exclusive pampering offers. For example, a body peel is combined with a neck and shoulder massage which has anoptimal effect and creates unique sensory experiences of serenity. Another of their combined treatments is a facial massage including a face mask. By means of a pressure massage and aromatherapy, the treatment can be individually adapted to the needs of each person. The use of the wellness facility is included in the offer – 60 minutes for 130 euros per person (the offer is valid for the whole month of May). In times of coronavirus, you can buy a lovely gift card for Mother's Day and surprise your mother by scheduling a mother and daughter or son day :).
Unter den Linden 77, 10117 Berlin (Mitte), +49 30 22 610, hotel.adlon@kempinski.com, www.kempinski.com, Station: U55, S1, S2, S25, S26 Brandenburg Tor
If you want to find more hidden gems in Berlin, check out my folding maps BertaBerlin. They are available in well-chosen locations all over Charlottenburg, Kreuzberg, Mitte, Neukölln, Schöneberg and online. But for those of you, who want to stay up to date, feel free to follow me on Instagram, Facebook or register for my newsletter.