Over the past few months, I have not made many changes to my office. But after three years "of silence", I now want to introduce you to my awesome new office shelf: The fully customized shelf from MYCS and how I finally made the transformation happen.
For three years I have been sitting in my own furnished office with books, folders and my BertaBerlin guides stacked up all over. Since that I have published fourteen new Berlin guides this year, I really, really needed a new storage room and made it my mission to get a shelf for my office. My salvation was literally my designer friend Juliette, who gave me a lifesaving tip for my office: "Try MYCS – In their showroom and their website you will find a minimalist design with maximum choice".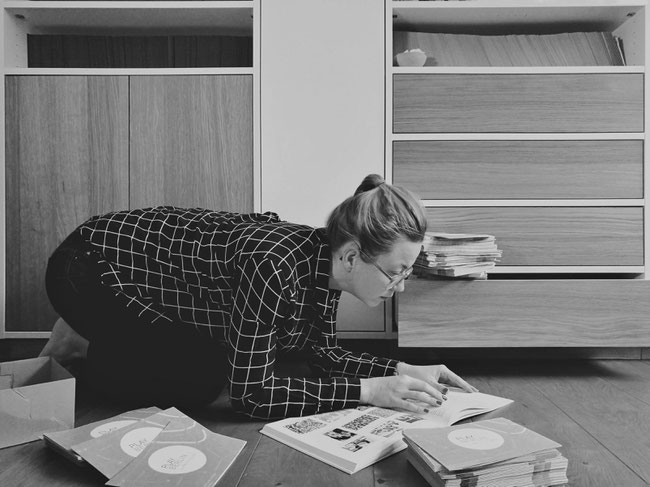 The office is the place in my apartment, where I spend most of my time. First and foremost, it has to be functional so that I have everything I need at my fingertips. But the design of this room must not be neglected either, as I need it to be creative. That's why I was all the more critical, when putting together my office shelving.
1st tip: Measuring is the key
When you need everything: Starting with the storage space and ending with the layout and distribution of shelves, the devil is in the detail. What depth should the shelf have? Well, my first question was 'how deep are my folders?', so that they fit on the shelf. Or 'how wide are my BertaBerlin guides?' so that I can store them on the office shelves too. I also taped the shape of the shelf onto the floor to see how much space it would take up of the room and to get a feeling of its position in the room.
2nd tip: Include closed shelves
I love book shelves - I really looked at a lot before designing mine on the MYCS website, but I knew that I need to also put some of my stuff away in this office shelf. Because a clean workspace means a clear mind – I can't really work, when my office is a mess. This is why I also need doors on the front of some shelves, to sometimes hide some unfinished business. So I really played around with shifting doors and balancing open shelfs out.
3rd tip: Take your time
One thing was particularly important to me, I not only want to work productively, but to also enjoy my furniture. After several weeks I had designed several drafts and asked friends what they thought of it – and through time I did make one or two changes and today I've very happy I did. So my tip is to take your time when you design your own furniture.
4th tip: Where to get inspiration
After filling several Pinterest boards with pictures of shelves, browsing magazines like Couch and AD and getting on the nerves of all my architect friends, I spent weeks on the MYCS website and tried out various design drafts, which you can save to refer back to. These 3D models I also showed my friends. In different drafts I tried different colours, a skirting board was added at the last second and a second shelf as a room divider - my personal highlight of the office. I would definitely recommend getting inspiration from different channels before designing something new – it makes life just easier!
5th tip: Choose your color wisely
If you are also looking for furniture that is individual, tailor-made and made of sustainable materials, then MYCS is also something for you. I was actually very impressed by the wide choice of colours, in my case I could even choose the colour "oak" (the same as my floor) – because I didn't want a completely white shelf. On the MYCS website you can combine all kinds of colours to create a matching - in my case - office shelf. I also bought papier mâché in different colours and glued it to the wall to see if it fits the room and if the colours complement one another.
Visit the MYCS showroom in Berlin
Delivery was quick because the different shelf modules are already stocked and only needed to be assembled. In particular, the standard colours such as white, black and grey can be delivered quickly. You can discover MYCS live and in colour - also in Berlin. I found it very helpful to see the true scale of their furniture and how the drawers open and close.
The MYCS Showroom & Office is in Friedrichstraße 123, 10117 Berlin (Mitte). It is open from Mon–Fr 10:00–18:00 and Sa 11:00–18:00.