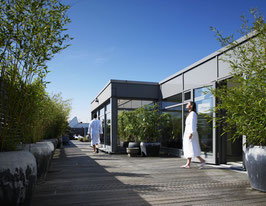 When the weather heats up, it's time to make Berlin your gym! Whether you're looking for a full workout or a relaxing class or just a drink on the rooftop restaurant, Aspria Berlin is your go to.
In a prime location on Kurfürstendamm you will find Aspria Berlin, which is not just a gym, but rather a center of well-being on five floors, including a roof terrace and coworking space. You will find sports, fitness, spa and wellness all in one place. For the moment you can apply to a membership, as day passes are not available, but I do hope that soon all gets back to normal, and you will be able to enjoy, on a daily basis, whenever you like.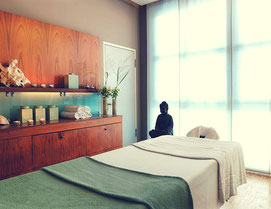 Aspria Berlin is located close to one of the city's most popular shopping streets: The "Ku'Damm". After running some errands or after an intense shopping session, dive into the calm world of Aspria Berlin. Their approach is pretty holistic, which means that this is the perfect place for you no matter if you want to improve your fitness, want to learn more about proper diets or just want to relax and unwind.
Enjoy the exclusive spa and wellness area, a modern fitness area with a great variety of courses and modernly designed rooms for cardio, functional and strength training, all equipped with innovative equipment. They use the finest techniques in modern, cutting-edge facilities to deliver the ultimate wellbeing experience. I personally enjoyed their spa and choose a facial to relax. Before I joined a yoga class. They do offer Aerial Yoga, which is only available in to yoga studios in Berlin!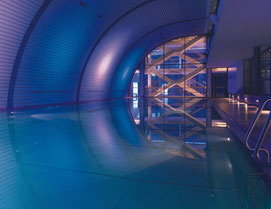 Aspria Berlin is also well known for its rooftop terrace and its hotel. That's perfect for everyone that just does not want this experience to end once the treatments and workouts are done. In addition, four different saunas, a 25m pool (one of my favorite), a steam bath, an oriental hamam, a brine inhalation room, as well as a whirlpool are part of the facilities. Of particular interest to mothers: Aspria Berlin Ku'damm offers its own childcare for babies from eight weeks. Which Emil and I also tested - and totally approved. He was in very good hands. They even have an indoor sandpit. Your children can even celebrate their birthdays there, or enjoy Aspria's holiday program.
Karlsruher Straße 20, 10711 Berlin, +49 30 89 06 88 80, berlin_mail@aspria.de, www.aspria.de, station: U7 Adenauerplatz, Mon–Fr 6:00–23:00, Sat–Sun 8:00–22:00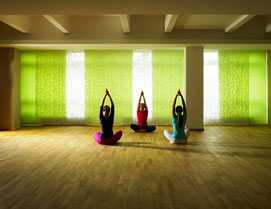 From the big variety of classes offered, my favorite yoga class at Aspria is Aerial Yoga with Jost. A must do! You will find more information about Yoga on my YogaBerlin map or about things to do with kids in Berlin in my PlayBerlin map or on the Webseite www.aerial-yoga.de.
Especially for families, I recommend the swimming classes at PlayBerlin.
You can check it out in my PlayBerlin map.