As my travel guides focus on Berlin, I am always happy to discover travel guide for other cities. This year I found Kyiv by Locals, one of few and unique travel guides about Kyiv.
Until recently Ukraine and Kyiv were not really covered in the travel guide section. There are few books, which cover Ukraine in general, but they are old-school and written by people, who probably visited Kyiv once. Olya, Alina, Zoya and Nina created a travel guide, full of places, where locals go and which they love. It is also a very cute present for your friends and relatives – since they also focused on the design. To find out more about the travel guide and the people behind this project, I interviewed Alina. If you interested in traveling to Kyiv, you can buy their travel guide in my shop and Alina`s Top 5 of Kyiv in this article.
How did you come up with Kyiv by Locals?
When coming up with the idea of creating a new travel guide, we didn't want to make a boring pocket guide with stock pictures and basic information. We wanted to take the best parts of our city and put them together in a small book. We asked our friends, relatives and partners to tell us their favorite places in order to make your travel experience, pleasant and as much fun as possible. We have experienced all the places mentioned, so you can be sure that they meet our complete approval.
We collaborated with the local Instagram community who submitted the pictures of the places where locals really go – to drink coffee, have a party, or meet their loved ones. As a result you not only have a guide, but also a small photo diary of the Kyivites, captured through the lenses of their cameras and smartphones.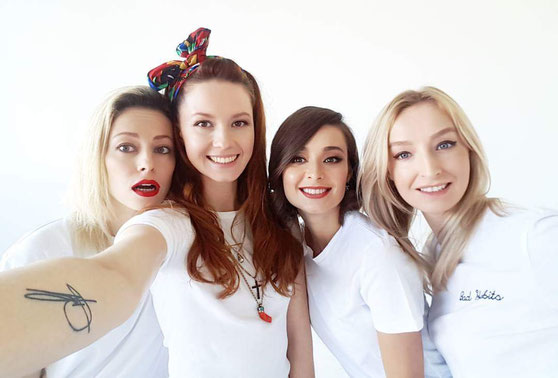 Who is behind this travel guide?
We are four girls in love with the city where we grew up. Friends Olya Beskhmelnitsina, Alina Rudya, Zoya Lytvyn and Nina Gorbachova sat down together one evening and decided to create something which will mirror their love of maps, photography, stories, and, most important of all - the beautiful City of Kyiv, capital of Ukraine. Those who live here already know how great the city is, so we decided to spread our message to the people who will visit our capital. Our unique and convenient English language guide features photos from the local Instagram community as well as illustrations by the talented Tanya Shyika.
What is in the stars for you?
I think the next edition of Kyiv by Locals is coming next year for sure. We will probably start exploring other cities and their locals as well.
What can Kyiv learn from other cities?
Never in recent history has Kyiv been so vivid and vibrant. Despite all odds, art, cultural and social life are booming. New businesses continue to open and more and more people visit each year. Personally I (Alina Rudya) find the scene so cool – something I've experience in Berlin, when I first moved here. Nevertheless, there are many things which can be fixed and made better. For me personally these are the bike lanes and facade distortion through ugly shops signs and advertisement – there should be more of the first and less of the latter.
What are your top 5 places to go to in Kyiv?
We have Top 10 places to visit in our guide, but my personal top 5 are:
Caves of the Lavra Cave monastery
Shield of the Mother-Fatherland /-Motherland statue for the best bird-view of the city
Trukhaniv island and its beaches with the view of Kyiv hills in summer
Closer, a night club for the best music and scene
Pinchuk Art Center for the best exhibitions in the field of contemporary art
What blogs or bloggers would you recommend?
I am more acquainted with the instagram community – and we present some of the photographers in our guide. Thus, I can recommend @mel_nik, @parabellumm, @4ndrewmk and @dukhovnoe_litso.
Besides Kyiv
If you want to find hidden gems of Berlin, check out my folding maps BertaBerlin and QueerBerlin. They are available in well-chosen locations all over Charlottenburg, Neukölln, Kreuzberg, Mitte, Schöneberg and Prenzlauer Berg in Berlin and online. But for those of you, who want to stay up to date, feel free to follow me on 
FACEBOOK or register for my