As the seasonal peak of allergies has reached and you can never go out in Berlin without meeting awesome people, I would like to introduce you to Kate (celiac) and Kortney (anaphylactic to peanuts and sesame + 15 other food allergies). As they themselves have specific dietary, allergy needs, they told me how difficult it is to live with food allergies in Berlin. They have vetted the following locations based on their needs. Even so, none of these are entirely free from any possible contaminants, so you must make your own judgement based on your personal needs and remember to always disclose your allergies when ordering. We hope you like the recommendations and if you have another hidden gem for us, please let us know.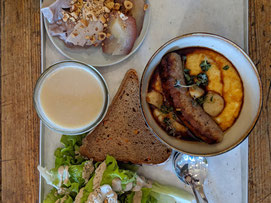 Michelberger Restaurant
We love this hotel restaurant for its fresh, seasonal fare with a keen awareness of food allergies and willingness to work around all food issues with care. Chef Alan Micks creates truly beautiful dishes and the staff is willing to go the extra mile to ensure that we're safe. We recommend going for weekday lunch, which is a bargain for the quality of food, especially the lunch tray that features a healthy portion of soup, salad, a smaller main and dessert.
Warschauer Straße 39, 10243 Berlin (Friedrichshain), +49 30 29 77 85 90, reservations@michelbergerhotel.com, www.michelbergerhotel.com, Mon–Fr 7:00–11:00, 12:00–14:30, 18:30–23:00, Sat 8:00–12:00, 18:30–23:00, Sun 8:00–12:00, Station: U1, S3, S5, S7, S9 Warschauer Straße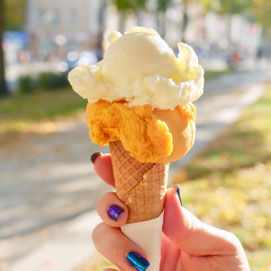 Chipi Chipi Bombón
This year-round Argentinian ice cream not only has incredible specialty flavors - like dulce de leche, banana split and pineapple-parsley - but entirely gluten-free ice cream, limited allergens and owner Andrés has configured his nut-containing flavors together to reduce possible cross-contamination after talking with us. He even serves up what might be the city's best hot chocolate during the cold months. All that and you can get your ice cream fix through Deliveroo in the neighborhood too!
Warschauer Straße 12, 10243 Berlin (Friedrichshain), +49 30 24 03 24 46, info@chipichipibombon.com, www.chipichipibombon.com, Tue–Thu 13:00–23:00, Fr-Sat 13:00– 24:00, Sun 12:00–23:00, Station: U5 Frankfurter Tor
Happy Baristas
What began as a solid coffee shop has turned into a fantastic seasonal brunch, afternoon cake and evening cocktails location. Chef Emma Castle is happy to make her food so the most number of people can enjoy it, so do be in touch in advance so she can do her best to accommodate your needs. Happy Baristas does specialize in making its own almond milk - no soy milk here - and subsequent baked goods from the leftover pulp (they're experts at reducing their waste!), so anyone with a severe nut allergy should use caution.
Neue Bahnhofstraße 32, 10245 Berlin (Friedrichshain), hello@happybaristas.com, happybaristas.com, Mon–Fr 8:30–18:00, Sat–Sun 10:00–18:00, Station: S3, S5, S7, S8, S9, S41, S42, S85 Ostkreuz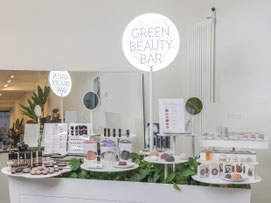 Amazingy
Amazingy is a natural beauty store that not only has great non-toxic makeup options, but even has a gluten-free filter on its website. This oasis for people with allergies was founded in 2011 by Floris and Ingrid van Onna. It is a 100% family business. Overtime, Amazingy became one of Germany's biggest natural and organic online store offering a curated variety of brands. They always make sure that the products they provide for their customers are cruelty free, from natural origin, ethical and microplastic free. Successfully helping customers switching to clean beauty, they are proud to call themselves the organic and natural beauty experts.
Pettenkoferstraße 12, 10247 Berlin (Friedrichshain), +49 30 55 61 26 97, info@amazingy.com www.amazingy.com, Station: U5, S8, S41, S42, S85 Frankfurter Allee, Tue–Fr 14:00–18:00, Sat 12:00–16:00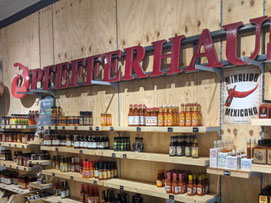 Pfefferhaus
Searching for something to spice up your plate? Look no further than Pfefferhaus. We recommend stopping by when you have some time on your hands and perhaps a glass of milk because you can try a huge selection of sauces. You start the tasting off slowly with something a little tangy and move all the way up the heat ladder to their own sweat inducing recipe. They know their sauces and can talk to you about ingredients and manufacturing process to ensure the sweats are from the heat, not a reaction.
Niederbarnimstraße 11, 10247 Berlin (Friedrichshain), +49 30 23 53 24 28, info@pfefferhaus.de, www.pfefferhaus.de, Tue–Fr 12:00–20:00, Sat 11:00–20:00, Station: U5 Frankfurter Tor
If you want to find more hidden gems of Berlin, check out my folding maps BertaBerlin and QueerBerlin. They are available in well-chosen locations all over Charlottenburg, Neukölln, Kreuzberg, Mitte and Prenzlauer Berg in Berlin and online. But for those of you, who want to stay up to date, feel free to follow me on INSTAGRAM, FACEBOOK or register for my NEWSLETTER BertaNews.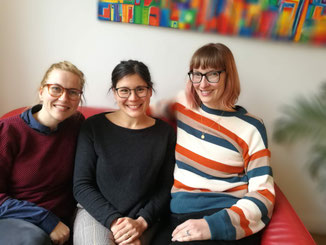 Co-authors: Kate Wirth is a life-long foodie whose celiac diagnosis in 2014 only made her more passionate about finding not only delicious food, but food that is safe for her to eat. She is the moderator of the Gluten Free Berlin Facebook group and is a passionate advocate for expanding celiac-safe gluten-free options in Berlin, celebrating her finds and great recipes on her Celiac Doesn't Suck Instagram account. Her professional time is spent helping local businesses grow with marketing, social media and business development, while her downtime finds her mostly baking, enjoying wine with friends or walking her dog in one of the many green spaces Berlin has to offer. 
Kortney Kwong Hing is the allergy girl behind the blog Allergy Girl Eats. She has multiple food allergies (peanuts, tree nuts, sesame, soy, sunflower seeds, and more), but does not let them stand in the way of enjoying food and exploring the globe. On the blog Kortney shares stories of life as an allergic adult, tips on managing everyday life with food allergies, asthma and eczema, plus a few of her favorite allergy-friendly recipes. In February Kortney, along with allergist Dr Payel Gupta, started The Itch Podcast. The podcast wants to bridge the gap between the doctor's office visit, at home research, and figuring out how to integrate a diagnosis into your life. It breaks down allergies, asthma and immunology in an easy to digest way. Kortney is also one of the co-founders of Allergy Travels, a website and online community that shares travel insights and inspiration for those managing allergies.