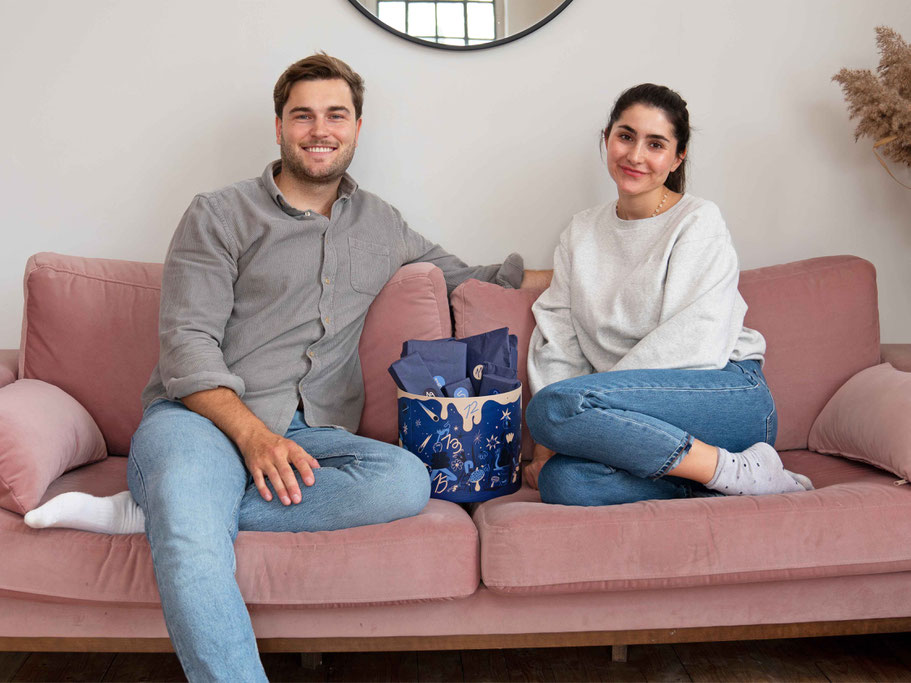 What is your founding story?
We are Lea & Josias. Just like a lot of couples do, we wanted to gift each other an advent calendar. But what we found in the (online)stores did not match our needs. 24 pieces of chocolate, 24 tiny perfume bottles…seemed pretty predictable and monotonous to us! So we made our own Advent calendar and got very positive feedback from others.
What do you do?
We founded Adventsome in 2018 out of the motivation to create the best Advent calendar in the world - every year anew. It is thought through to the last detail and combine everything that is important to us:
a beautiful design,
daily joy through the most diverse gifts,
sustainability and compassion.
ADVENTSOME contains 20 gifts for you.
Adventsome is a vegan and sustainable advent calendar that will really surprise you and be exciting until the 24th of December! It comes in a reusable designer box, illustrated by Franz Lang with the dreamiest scenery, and is filled with 20 presents from various categories: food, drinks, fashion, gadgets, wellness… so it will never get boring! What makes it even more exciting is that the products are from startups. You will discover carefully selected brands every day! Because Christmas is also about giving, four of the presents are donations. In total we donate 40.000 € this year and four letters in the calendar tell you what is done with the money.
Last year they donated 20.000€ in total to four different organizations. One of them was "Ein Herz für Rentner". They support elderly people with little to no money so they can buy food, pay their medicines etc. I really like the concept. 
Are there new projects?
Our new advent calendar is out now and can be shopped on our website: www.adventsome.de!
Also we will launch our first non-advent calendar products next month.