Maria shaped my perspective in so many ways. If you follow walk this way already on Instagram or if you read through my blog, you also find Marias perspective (photos) everywhere. I love her style and I am glad, how she inspired the look of my website and travel guides! So I really hope she can help you too ;).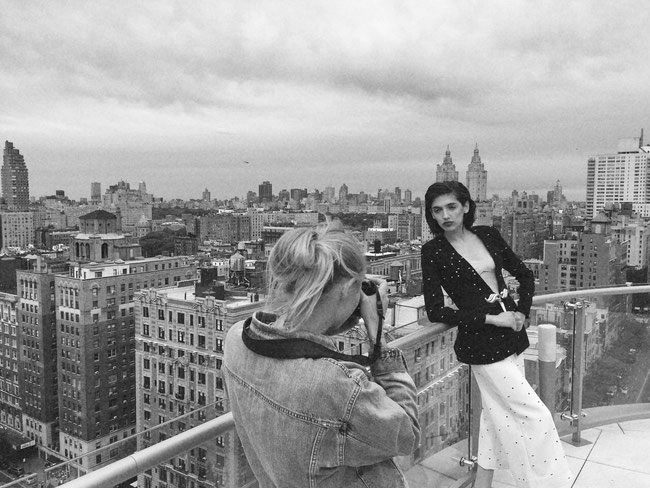 1. How would you describe what you do for a living?
I am a freelance Fashion and Beauty photographer based in Berlin. I mainly take pictueres from people in beautiful clothes with nice hair&make-up in brilinat suroundings on Location or in a Studio. Moreover I also do the whole production for my shoots at the moment, that means getting together the team (Model, Stylist and Hair&Make-up), organizing the Location etc. Depending on the shoot, I also do the postproduction. It's a lot more work than just taking pictures. But I love the whole process. from the beginning by getting the ideas and inspirations together as well as the realization till the final result. In addition its also a lot of of fice work, like tax, which can be really anoying. ;) But about freelancing I appreciate that you are your own boss, and therefore responsible for your marketing, businesstrategy etc.
2. Which do you find more satisfying – the process or the end result?
For me it ́s mostly satisfying, when everyone involved is happy and having fun during the shoot and at the end everyone is satisfyed and proud ot the final result.
3. What do you wish you'd known when you were first starting off?
In the beginning I underestimated the business part of the job, like networking, taxes, administrative work etc. It has been hard work to achieve that, therefore it would have been helpful to know all that from the start on.
4. When and where are you happiest?
Any place in the sun.
5. What is your secret place in Berlin, where you go to escape the world, to be inspired?
There are so many nice places in Berlin, especially the lakes und rivers. I love to walk along the Landwehrkanal. In summer it feels like holiday. But the most inspirations I get while I'm traveling around the world.
6. What is the best advice you have ever been given?
Never give up! I know it's easy to say, but it's true. How often I have been in the situation, that I thought I'm quitting, but then there is opening a new door, which gives you hope and energy to keep going.
"Never give up" sounds bold, but is more than true. So many times you struggle on your way to happiness. Only the ones with a long wind will be living their dreams. Sometimes it just takes a – also – long journey to get there. If you are in need of a new perspective, just visit Marias website: www.mariadominika.com. If you want to stay up to date, feel free to follow me on INSTAGRAM, FACEBOOK or register for my NEWSLETTER BertaNews.
If you have more questions or tipps, please feel free to write me or to leave a comment.