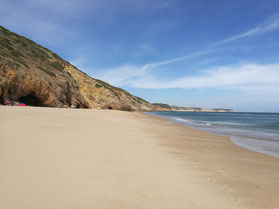 This year we did a road trip through Portugal and drove from Faro all the way to Porto. As it took some time to find all the hidden gems and as Portugal seems to be the place to be at the moment, I summarized my favorites.
We flew into Faro and where lucky to get a room at Marians and Pers Airbnb heaven in Loulé. From here we started our trips to:
Benigal
is a beach and has beatiful views (of what?). On the beach is also a cave with a "roof window". This part of the beach can only be reached by boat or kayak or instead of going directly to the beach you walk along the cliff, where you can look through the hole into the cave.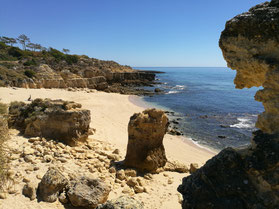 Praia da Balbina
is a lovely little beach with a beach bar, but you must be keen for a walk along the coast (first through a stretch with very expensive Vilas, then through some nature to reach a beautiful beach, without a name and absolutely hidden). You walk probably 10 to 15 min.
Praia das Furnas
is my favorite of all the beaches and is not easy to find. We ended up taking the wrong turn and had to hike for 30 minutes from top to bottom to reach this beach. Only then we realized that there is a road which leads to directly there. But on the positive side, we had a spectacular view. Note: You have to bring water and food, as here is no beach bar.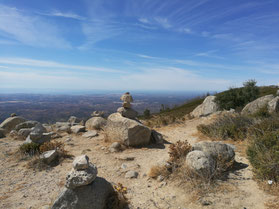 Ilha da Armano
offers a wonderful beach. To get here you have to take the ferry from Olhao and walk from the ferry station to the other side of the island. Here I spend some time at the beach bar.
Monchique
is a mountain, which we passed on our way to the north and offers a great view and is a nice spot for a picnic.
Porto Covo
Our second home was in a hippie small town named Melides, with a lovely couple. Here is their website. From here we did a trip to the Porto Covo in a unberührt national park. Besides beaches we also visit Lisbon.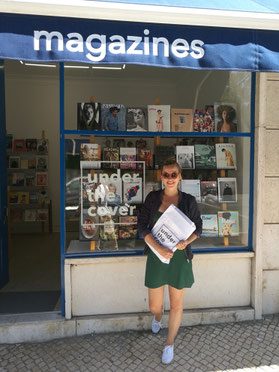 Lisbon in one day
The Calouste Gulbenkian Museum is a treasury packed with modern art, which is wrapped in lovely modern architecture. Those who don't want to spend 10 euro to go in the museum, can relax the park of the museum for free. Two cafes are located in the park, which serve ausgezeichneten coffee. Opposite from the park is the magazine shop "under the cover", which I nearly emptied by buying everything inside. But I am sure that they will have reffilled their stock by the time you visit!
Besides this museum I also recommend the Mercado da Ribeira, which offers 1001 delicacies and is close by the ocean. So you can buy some food for a picnic and enjoy it with an ocean view. At the back of the Mercado is also an awesome Cafe called "Café Tati", in which I drunk a homemade ice tea for 80 Cents.
Lisbon in three days
As you maybe want to spent more time in Lisbon, I also prepared a list for things to do in certain districts in Lisbon. Here you go.
Baixa District (rebuilt after earthquake of 1755)
Millennium BCP Building
Rossio Historical Train Station
Alfama/Graça District
Castelo de São Jorge: nice walk through the neighborhood to the castle for a view of the city
Fado Night at Tasca Bela: classical Portuguese music in a restaurant
Chapito a mesa: restaurant in a tower, request a reservation at a table at the top, by a window for an amazing view of the city
Lux: Lisbon's hippest club owned by John Malkovich!?! Whaat?!? Now we have to go.
Chiado District
Sol e Pesca: tapas restaurant and bar
Elevador/Ascensor da Bica Funicular
Estrela da Bica: restaurant with a changing menu
Sea Me: Portuguese/Japanese seafood restaurant
Principe do Calhariz: lacking ambiance, but really great, affordable traditional Lisbon restaurant
Praça Luís de Camões: square where everyone has drinks in the evening
Pensão Amor: bar, good drinks
Bairro Alto District (bar district)
Principe Real Neighborhood and Garden: nice shops, art
Pavilhão Chinês: interesting bar
Incognito: club with a bar upstairs and dance floor downstairs
Fragil: bar with a small dance floor
Hostels in Lisbon
Lisbon Calling (zentral)
Other Things in Lisbon
Avenida da Liberdade: park-like avenue connecting
Restauradores Square with Marquis of Pombal Square, try the tostas
Praça Martim Moniz: melting pot square
Ginjinha/Ginja: traditional Portuguese liqueur made of sour cherries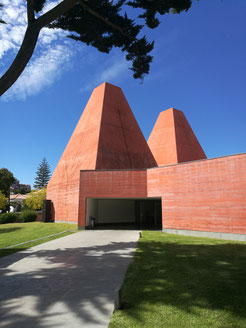 Outside Lisbon
Mosteiro dos Jerónimos: 30-min by bus, gothic monastery, get "pastéis de belém" pastries. Infront of the monastery is a fountain, where where you can sit down and have a picnic. Next to the monastery is also a lovely contemporary art museum, Museu Coleção Berardo.
Cascais: 30-min drive west, Casa das Histórias - Museu Paula Rego, one of Portugal's most famous living painters
Sintra: 30-min drive northwest, Unesco World Heritage municipality in the mountains with castles and 19th-century architecture
Beaches by Lisbon
Close by Lisbon, one hour drive south from Lisbon, you can also jump (yes, I mean cliff jumping) in the ocean and have picnic at Praia dos Coelhos. This bay-side beach is near Setúbal. Across the water from Praia dos Coelhos is Peninsula Troia. You can take a ferry from Setúbal, just park on side of street. It neighbor is the beach Creiro (Portinho Arrábida) with a beach bar, which is also worth a visit.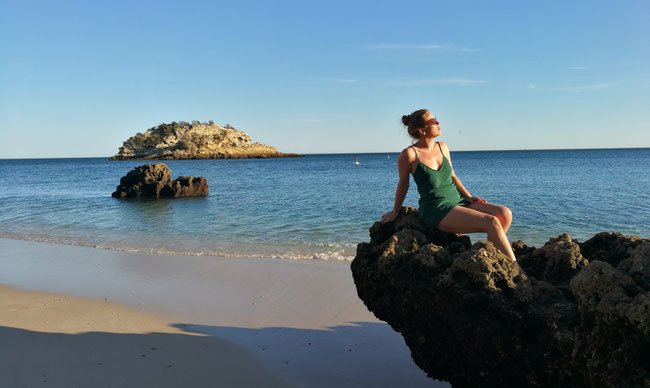 Another spectacular beach is Praia da Ursa. It is a 40-min drive west from Lisbon and you have to hike a little, but this hidden beach is worth every footstep. Next to the beach is also the viewpoint Capo da Roca, which forms the westernmost extent of mainland Portugal and continental Europe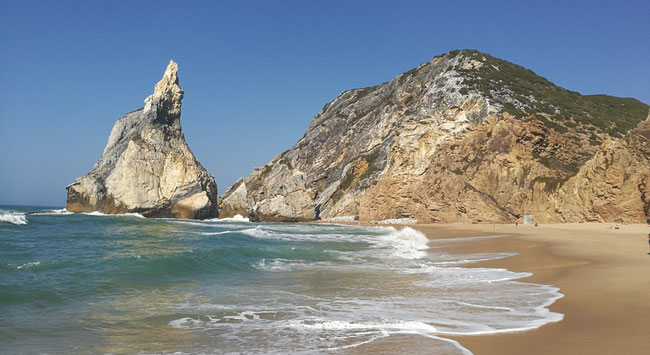 One day in Porto
Porto is a beautiful city in the north of Portugal and famous for its port wine. So we drove up the coast and had a look.
Ribera District
Is a remarkable window into Portos history and located at the riverfront of Rio Douro. You see the Ponte de Dom Luis I from here.
Palacio da Bolsa
Is a neoclassical monument of Porto's money merchant. To visit the palacio you must join a guided tour of 30 minutes. The highlight is the Arabic ballroom with stucco walls.
Torre dos Clerigos
Is a church little further up with a wonderful view over the city, but you have to scale a 225-step spiral staircase for it.
Mercado do Bolbao
Was my personal favorite in Porto. Here the vendors sell fresh fish, flowers, port wine, food and much more. Opposite from the mercado, on Rua Formosa, you find an Art Nouveau delicatessens, Confeitaria do Bolbao, which is really beautiful and their food is delicious.
Museu de Arte Contemporary
Was designed by the Porto-based architect Alvaro Siza Vieira and is located im the Parque de Serravles. The fine collection features works from the late 1960th to present. You can also visit the nearby Casa de Serravles, a delightful pink Art Deco villa, built by nobleman in the 1930th, which also hosts modern art.