If your mom loves to travel but also enjoys having a beautiful and inviting space at home, finding the perfect Mother's Day gift can be a challenge. You want to give her something that reflects her love of adventure and her appreciation for natural beauty, but you also want to make sure it's practical and low-maintenance. So besides my BertaBerlin maps or BeautyBerlin map, here is another great Mother's Day gift idea.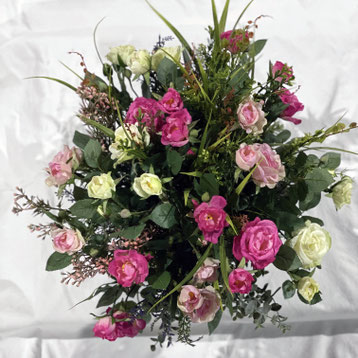 The Benefits of Artificial Flowers for a Low-Maintenance Garden
Artificial flowers are a great choice for a travel-loving mom who wants a balcony and apartment full of flowers. While they may not have the same authentic charm as living plants, they offer a host of benefits that make them an ideal choice for someone who is always on the go.
First and foremost, artificial flowers require virtually no maintenance. Unlike living plants, they don't need watering, pruning, or fertilizing, which makes them a great choice for anyone who doesn't have the time or inclination to tend to a garden. And because they're not living, they won't attract pests or allergens, which can be a major concern for some people.
Tiani from www.kunstpflanze.de has your back and
can create you beautiful bouquets.
I also have a voucher of 15 precent for you:
BertaBerlin15.
The Versatility of Artificial Flowers
In addition to being low-maintenance, artificial flowers are also incredibly versatile. They come in a wide range of colors, shapes, and sizes, which means you can create just about any look you want on your mom's balcony or in her apartment. Whether she prefers bold and bright or subtle and understated, there are artificial flowers to suit her taste.
The Travel-Friendly Qualities of Artificial Flowers
But perhaps the biggest advantage of artificial flowers is that they allow your mom to travel more and worry less. When she has a garden of living plants, she needs to make arrangements for someone to water them while she's away or risk coming back to wilted and dead plants. But with artificial flowers, she can simply leave them on her balcony or in her apartment and know that they'll look just as good when she returns as they did when she left.
Adding a Personal Touch with Travel-Inspired Artificial Flowers
To make the gift even more special, consider choosing artificial flowers that are inspired by your mom's favorite travel destinations. For example, if she loves the beaches of Hawaii, you could choose a bouquet of artificial hibiscus flowers. Or if she's a fan of Paris, you could opt for a vase of artificial roses in the colors of the French flag.
In summary, if your mom is a travel-loving person who wants a balcony and apartment full of flowers, artificial flowers are a practical and versatile choice for a Mother's Day gift. With their low-maintenance nature, versatility, and travel-friendly qualities, they just might be the perfect solution for creating a beautiful and inviting space at home, no matter where her adventures take her.