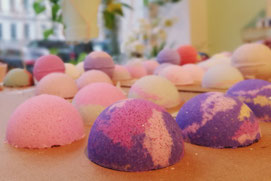 Have you ever wondered what exactly goes into a beauty product? When you browse through the ingredients list on your cosmetics package, you mostly see chemicals and artificial fragrances.
So then what is one to do?
Why don't you create your own organic cosmetics? All you only need a few natural ingredients and Lucie from PonyHütchen!
Last month Lucie inspired me to take matters into my own hands. I learned how to make my own handmade beauty products like bath bombs by simply using natural ingredients and high quality fragrance oils as well as organic essential oils.
Lucie's hands-on workshop is the perfect way to discover how easy it can be to make homemade body care using ingredients everybody has at home.
How to create your own beauty product?
In the next edition of the DIY workshop at PonyHütchen, Lucie will walk through how to make bath bombs, scrub cubes, bath salts and body peeling – everything to treat yourself.
My workshop provided all the necessary materials like starch, sodium bicarbonate, citric acid, organic coconut oil and almond oil (all ingredients are non toxic and normally part of every kitchen) to make it my unique bath bomb by choosing my own color combinations and fragrances. It is also perfect to go with your friend, if you want more than just having a coffee date.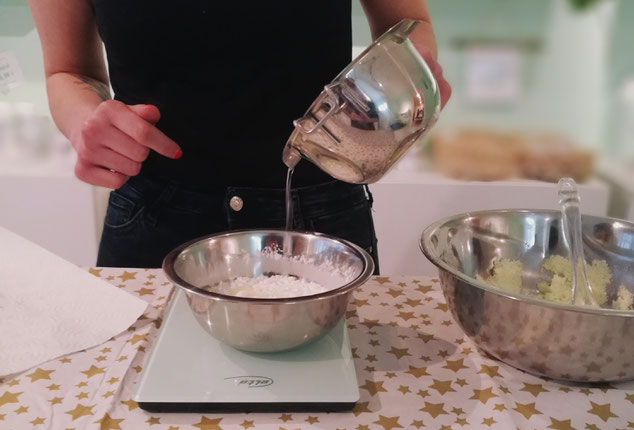 PonyHütchen is a Berlin based natural beauty and health products company. Whether deodorant cream without aluminium, solid hand cream, cream perfume or solid shampoo – all their handmade beauty products can be tried and tested.
Their mission of the heart is making sustainable and nature-driven accessible – affordable for everyone. This is why Lucie, Cagla and Patricia care about sharing information and methods in do-it-yourself way, where participants learn how to address some of their everyday needs themselves.
Join her DIY workshop at PonyHütchen to get a hands-on experience in making!
Dates 
15th of April
Time: 14–16
DIY workshop – bath salts and body peeling with aromatherapy
Because spring is in the air!
13th of May
Time: 14–16
DIY workshop – How to make hair masks at home
Mother's Day
3rd of June
Time: 14–16
DIY workshop – body peeling with aromatherapy
Because summer is in the air!
Venue
PonyHütchen
Straßburger Straße 37
10405 Berlin
Station: U2 Senefelderplatz
Shop: Tue–Sat 12–19
Price
20 Euro incl. intro to DIY beauty products,
free organic cosmetics (to take home with you),
refreshments and snacks
For more information visit