This week I'm taking you to five alternative museums in Berlin. Berlin is home to many exciting museums to keep all people happy, but I've picked out my top 5 to share with you this week! Here you'll find many ideas to fill up those weekends and to spend some quality time all together. You can find more playful hidden gems of Berlin in my BertaBerlin map.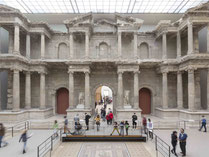 Pergamonmuseum
The Pergamon Museum houses three museums: the Collection of Classical Antiquities, the Museum of the Ancient Near East and the Museum of Islamic Art. The museum became famous for its impressive exhibits such as the Pergamon Altar, the Market Gate of Miletus and the Ishtar Gate with the Processional Way of Babylon and the Mshatta Façade. The monumental Pergamon Altar was built under King Eumenes II in the first half of the 2nd century B.C. in Pergamon (located in what is now Turkey). Also, the magnificent façade of the market gate of Milets from the 2nd century A.D. is originally from Milets (in today's Turkey). This museum is perfect to get to know some history in Berlin.
Am Kupfergraben 5, 10117 Berlin, www.smb.museum, Station: U6, S3, S5, S7, S9 Friedrichstraße, Mon–Wed, Fr–Sun 10:00–18:00, Thu 10:00–20:00; pic by Staatliche Museen zu Berlin_Antikensammlung - Johannes Laurentius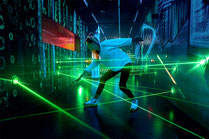 Deutsches Spionagemuseum
The museum tells the story of the spying from the antiquity until the present. In interactive stations, you can crack codes, bug a radio practice your lip-reading. The highlight is the laser parkour. This museum is one of the recommendations of my PlayBerlin map for parents and children.
Leipziger Platz 9, 10117 Berlin (Mitte), +49 30 39 82 00 450, info@ deutsches-spionagemuseum.de, www.deutsches-spionagemuseum.de, Station: U2, S1, S2, S25 Potsdamer Platz, daily 10:00–20:00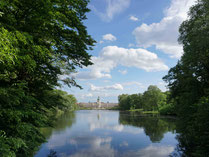 Schloss Charlottenburg
Berlin's largest palace is breathtaking and a true highlight. Once a royal summer residence, the museum shows you the elegant staterooms and the rococo ballroom with priceless antique porcelain and tableware. They also offer guided tours and hosts concerts in the ballroom. The castle also has a beautiful garden. The Schlossgarten Charlottenburg is a multi-faceted scene of royal garden art that wants to snatch and inspire its visitors from the hustle and bustle of the capital. It was created in 1695 by the wise and cosmopolitan Elector Sophie Charlotte. If you want to know more about Charlottenburg, you can find some hidden gems in my BertaBerlin Charlottenburg map.
Spandauer Damm 10–22, 14059 Berlin (Charlottenburg), www.spsg.de, Station: S41, S42, S46 Westend, Jan–March Tue–Sun 10–16:30, April–Oct Tue–Sun 10–17:30, Nov–Dec Tue–Sun 10:00–17:00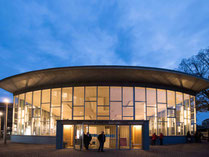 Tränenpalast
Until 1990, the Tränenpalast served the SED dictatorship as a check-in hall for emigration from the GDR to West Berlin. More than almost any other place, the pavilion commemorates the division of Germany and the fates associated with it. Many had to say goodbye to friends and relatives here. Today the permanent exhibition "GrenzErfahrungen. Alltag der Deutschen Teilung. With original objects, documents, films and interviews with contemporary witnesses, it illustrates life in the face of division and borders. Admission is free. This hidden gem is also a part of my GDR Berlin map (alias DDR).
Reichstagufer 17, 10117 Berlin (Mitte), +49 30 46 77 77 911, berlin@hdg.de, www.hdg.de/traenenpalast, Station: U6, S1, S2, S5, S7, S9, S25 Friedrichstraße, Tue-Fr 9:00-19:00, Sat-Sun 10:00-18:00; pic by Stiftung Haus der Geschichte - Christoph Petras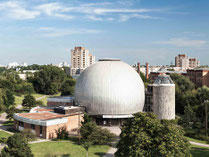 Zeiss-Großplanetarium
The planetarium was dedicated by Erich Honecker himself in 1987. He was East Germany's leader from 1971–1989. It was one of the largest and most modern planetariums in the world at the time, designed by the architect Erhardt Gißke, who previously built the Palace of the Republic. Today the renovated cinema plays 3-D movies, old science fiction and East German films on selected evenings. This is one of the hidden gems of my Prenzlauer Berg map.
Prenzlauer Allee 80, 10405 Berlin (Prenzlauer Berg), +49 30 42 18 45 10, www.planetarium.berlin, Station: S8, S41, S42, S85 Prenzlauer Allee, pic by Natalie Toczek