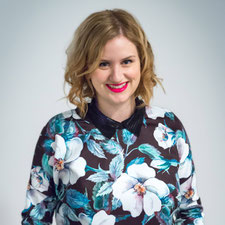 As I welcome Airbnb guests from all over the world in my home, I do meet fascinating personalities. In July, it was my privilege to share my apartment with Catherine Genest, who is incidentally a writer for the French art magazine Voir.
Art brought her to beautiful Berlin – why wouldn't it? There are some wonderful galleries and art museums in Berlin. As a writer, Catherine covers art back home in Quebec City. She sought an online space to share the nicest expos she came across while seeing this city: I obliged. While touring these galleries, I searched for some nice cafés and restaurants, for those who like to round off an art day with a bite to eat or a glass of wine.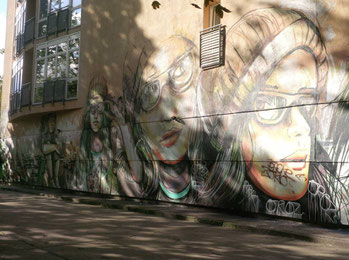 East Side Gallery
Street Art is unusually, both a huge and a long-established tradition in Berlin. You could argue that this is the city where Street Art first found the walls (and the space) to flourish. The Berlin Wall's longest relic puts the original mural-makers in the spotlight. Here, you can experience a significant piece of history, prettified with some extremely rare graffiti, dating all the way back to the 90s. By its very nature, art like this isn't supposed to survive very long. The East Side Gallery's preservation of such a transient art form makes this place even more special.
Mühlenstraße
10243 Berlin
Station: U1, S5, S7, S75 Warschauer Str.
You could do a street art and graffiti tour with www.berlinkultour.de.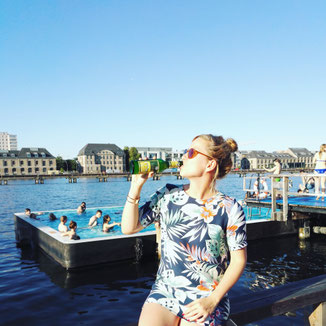 Badeschiff
Just 10 minutes walk from the East Side Gallery you will find the Badeschiff, a beach bar with a pool. Take a dip in the swimming pool that floats in the river or grab a drink at the bar.
Badeschiff
Eichenstraße 4
12435 Berlin
www.arena.berlin
Station: U1 Schlesisches Tor
Swim Season: May–Sep 8–24h
Escobar: Thu–Sun 16–24h
The Art of Banksy
Very easy top spot, located straight in front of the monumental Jewish Memorial, this itinerant exhibit presents Banksy's earlier work such as his first prints and sculptures. A rare chance to see the world's most famous unknown painter in a whole new light!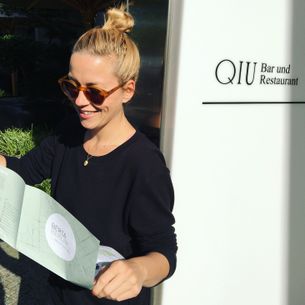 The Art of Banksy
in Felix
Behrenstraße 72
10117 Berlin (Mitte)
Dates: 16. Juni bis 30. Oktober 2017
Hours: Mo-Sun 10-20h
Entrance fee: 17,50 Euro (
tickets
)
Qiu Restaurant
(Nouvelle cuisine, lunch)
If you are hungry now, you are in for a treat. As the culinary brother of the Michelin-starred restaurant FACIL, you can be sure the freshly prepared dishes at Qui won't disappoint.
Qiu
Potsdamer Straße 3
10785 Berlin
+49 30 590 05 12 30
welcome@themandala.de
www.qiu.de/en
Station: U2, S1, S2, S25 Potsdamer Platz
Wed–Fr 7:00–11:00, Sat–Sun 8:00–12:00, Fr 16:00–23:00, Sat 16:00–23:00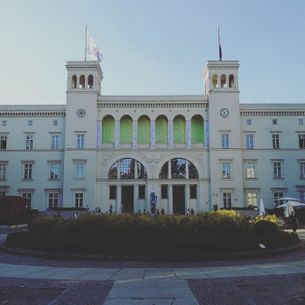 Hamburger Bahnhof
High-end contemporary art takes the stage in this reconverted train station. Colorful Andy Warhol canvases and iconic Rudolf Belling Art Deco sculptures rub shoulders with striking installations such as Dream Passage by Bruce Nauman – my idea of a gloomy nightmare come to life.
Hamburger Bahnhof
Invalidenstraße 50-51
10557 Berlin
 (Mitte)
+49 30 26 64 24 242
smb.museum/hbf
Station: U55, S5, S7, S75 Hauptbahnhof
Tue-Sun 10-18h, Thu 10-20h
Sarah Wiener Café
Just next door to the Hamburger Bahnhof is the café - restaurant Sarah Wiener with an Austro-German menu made with seasonal, organic ingredients & fresh bread.
Sarah Wiener Café
Invalidenstraße 50-51
10557 Berlin
 (Mitte)
+49 30 70 71 36 50
www.sarahwiener.de
Station: U55, S5, S7, S75 Hauptbahnhof
Tue-Wed-Fr 10-18h, Thu 10-20h, Sat-Sun 11-18h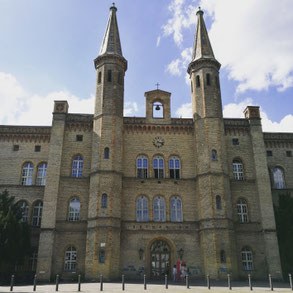 Kunstquartier Bethanien
Local dancers, musicians and so on come together in this old-timey hospital. But the center of attraction really is the gallery: an amazing space that for example, has showcased the dry-humored political artist and satirist Viron Erol Vert.
Kunstquartier Bethanien
Mariannenplatz 2
10997 Berlin (Kreuzberg)
www.kunstquartier-bethanien.de
Station: U1, U8 Kottbusser Tor
The admission is free.
Daily from 11-20h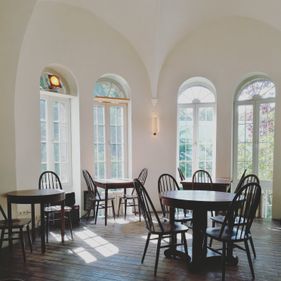 Café 3 Schwestern
At Kunstquartier Bethanien on Mariannenplatz you can also find the café 3 Schwestern. Breakfast is only served on Saturday and Sunday. When the sun is out, you can sit in the garden and eat your way through their international menu.
Café 3 Schwestern
Mariannenplatz 2
10997 Berlin (Kreuzberg)
+49 30 60 03 18 600
info@3schwestern.com
www.3schwestern.com 
Station: U1, U8 Kottbusser Tor
Mon-Fr from 12h, Sat-Sun from 11h
(cash only)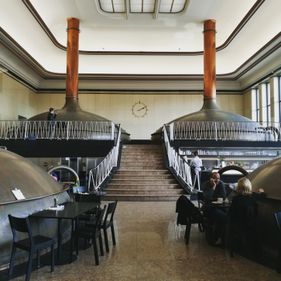 KINDL
Let's admit it: Berliners have some serious skills when it comes to recycling and transmuting disused buildings. This former beer brewery is yet another example of a successful reconversion benefiting contemporary art.
KINDL
Am Sudhaus 3
12053 Berlin
+49 30 83 21 59 12 16
info@kindl-berlin.de
www.kindl-berlin.de
Hours: Wed-Sun 12-18h Entrance fee 5 Euro
Café König Otto
This family-run vegetarian café is located in the spacious brewery halls of the Kindl Center for Contemporary Art. They offer homemade cakes, tasty sandwiches and delicious lunch.
Café König Otto
Am Sudhaus 3
12053 Berlin
www.koenig-otto.com
Hours - Café: Wed-Sun 12-18h,
Hours beer garden: Wed-Sat 12-22h, Sun 12-20h