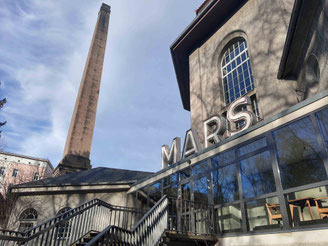 To make the choice a little easier for you, we have searched for the hidden gems of Berlin Wedding. in my BertaWalks App I will also design a walking tour through Berlin Wedding for you. If you want to stay up to date, register for my BertaBerlin newsletter! For now I would like to introduce you to my Top 5 awesome spots in Berlin Wedding.
Silent Green Kulturquartier
The Silent Green Kulturquartier is a former crematorium. Although the site is surrounded by an urn cemetery and the former chimney towers visibly from afar, its neoclassical building ensemble with its eight-sided courtyard, its simple gate and the greenery of its lawn in the entrance area remain very inviting to the public. Today, its former mourning hall has become a concert hall very famous throughout Berlin for its acoustics. The venue regularly hosts readings and even hosts the Berlin International Literature Festival. During Corona, late summer picnic concerts were held in collaboration with partner Café MARS. Each visitor received, in addition to his picnic package and a blanket, a pair of headphones, before then began to listen deeply relaxed to the music and to follow the birds dreaming in their flight of fancy...
Gerichtstraße 35, 13347 Berlin (Wedding), +49 30 12 08 22 100, mars@silent-green.net, www.mars-berlin.net, Mon–Fr 12:00–18:00, Sat–Sun 10:00–17:00, pic by Elsa Goulko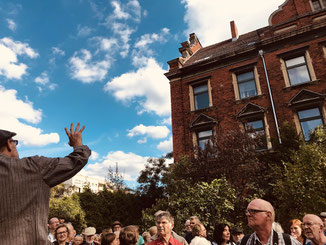 Art along the Panke
The banks of the river Panke have attracted freelance artists for years, e.g. through the Panke culture, Die Wiesenburg or the Uferstudios. Panke culture used to be a commercial courtyard. The Wiesenburg was originally established at the end of the 19th century as a shelter for the homeless. The Berliner Verkehrsbetriebe (BVG) had their buses repaired in the halls of the Uferstudios until 2008. Today, they have become venues for classical concerts (at Panke culture), dance classes (at Tanzfabrik in the Uferstudios) and performances from the independent dance scene in the Uferstudios.
If you want to watch artists and residents, it's best to sit on the terrace of Café Pförtner (in case of rain, you're welcome to sit in the beautifully furnished bus) or on a bench at the neighboring Café Dujardin. If you like classical music, we recommend a piano concert at the Piano Salon Christophori. Admission is on a donation basis.
Panke, Gerichtstraße 23, 13347 Berlin (Wedding), erika@pankeculture.com, www.pankeculture.com, 
Die Wiesenburg, Wiesenstraße 55 , 13357 Berlin (Wedding) contact.us@diewiesenburg.berlin, www.diewiesenburg.berlin,
Uferstudios, Badstraße 41a, 13357 Berlin (Wedding), mail@uferstudios.com, www.uferstudios.com, Station: U8 Pankstraße; pic by Bojana Nikolić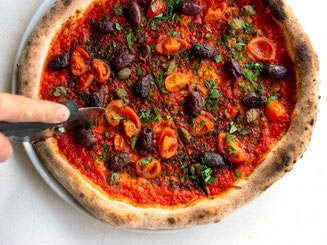 Humboldthain
The Volkspark Humboldthain is hilly. One of the rubble mountains was created after World War II. 85 meters, which you best climb from the red pedestrian bridge over the railroad tracks on Hochstraße, called Humboldtsteg Brücke. The path winds its way up the mountain in serpentines. Once at the top, the panorama of Berlin opens up. In this park you will also find a former bunker, which was not completely destroyed due to its proximity to the city railway, so the northwest side was preserved and meanwhile became a mecca for climbers. If you like history, you should visit a guided bunker tour of the Berlin Unterwelten. Depending on the theme of the tour, you will learn about Berlin bunkers and walk through the corridors of the Berlin subway into an escape tunnel under the Berlin Wall or even into a bunker! Afterwards you can enjoy some (vegan) pizza in the traditional Italian restaurant Sotto.
Sotto, Neue Hochstraße 25, 13347 Berlin (Wedding); pic by Erica Löfman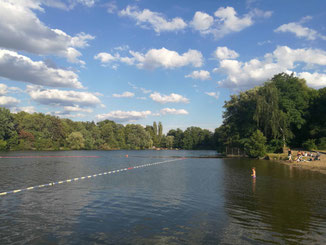 Volkspark Rehberge and Plötzensee
In summer you can go for a walk in the Volkspark Rehberge or relax, swim and sunbathe at the lake Plötzensee. Events such as concerts and theater also take place at this lake. Among others, the Prime Time Theater, which is also located in Berlin Wedding, stages its famous sitcom "Gutes Wedding, schlechtes Wedding". In Park Rehberge itself, you can watch movies in German and English at the open-air cinema Rehberge. There is no ice cream parlor directly in the park, but you will find the ice cream parlor Kibo (around the corner) with delicious, homemade ice cream. And if you are hungry, check out the African restaurant Bantou Village.
Plötzensee, 13351 Berlin (Wedding), www.berlinerbaeder.de, Station: S41, S42, U9 Westhafen (by bicycle), take a 20 minute walk until the Strandbad Plötzensee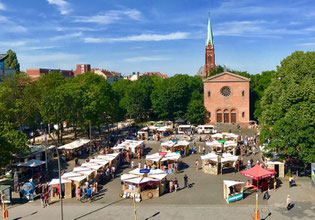 Wedding Markt
Almost every day Berlin Wedding offers a market. On Tuesdays and Fridays from 10:00–17:00, organic vendors offer cheese, meat, bakers, fruit and vegetables on Leopoldplatz. There is a French fries booth, you can also buy smoked fish, flowers and Cameroonian specialties ToGo from chef Mimi. On Wednesdays and Saturdays, a fruit and vegetable market is held not far from Leopoldplatz behind Weddinger Rathaus on Genter Straße. The principle is always: the more you buy, the cheaper the price. Another market is the very popular art and culture market Weddingmarkt. Here artists, designers and artisans from Wedding present their art work and themselves. On the first Sunday of every month (starting in May), it takes place on Leopoldplatz in front of Nazareth Church. On the three Sundays in December, it even turns into a Christmas market.
Leopoldplatz, 13353 Berlin (Wedding), www.wedding-markt.de, weddingkulturmarkt@gmail.com, Station: U6, U9 Leopoldplatz, pic by Anna Bilger
Co-Author Elsa has lived and worked in Berlin Wedding since 2012 and has since fallen in love with this simple and down-to-earth neighborhood. In case you want to know more, she offers individual tours in German, French and English on request: elsunia216@yahoo.de.