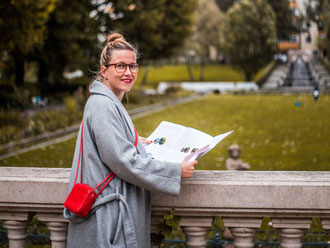 To make the choice a little easier for you, I have search for the hidden gems of Berlin Neukölln. in my BertaWalks App I also design a walking tour through Berlin Neukölln for you and in my BertaBerlin map about Neukölln you can find even more tips. If you want to stay up to date, register for my BertaBerlin newsletter! For now I would like to introduce you to five spots in Berlin Neukölln.
Körnerpark in Berlin Neukölln
Resembling a palace garden, Körnerpark is often used for free concerts and performances during summer weekends. It looks a little like a Charlottenburg garden in Neukölln. Here you also find the Zitronencafé, which offers picnic baskets to sit down in lawn close by the fountain.
Schierker Straße 8, 12051 Berlin (Neukölln), +49 30 56 82 99 99, www.esskultur-berlin.de, Station: U7, U8, S41, S42, S45, S46, S47 Neukölln, pic by Alina Rudya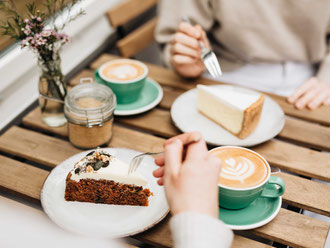 Café Wilke
At Café Wilke you can sit, drink coffee, work or just relax. Her carrot cake is always freshly baked and very tasty! If you like it hearty, you should order Carolin's classic avocado toast. While the classics remain, the menu changes often enough to give you a reason to make Wilke your regular. The interior is minimalist, but cozy at the same time.
Wilke, Boddinstraße 10, 12053 Berlin (Neukölln), Station: U8 Boddinstraße, Tue–Fr 8:00–18:00, Sat–Sun 9:30–18:00, @wilkeberlin, pic by Savannah van der Niet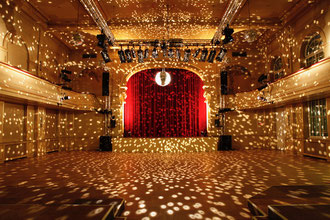 Heimathafen Neukölln
Simply, direct and for everyone: Heimathafen Neukölln stands since 2009 for popular theater from Berlin. With its diverse program from play, music theatre, concerts, readings to new show formats the Heimathafen inspires visitors from Neukölln and outside of Berlin.
Karl-Marx-Straße 14, 12043 Berlin (Neukölln), +49 30 56 82 1 3 33, karten@heimathafen-neukoelln.de, www.heimathafen-neukoelln.de, Station: U7 Karl-Marx-Straße, You can buy the ticket on the day and one hour before the show. pic by Verena Eidel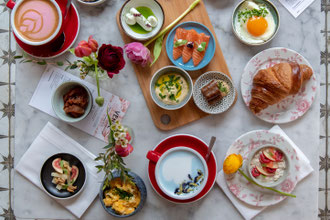 YaMe NumNums
YaMe NumNum serves breakfast classics with a difference. All dishes have an Asian touch and are reinterpreted by them. On weekends there are changing specials. What makes the concept special is the Asian influence on the dishes. Their French toast (also called poor knight) is served with house fermented kimchi and a homemade ginger syrup, plus a fried egg. The name YaMe, by the way, comes from Linh's children YAkup and MElih.
Flughafenstraße 46, 12053 Berlin (Neukölln), Station: U7 Rathaus Neukölln, Fr–Sun 9:00–17:00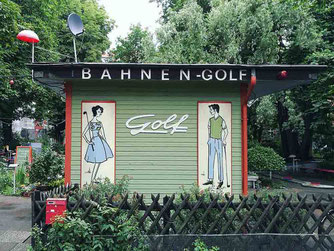 Minigolfanlage Hertzberg
What a hidden gem in Berlin, Neukölln! This is the perfect spot for a casual and very laid back first date. It's a perfect spot for a birthday party as well. It's a perfect spot for a corporate party. This place is not shiny, but really old school. They have loads of great courses, which is extremely favorably (per person 3 €, a beer 1.80 €). It's at Hertzbergplatz, a five minutes walk to the S-Bahnstation Sonnenallee and open every day except Monday. This is not only recommended in my Berlin Neukölln map, but also in my VeganBerlin map.
Sonnenallee 165, 12059 Berlin (Neukölln), +49 30 56 82 47 04, www.hertzberg-golf.de, Station: S41, S42 Sonnenallee + Footpath to Hertzbergplatz (5 min), Tue–Fr 14:00–22:00, Sat–Sun 11:00–20:00, Nov–Feb closed :-(