Awesome bakeries are not easy to find, but essential for everyday life, this is why I created my personal Top 5 bakeries in Berlin, here we go.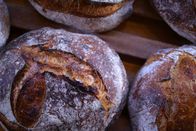 Domberger Brot-Werk GmbH & Co KG
Probably one of the best things Germans make besides cars is Bread and this bakery definitely makes one of the very best bread loafs in town period! The special thing here is that they actually make their own bread here from scratch, no dough is delivered here. So basically you are standing in a little bread "makery" which hardly any bakery does now a days. If you don't feel like dining outside, this is the spot to buy some fresh made, delicious German bread. The young team attaches great importance to transparency as well as good and honest ingredients. Domberger Brot-Werk sets a beautiful example against industrial mass production.
Essener Straße 11, 10555 Berlin (Moabit), +49 30 23 56 04 71, www.domberger-brot-werk.com, Station: U9 Turmstraße, Mon 15:00–18:30, Tue, Wed, Thu 8:00–18:30, Fr 8:00–18:00, Sat 8:00–13:00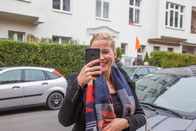 Ihr Meisterbäcker
Andreas Zandonai is an old school baker. His bakery in Moabit is more than just a salesroom. The master baker has been running his shop for almost 20 years. And the people don't just come for the braided rolls named Knoten and his bread variations, but also for the countless freshly baked eclairs, pudding bags, Americans, streusel snails, pig's ears and tin cakes. Here you will find the oldest baker Moabits. Bon appetit!
Elberfelder Straße 2, 10555 Berlin (Moabit), +49 30 39 90 80 85, Station: U9 Turmstraße, Mon–Fr 6:30–19:00, Sat 7:00–1:00, Sun 7:00–1:00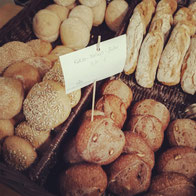 Königliche Backstube
If you want to have a nice breakfast or dinner with an old-fashion "Stulle" on your own balcony, you can find the best handmade bread, rolls and pastries at this bakery in Neukölln. You can smell the new chocolate walnuts from the distance. Upon closer inspection, you will see golden pretzels, handmade bread, rolls and pastries.
Zwiestädter Straße 10, 12055 Berlin (Neukölln), www.koenigliche-backstube.berlin, Station: S41, S42, S46 Sonnenallee, Mon–Fr 9:00–19:00, Sat 8:00–14:00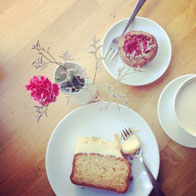 Bullysbakery
I loved the latte, the fresh squeezed orange juice. The cheesecakes are delicious too, and all for a very reasonable price. Only if you want all the deliciousness you shouldn't go too early. As everywhere in Berlin things start around 11:00
Friedelstraße 7, 12047 Berlin (Neukölln), Station: U8, U7 Hermannplatz, +49 30 25 32 55 00 Facebook: Bullysbakery, Mon–Fr 9:00–19:00, Sat–Sun 10:00–19:00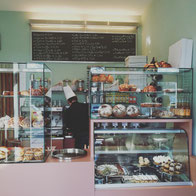 Salon Sucre
This cute pastery shop is the fulfillment of my/your pastry dreams. Hidden at the end of Görlitzerstraße you can indulge in delicious French delicacies like tartes with forest fruits or chocolate strawberry cakes with thousands of layers and have your head styled. An unusual combination that you can also enjoy separately. In summer you can have picnic with their delicious pastries in Görlitzer Park (just across the street).
Görlitzer Straße 32A, 10997 Berlin (Kreuzberg), www.salonsucre.de, Station: U1 Görlitzer Bahnhof, Sat–Sun 10:00–17:00
If you want to find more hidden gems of Berlin, check out my folding maps BertaBerlin, VeganBerlin, GDRBerlin, BeerBerlin, YogaBerlin and QueerBerlin. They are available in well-chosen locations all over Charlottenburg, Neukölln, Kreuzberg, Mitte and Prenzlauer Berg in Berlin and online. But for those of you, who want to stay up to date, feel free to follow me on INSTAGRAM, FACEBOOK or register for my NEWSLETTER BertaNews.