As I published my new BertaBerlin map for Neukölln, I would like to give some hidden gems away to get you curious...
If you want to discover more secret spots and hidden gems of Berlin Neukölln, crafted so you can explore Berlin with ease by way of simply suggested city walks or more spontaneous choose-your-own-adventure routes, you can also check out my BertaBerlin map of Neukölln.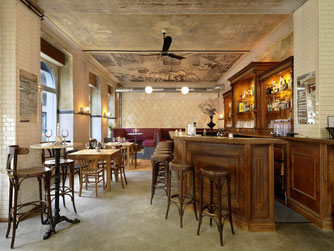 Beuster Bar  
The rapid rise of the Beuster Bar is no wonder, as it is a real "gastropub". It combines a casual pub night in Kiez flair with excellent cuisine that stands out from the simple fast food places in the Kiez.Anything is possible here - a 4-course meal or a club sandwich can be ordered in equal measure. Guests can sip fine cocktails or just a beer or two. Just as the mood takes them. The interior of the Beuster Bar is deliberately restrained, but tasteful. There are wooden tables, benches in front of dark green shiny tiles, the walls are natural, without paint, on the ceiling there is a work of art. The well-stocked bar is the centerpiece of the medium-sized space. The cocktails are exceptionally tasty and mixed with fresh ingredients.
Weserstraße 32, 12045 Berlin (Neukölln), www.beusterbar.com, Phone:+49 30 4195 9780, Station: M41 Fuldastraße, Daily from 18:00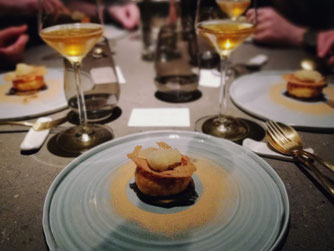 CODA Berlin 
The chic Bar Coda in Neukölln focuses exclusively on desserts and is the only dessert-only restaurant in Germany. In the puristic bar with plain walls, simple wooden furniture and a central bar, the owners create the appealing, fine dessert menus every evening. The desserts, served as tapas, are offered here as a 6-course menu.  Creative dessert tapas such as eggplant with pecan and apple balsamic or fig with hazelnut and anchovy are served with matching drinks.
Almost all of the ingredients used in the dessert creations are homemade. Whether it's fruit, cheese or root vegetables, René Frank experiments with all sorts of techniques and unusual flavors and textures. 
Friedelstraße 47, 12047 Berlin (Neukölln), www.coda-berlin.com, Station: U7, U8 Hermannplatz, Wed–Sat from 18:30
Butter und Korn
What does Miami Vice have to do with "Spreewaldschnittchen"? No idea, but Butter & Korn manages to combine both - 80s vibes and consistent regionality - under one hat. And the result is something to behold: Dill drinks in pink neon lights. In the Neukölln bar, all products come from German-speaking regions to avoid long delivery routes. And in the food pairing, they are then skillfully and boldly brought together. Delicious snacks like truffle cheese or wild garlic butter and of course outstanding cocktails. 
With their combinations, the "Butter & Korn" team shows that it is not dependent on exotic ingredients to convey Mediterranean aperitif enjoyment. Whether for an aperitif or a late night drink, Butter und Korn is definitely worth a visit.
Pannierstraße 57, 12047 Berlin (Neukölln), www.butterundkorn.de, Station: U7, U8 Hermannplatz, Tue–Thu from 18:00, Fr–Sun from 17:00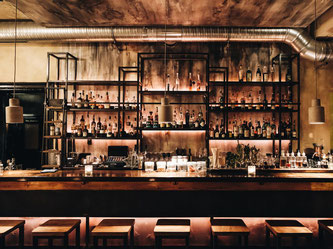 Herr Lindemann
Who doesn't dream that a good drink not only exhilarates, but also has a healing effect? That it also does something good for your health? At Herr Lindemann the happy drinker can at least hope for that. The bar uses all kinds of herbs that are said to have medicinal properties - and at the same time harmonize perfectly with the taste of gin, rum and the like. If spicy greens aren't your thing, don't worry - you can also get the popular classics here, as well as a selection of beer and wine. Get cozy with your friends on the green velvet couches - you might enjoy this casual bar and, of course, the upscale herbal cocktails.  Aand when the sun is shining you can also enjoy the beer garden outside.
Richardplatz 16, 12055 Berlin (Neukölln), www.herr-lindemann.de, Station: S41, S42 Sonnenallee, Daily from 18:00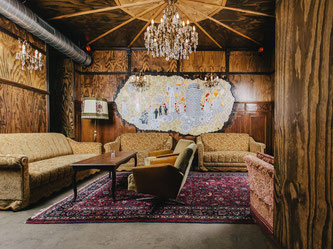 Promenaden Eck
Neukölln is one of the districts in Berlin that attracts a particularly large number of young, often hip people. Nevertheless, the nightlife in Neukölln is not as present as in other districts, but there are a few places where you can dance the night away. as for example the "Promenaden Eck". This location gets its special pub charm from the retro wallpaper and vintage chairs, but you should by no means just sit here. On two dancefloors, this bar plays all kind of music, from hip hop to electro to oldies and more. For sure your ears will get some vibes, so that you will feel invited to dance with the crowd. Those who need a break can use the table tennis table in the back room.
Schillerpromenade 11, 12049 Berlin (Neukölln), www.promenaden-eck.de, Station: U8 Boddingstraße