I do love my local pubs and restaurants but sometimes I, like all of us,  just get a craving for something new. And as I am always scouting for my Berlin travel guides, I also search for speakeasy bars – my new favourite spots in Berlin! Luckily, this beautiful city is full of amazing spots that prove you can't judge a book by its cover. If you're looking for somewhere that makes you stop and say 'wow, that's cool', look no further than this list of my "Top 5 bars in Kreuzberg". More hidden gems can be found in my BertaBerlin map of Kreuzberg.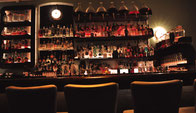 Limonadier Cocktailbar
At this Kreuzberg bar, you have to ring the bell to enter, and if it's not too crowded they will let you in, giving you the chance to enjoy excellent cocktails! This bar serves classic cocktails, but also offers in-house creations including the 'Limonadier Lemonade'.
Nostitzstraße 12, 10961 Berlin (Kreuzberg), +49 170 60 12 020, info@limonadier.de, www.limonadier-barkultur.de, Station: U7 Gneisenaustraße, Tue–Thu 18:00–2:00, Fr–Sat 18:00–3:00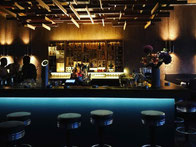 Fahimi bar in Kreuzberg
This bar is a real hidden gem, you have to watch out for a little sign, that says "Fahimi Bar" and go up to the second floor. At this Kreuzberg bar, they really know what they are doing as the interior is super stylish. If you want to dance-no problem! This bar has DJs and a dance floor. Additionally, if you want more you can hop over to the Monarch.
Skalitzer Straße 133, 10999 Berlin (Kreuzberg), www.fahimibar.de, Station: U1, U8 Kottbusser Tor, Tue–Sat from 19:00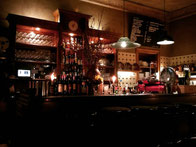 Italian wine bar in Kreuzberg
If you are into wine then Gallina is the place to be. Fine food and a big variety of wines make this place a must-try. This bar is perfect for an after-work aperitivo. They have self-imported wine from wine canteens in Italy that still follow handmade production methods. This top bar in Kreuzberg offer cheeses and Italian salami from the Venice, Puglia and Campania regions, great music and great atmosphere at the heart of the Wrangelkiez in Kreuzberg.
Pücklerstraße 20, 10997 Berlin (Kreuzberg), www.bargallina.de, Station: U1, U3 Görlitzer Bahnhof, daily 18:00–1:00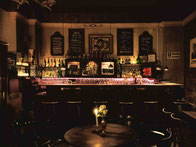 Bohnengold in Kreuzberg
Bohnengold bar is also a club with delicious drinks and a back room complete with dance floor, which is in action most Friday and Saturday nights! At this Kreuzberg bar, DJs typically spin house, techno or disco music.
Reichenberger Straße 153, 10999 Berlin (Kreuzberg), Station: U1, U8 Kottbusser Tor, Mon–Thu 18:00–2:00, Fr-Sat 18:00–6:00, pic by S. Schweizer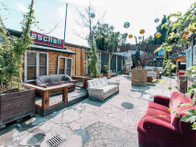 Birgit & Bier in Kreuzberg
This bar, club and beer garden is located directly at the banks of the river Spree in Kreuzberg and is packed inside and out with fun carnival furnishings and creative themes. During the day you can lounge here in the sun whilst in the evenings, get up and onto the dance floors, which offer unique music genres (house, techno, 80s to Hip-Hop).
Schleusenufer 3, 10997 Berlin (Kreuzberg), www.birgit.berlin, Station: U1 Schlesisches Tor, Beer garden: Every day from 14:00, Club: Fr–Sat from 23:00, pic by Viktor Strasse