Berlin has no beach, but we do have a lot of beach bars. This week I want to show you some places that beachy Caribbean feel. By that I mean white sand beach, cocktail service on the beach(es of Berlin)...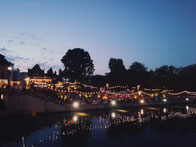 Strandbar Mitte
If you're looking for something removed from techno clubs, this beach bar offers Friday night outdoor swing dance lessons. But they also host tango, salsa and cha-cha nights. Beginners of all ages are welcome. While enjoying a delicious drink you can have a beautiful overlook of Museum Island.
Monbijoustraße 1, 10117 Berlin (Mitte), www.monbijou-theater.de, Station: S1, S2, S25 Oranienburger Straße, daily from 9:00 (in summer)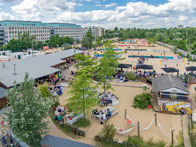 Beach Mitte
Beach Mitte is – with 50 courts - the largest location to play beachvolleyball in Berlin. Besides playing Beachvolleyball you can dip your toe in the sand and enjoy a drink from their beach bar.
Caroline-Michaelis-Straße 8, 10115 Berlin (Mitte), +49 177 28 06 861, info@beachberlin.de, www.beachberlin.de, Station: S1, S2, S25 Nordbahnhof, daily 10:00–22:00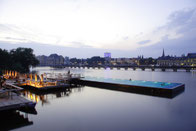 Badeschiff
The Badeschiff is one of the most amazing beach bars in Berlin. Its pool floats since 2004 on the river Spree. Besides a swim, you can enjoy the panoramic views of the city. A wooden footbridge connects the pool to the river bank where you can sometimes enjoy life music, have drink in the sun or play beach volleyball. The bar offers a variety of cocktails, but you can also get a bit to eat if you are hungry. Take a dip in the swimming pool that floats in the river or grab a drink at the beach bar. Badeschiff is the perfect get away from the city. The sky-blue swimming pool has a water depth of 2.05 metres. For children, there is an additional area where they can build their sandcastles. You can have a swim in the pool or do Stand Up Paddling on the Spree. If you want you can also take a Stand Up Paddling (pricing) or Yoga class (13 Euro, entrance fee included).
Eichenstraße 4, 12435 Berlin (Kreuzberg), Station: U1 Schlesisches Tor, www.arena.berlin/veranstaltungsort/badeschiff, swim season is from May–September: 8:00–24:00 Escobar from Thu–Sun 16:00–24:00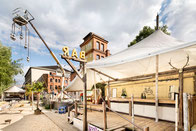 Sage Bar
This beach bar is located at the river Spree in Köpenicker Straße in Kreuzberg. An extensive sandy beach, deckchairs, a large covered beach bar and various food trucks with changing offers provide a holiday feeling in the middle of Berlin. Here you can often listen to well-known DJ's of the Berlin club scene. Admission is usually free from Monday to Saturday and the public is made up of families with children as well as hip young people.
Köpenicker Straße 18–20, 10997 Berlin (Kreuzberg), +49 30 75 54 94 071, reservierung@sage-restaurant.de, www.sage-restaurant.de, Tue–Sun 18:00–24:00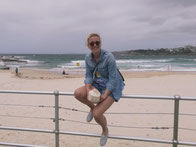 East61
Here you can play beach volleyball on 42 illuminated courts during the summer season, challenge other teams on the challenge court and enjoy the sun and delicious drinks at the beach bar. The popular Fun Tournament takes place every Saturday morning. There are plenty of showers and changing rooms.
Naumannstraße 44, 10829 Berlin (Schöneberg), +49 176 99 85 25 15, info@beach61.de, www.beach61.de, Station: S1 Julius-Leber-Brücke, Mon–Fr 11:30–23:30, Sat–Sun 10:00–22:00
If you want to find more hidden gems of Berlin, check out my folding maps BertaBerlin, VeganBerlin, GDRBerlin, BeerBerlin, YogaBerlin and QueerBerlin. They are available in well-chosen locations all over Charlottenburg, Neukölln, Kreuzberg, Mitte and Prenzlauer Berg in Berlin and online. But for those of you, who want to stay up to date, feel free to follow me on INSTAGRAM, FACEBOOK or register for my NEWSLETTER BertaNews.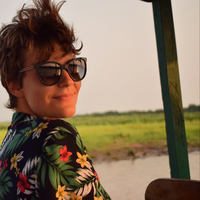 Carolin is a German gerontologist (B. A.) and writer from Berlin. Carolin is dedicating her time to shine light on the Slow Movement from an agesensitive angle: "Slow Ageing by Slow Living." Gerontology is the science of human age and ageing. She has been a professional freelance writer for the German market for the past four years, gaining experiences in various media. Just recently she kicked off a big book project called "Forever-ish: A series of Mini eBooks on how to slow down the ageing process". The first issue #1 "What is age?" is available in your Kindle Store for your eBook-reader and for your Smartphone with Kindle App. You can contact her via email.