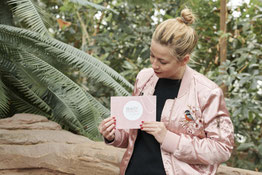 My personal beauty secret from Berlin is of course – you already know what is coming ;) – my BeautyBerlin map! The second edition of the map is finally released and available in my online shop. While scouting for my BeautyBerlin map, I was lucky to meet Karin and Fabian from Urban Cosmetics Berlin, who gave away some of their beauty secrets! So here are my Top 5 beauty secrets from them.
If you want to get to know Berlin and more BeautyBerlin spots, you can also pick of one my maps, preferable my BeautyBerlin map.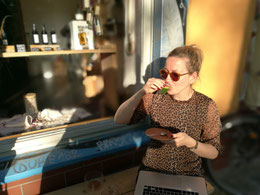 My beauty shot of Berlin
The beauty secret (of all time) from Berlin Kreuzberg, where the store of Urban Cosmetics Berlin is located, is their very own wheatgrass juice! It creates pure beauty from the inside. In addition to chlorophyll, plenty of vitamins and minerals it ensures an active metabolism that cleanses the blood, detoxifies the liver and thus considerably improves many complaints, including those of the skin. So the neighbors of Karin and Fabian (and ME) come by weekly to get their beauty shot only, by the way it is freshly pressed and delicious!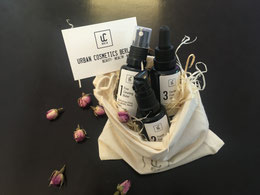 Beauty routine for healthier skin
One of the very first things you're taught when you're a kid is how to clean and wash your face (properly). But not everyone knows the hygiene routines to keep your skin clean and healthy. Gentle facial cleansing with the power of the purest organic blossom waters does help. Urban cosmetics Berlin aka Karin and Fabian use hydrolates in combination of carrot, witch hazel and rose hydrolate (in UC1 Fine Cleaning Water). Not only do they care for and clean skin pores, they can also have an calming and cell-building effect for sensitive skin. One highlight, it contains silver which is anti-inflammatory.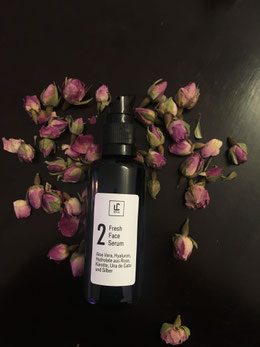 Face serum for the skin
The UC2 Face Serum from Urban Cosmetics Berlin is a "personalized" moisturizing serum for all skin types. Every skin has its individual demands and has to adapt to many factors such as weather and stress (especial in Berlin ;). Therefore, Karin and Fabian have developed the UC2 Serum in combination with a skin oil, based on Aloe Vera gel, rose and carrot hydrolate, hyaluron and silver. Applying the UC3 Gentle Face Oil afterwards is highly recommended. In the combination you get an effect like a lotion, but individually adapted to your skin type and without emulsifiers or preservatives.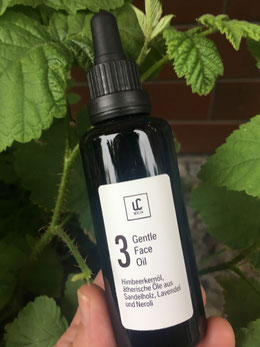 Face oil for the skin
The UC3 face oil of Urban Cosmetics Berlin is a gentle natural power plant from the seeds of the raspberry. Full of natural vitamin E. This fantastic oil also comes with a natural, very high UV protection and absorbs quickly without leaving a greasy film. The addition of essential lavender, sandalwood and neroli oil makes the skin firm and supple. UC3 is an excellent skin oil additionally applied after a moisturizing treatment like the UC2 Face Serum.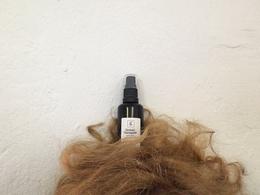 Hair care
No need, well in some cases ;). "Berliner Haarwasser" (hair tonic) is another beauty treasure, it takes mild care for head and hair, thanks to a selection of ten hydrolates specially formulated by Karin and Fabian. Together with caffeine and wheat protein (without alcohol), it strengthens weak hair in particular, but also supports itchy, dry scalp and can reduce hair loss and dandruff.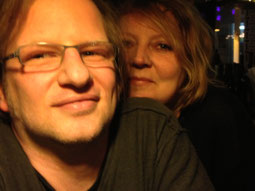 Urban Cosmetics Berlin
– aka Fabi and Karin – stands for handmade, vegan and cruelty free natural cosmetics. All products are unisex (suitable for all skin types), made by selected ingredients of natural organic origin in a manufactory in Berlin. They welcome their guests with their own mixed beauty teas and freshly squeezed wheatgrass juice AND give you beauty secrets on the house!
 Urban Cosmetics Berlin, Lausitzer Platz 11, 10997 Berlin (Kreuzberg), +49 30 23 56 69 17, office@ucberlin.com, www.ucberlin.com, Station: U1, U3 Görlitzer Bahnhof, Tue–Fr 12:00–19:00, Sat 11:00–17:00
If you want to find more hidden gems of Berlin, check out my folding maps BertaBerlin and QueerBerlin. They are available in well-chosen locations all over Charlottenburg, Neukölln, Kreuzberg, Mitte and Prenzlauer Berg in Berlin and online. But for those of you, who want to stay up to date, feel free to follow me on INSTAGRAM, FACEBOOK or register for my NEWSLETTER BertaNews.