If it was up to me, I would have at least one beauty treatment in Berlin every week. There is nothing like a little relaxation to rejuvenate your senses. Finding a good beauty treatment is kind of like finding a partner: Most of us have to look around before we settle on "the one." And, much like bad relationships, bad treatments can leave us unhappy. So, to help you prioritize and only spend on what's worth your time and money, I have put together a list of my Top 5 beauty treatments in Berlin.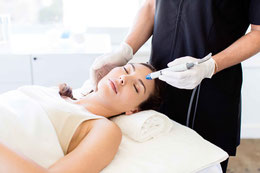 maske Berlin
If you're looking for a beauty facial, maske berlin has your back. This beauty studio offers the spa facial HydraFacial™. It's a medical-grade skin rejuvenation treatment completely tailored to you, designed to improve, hydrate and beautify your skin.
And today you can win a treatment @maskeberlin. This draw ends at 28th of June. How? Just follow @maskeberlin and @walkthisway.berlin and tag a friend under the post. And of course they are also recommended in my BeautyBerlin map! 
Ansbacher Straße 71, 10777 Berlin (Schöneberg), +49 30 23 62 97 46, info@maskeberlin.de www.maskeberlin.de, Station: U4 Viktoria-Luise-Platz, Mon–Fr 9:00–19:00, Sat 10:00–18:00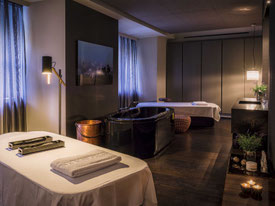 Boutique Spa by Susanne Kaufmann
Rituals to nurture and pamper are combined with simple unostentatious architecture to create a relaxing atmosphere for the guests of the Boutique Spa by Susanne Kaufmann in Das Stue Hotel at Tiergarten. Do you want to get a head start on your summer skincare? This detox beauty treatment (90 min, 170 Euro) will get you glistening and glowing in no time!
Body, skin, and mind will indulge in a relaxing massage by Anne-Kathrin Schmidt! The peeling and detox oil continues to enhance healthy circulation, metabolism, and lymphatic drainage. Freshly exfoliated skin happily welcomes the nourishing benefits of the massage oil.
Drakestraße 1, 10787 Berlin (Tiergarten), +49 30 31 17 22 160, ak.schmidt@das-stue.com, www.das-stue.com, Station: U2, U9, S3, S5, S7, S9 Zoologischer Garten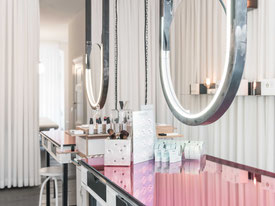 Wheadon's beauty treatment
Wheadon is a beauty salon, where you get a great cut in a very chic location with a warm atmosphere. Nicole and her colleagues offer not only unique cosmetic products, but also beauty treatments for men and women. Next-door you can get your make-up done or an AquaFit SkinTrainer for your skin! It enables a multifunctional, highly effective and yet extremely gentle facial treatment. Using a handpiece, the skin is massaged with a sodium chloride jet at a maximum pressure of 7 bar. In no time you will feel absolutely refreshed and the skin looks much more vital, even and healthy (20 min, 35 Euro).
Steinstraße 17, 10119 Berlin (Mitte), +49 30 52 66 06 21, service@wheadon.de, www.wheadon.de, Station: U8 Weinmeisterstraße, Mon–Sat 12:00–19:00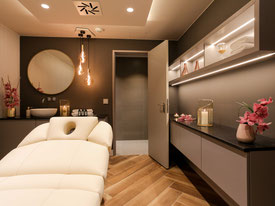 Spa at art'otel Berlin Mitte
If you wish to reward yourself after a hard day, you can be treated with a beauty treatment, for example the deep hydration or antioxidant vitamin treatment. The newly opened Spa in the historic Ermelerhaus offers you a wellness oasis in the heart of Berlin. Besides the spa, you can also visit the gym (with personal trainers) boasts state-of-the-art TechnoGym equipment, a Finnish sauna, two treatment rooms and a relaxation area. And in case you still have time, you could enjoy a drink at the Upside Down Bar & Restaurant!
Wallstraße 70–73, 10179 Berlin, www.artotelberlinmitte.de, Station: U2 Märkisches Museum, beauty treatments 60 min / 95 Euro; body massage 60 min / 90 Euro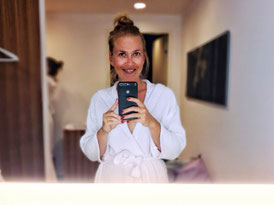 ONO Spa
This spa offers various specials such as the Iyashi Dome, which is a detoxifying infrared dome that detoxifies by warming the body from the inside. After the sauna take a stroll down the reflexology walk on the spa's terrace and enjoy a spectacular view (the spa is located on the rooftop of The Mandala Hotel) over Potsdamer Platz.
The Mandala Hotel, Potsdamer Straße 3, 10785 Berlin (Mitte), +49 30 59 00 51 100, welcome@onospa.de, www.onospa.de, Station: U2, S1, S2, S25, S26 Potsdamer Platz, Mon–Fr 12:00–21:00, Sat 10:00–21:00, Sun 10:00–18:00
If you want to find more hidden gems of Berlin, check out my folding maps BertaBerlin, VeganBerlin, GDRBerlin, BeerBerlin, YogaBerlin and QueerBerlin. They are available in well-chosen locations all over Charlottenburg, Neukölln, Kreuzberg, Mitte and Prenzlauer Berg in Berlin and online. But for those of you, who want to stay up to date, feel free to follow me on INSTAGRAM, FACEBOOK or register for my NEWSLETTER BertaNews.